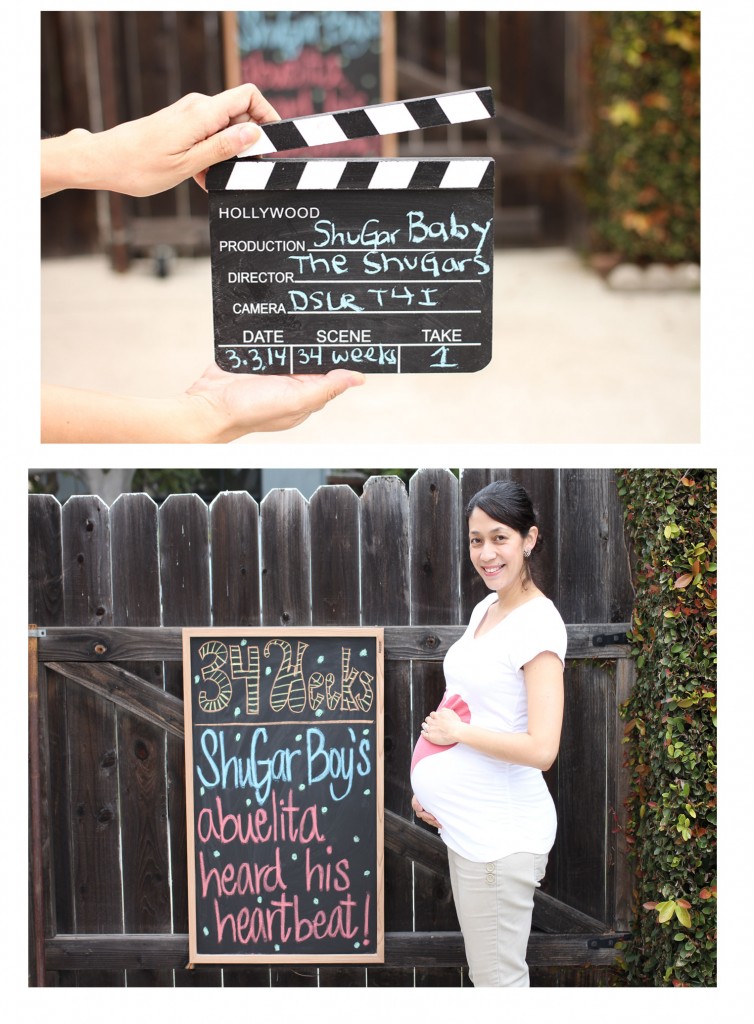 Mommy's Corner is a weekly series exploring our journey in becoming parents, our love for our ShuGar baby, and general topics related to mommyhood.
Hi ShuGar Darlings! It's that time for me to update you on my pregnancy. I am 34 weeks; actually, technically I have already begun week 35 by the time this post goes up. Seriously? Where has the time gone. Make it stop because we have so much more to do. I'll share more below.
Here we go…
My Doctor's visits…
have been great. Everything shows ShuGar Boy is healthy and developing right on track. Whew! So much can happen so I am relieved after every visit. I did have some minor drama when my doctor's office called me and told me that my OB has decided to leave the office and will not be delivering my baby any more. Say what? I had a minor (maybe not so minor) freak out, but soon recovered when I realized that the head doctor would be my new OB and I kind of heart him. He's super sweet and very knowledgeable. It's kind of cute that he is also Persian and has a similar last name to Mr. ShuGar. In fact, Mr. ShuGar and I even contemplated switching at one point, but we felt loyal to my OB at the time. It goes to show you, sometimes, bad news can truly have silver linings.
For my next visit, my doctor wants me to discuss my birth plan. Yikes! I've purposely avoided any research on this because so far ignorance is bliss. I have some serious homework to do in the next few weeks.
ShuGar Boy looks…
about the size of a large cantaloupe, almost five pounds. He's growing so very much! He might still double in size. I don't know how my body has the room. ShuGar Boy's skin  has gotten thicker and smoother. He's about 18 inches long. His lungs and central nervous system are almost fully developed.
ShuGar Boy feels…
very bouncy because he is running out of room to play in my belly! He's very active these days and people who sit next to me can see his little somersaults. I have a feeling my little darling is going to be a dancer like this mama and/or an athlete like his daddy.
My clothes…
are so fun to wear. I've been enjoying maternity fashion a lot. Gone are the days when I hide my lumps; I know flaunt them at any chance I get. In fact, I prefer maternity clothes which accentuates the bump! I have grown to love preggo fashion, so much so that I wrote about transitioning from maternity to non-maternity outfits. Why not? I enjoy wearing some loose fitting tops to add a twist to an ensemble.
ShuGar Baby has…
the fastest heart beat I have ever heard in my life! 140 beats per minute to be exact! In the pic above, I share that my mom, ShuGar Baby's grandma (abuelita in Spanish), heard his heart beat recently since we invited her to our last OB appointment. I thought it would be special to have her listen to our little boy make noise. We all shared a special moment with our little man.
The ShuGars have…
just had the most amazing yellow submarine baby shower ever! We have our family and friends to thank for all their generosity and love. My sis and her best friend were the decor goddesses. It was a joyful day. Also, we've almost received everything from our registry! Yay! We stocked up on diapers and are now ready to begin assembling his furniture and decorating…..my favorite part! I have a vision of how I want his room, so I can't wait to share with you the before and after pics.
ShuGar Baby likes…
when daddy and mama sing to him. I can feel his little heart near mine when we talk and sing to him. It's incredible! He also likes when Mr. ShuGar rubs my belly with cocoa butter. It's our special bonding time just the three of us.
I crave…
coffee. At this point, I'd take any form of it – instant, latte, espresso, cold. Whatever. Just give me a cup in the morning. I know that technically I am allowed one cup, but I don't want to ingest anything that may make ShuGar Boy jittery, so I refrain. I also crave sopa de estrellitas so badly. I almost ate it last night, but I resisted because I didn't want my sugar levels to spike up again.
Of course, I still crave the usual – ramen, gyoza, salmon rolls, and I've been really wanting cream puffs. Basically, I desire everything I can't have. Oh, and a glass of wine sounds heavenly these days.
I can't stand…
chicken that has those bits of cartilage. Oh, gross! I've tried to eat chicken for protein purposes, but it's been pretty torturous. I don't know if I can ever like chicken again. It's so stinky. I can smell it from afar and it reeks. Salmon has also taken a hit and it just gets worse and worse. I know I crave salmon rolls, but I feel raw salmon has a different taste that the cooked salmon I've been eating for DHA purposes. Mr. ShuGar really wants me to have my dose of DHA and there is nothing better than salmon. Unfortunately, every bite makes me pretty nauseous. However, ShuGar Boy's brain in developing a lot during this stage, so I eat it with pleasure….sort of. Oddly enough, I've become more of a veggie lover these days.
I feel…
super uber excited that soon I will meet this little boy in my belly. I wonder who he will look like. Will he love me as much as I already love him? I feel so nervous about being a mama. I can't think of another job more important ever than this one. How will I handle the responsibility? Therefore, I basically feel like there are still a lot of uncertainties, but joyous ones. Additionally, I feel a little numb about the labor process. I've purposely avoided researching my birth plan or looking at any videos because I've mentally blocked out what will be coming in the next few weeks. I can't wrap my head around it. You can say I am in denial.
I am amazed…
at how excited our family and friends are for us! It was extremely touching to see everyone at our baby shower. It was a moment in my life I will forever cherish; It was filled with genuine love. We are blessed beyond words to have all these people in our lives. I am still loving all the attention I am getting with the bump! I had a great convo with a lady in the elevator the other day. Oh, and when I go to Trader Joe's, I don't even have to ask for help. They walk me to my car, load it up with groceries, and then they check to see I have someone at home to help me. So sweet! I was at the gym the other day and I was trying to adjust my cycling seat. It took less than two seconds for a man to come by and adjust it for me. And, as I went to lift weights, these strong muscle men kept looking at me and one of them asked me when I was due. He congratulated me. I'm really digging this attention!
Thank you for reading my updates. I feel like you've been on this journey with me this whole time! I will continue this series post-baby with ShuGar Boy monthly updates and also other fun mommy discussions.
Did your baby move a lot in your belly? Did you find that s/he ended up being an active baby after s/he was born? Do you believe that a baby begins to develop his/her personality during pregnancy or post-birth?
Tomorrow is the day for some love sharing! Read, write, share about love for Thursday's All You Need is Love Project. More details can be found here or here.
Photo credit: Peter Shushtari