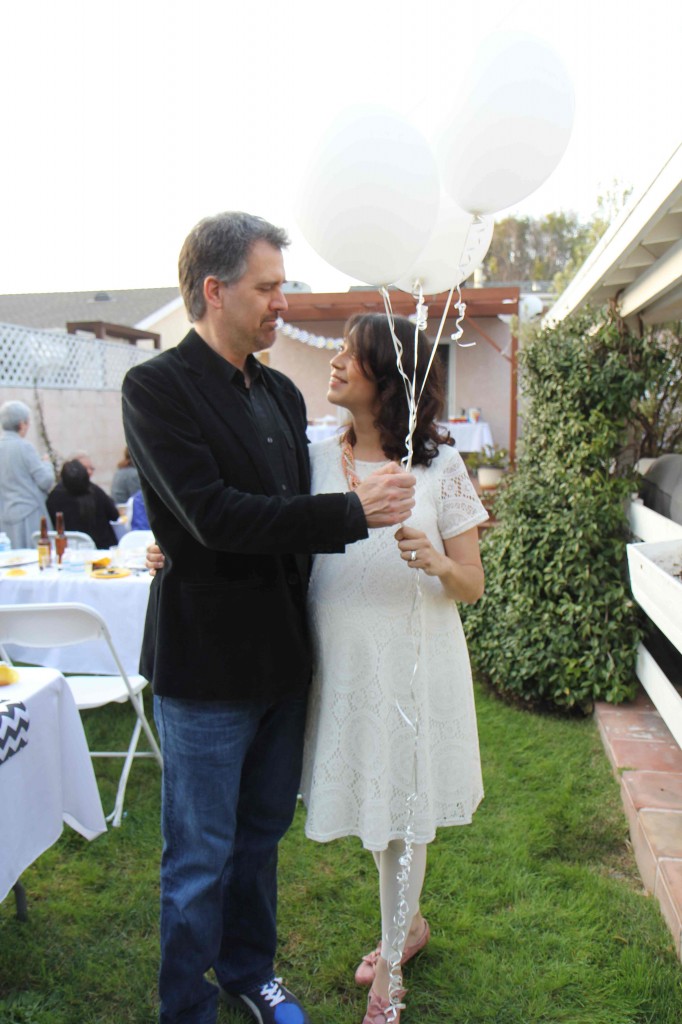 Mommy's Corner is a weekly series exploring our journey in becoming parents, our love for our ShuGar baby, and general topics related to mommyhood.
Hello, loves! I am so excited to share this post with you. As I mentioned previously, this weekend we had our Yellow Submarine ShuGar Baby Shower and it was a love-filled day. Mr. ShuGar and I invited a few (actually more than that) of our closest family and friends to celebrate the soon-to-be arrival of our baby love. The day was so wonderful because we got to share our happiness with those we care about most. Mr. ShuGar and I are blessed beyond measure because we are surrounded by so much love from family and friends. I can't wait for ShuGar Boy to feel this love.
Before I present the photos to you, I'd like to take this moment to acknowledge my sister for hosting the entire event. She worked endless hours to prepare every detail and she is a craft goddess. Thank you, sis, for giving of your heart and time. My sis' best friend was so kind to help set everything up on the day of. Such a lifesaver! Thank you for lending a hand when we needed you most! I'd also like to thank my parents for contributing to all the prep (financial and beyond). We are so lucky to have you in our lives! Finally, I want to give a shout out to my dearest friend, Angela, who took all these pics. I know first hand how hard it is to take photos during an event. I appreciate you capturing all the love so beautifully!
Now, let's enjoy some cute photos, shall we?
Can it get any cuter than mop top balloons?
The answer is….yes! Submarine fish bowls, twinkie submarines, and Beatles cupcake toppers….oh my! I adore the cake to welcome ShuGar Boy.
Mr. ShuGar put together the favors and they were a hit! They were cds of our love story, filled with songs we sing to ShuGar Boy and songs to give our guests hints on the name we have chosen for our baby. So far no one has guessed his name, but it's been fun hearing people's guesses. The songs are a compilation of sweet memories that have brought us to this joyous moment in our lives.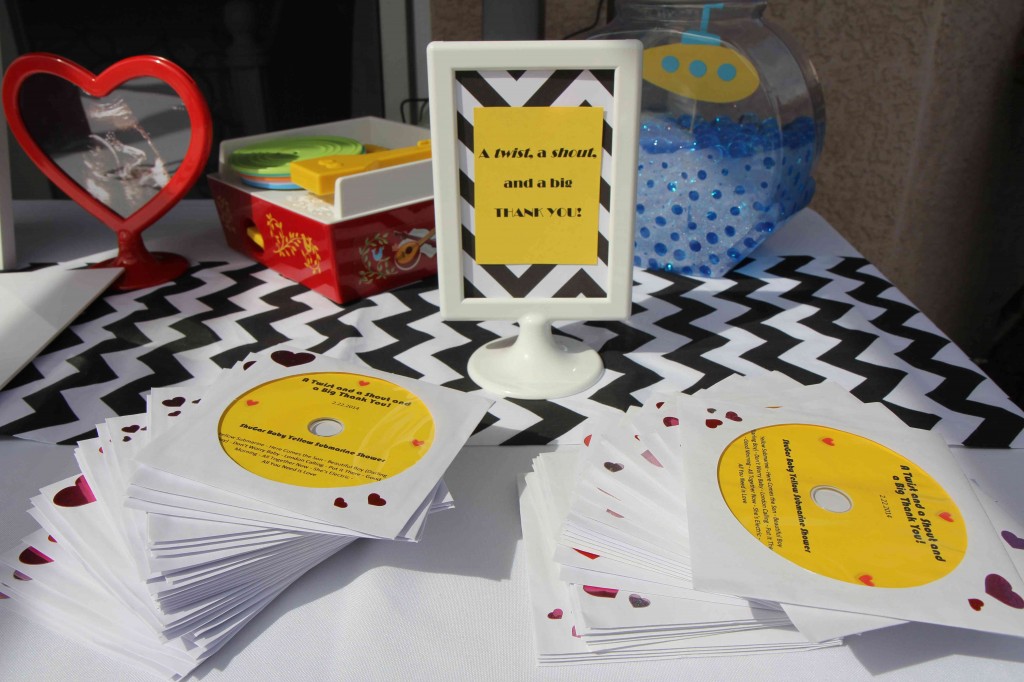 It really goes without saying that we were all smiles the entire day!
We had some fun games to entertain our guests, including a game Mr. ShuGar organized which had guests attempt to guess the names of music clips of songs with "baby" in the title. Hilarious because it was harder than we had thought for the guests! Also included in the fun was a game in which babies in ice would melt and the winner would shout out, "My water broke!" Plus, we had a collage of photos of the ShuGars at different ages and  everyone had to guess how old we were.
Our guest book was a matte that we had our guests write love messages to us + baby. We will put it in ShuGar Boy's room around the pic of his sonagram.
One of the sweetest gifts we got was from our friends and their family serenading to us the Beatles' song, "Two of Us," but changing the lyrics to sing about baby. So creative and loving!
Some of the lyrics include, "Two of us seein' smiling and high-fiving though it's gas – You and me heating bottles, folding swaddles on our way back home – We brought our boy home, He's coming home."
I got so emotional when they sang us this song. We were so touched. We have the best friends ever! They call themselves the Three Ringos….how adorable!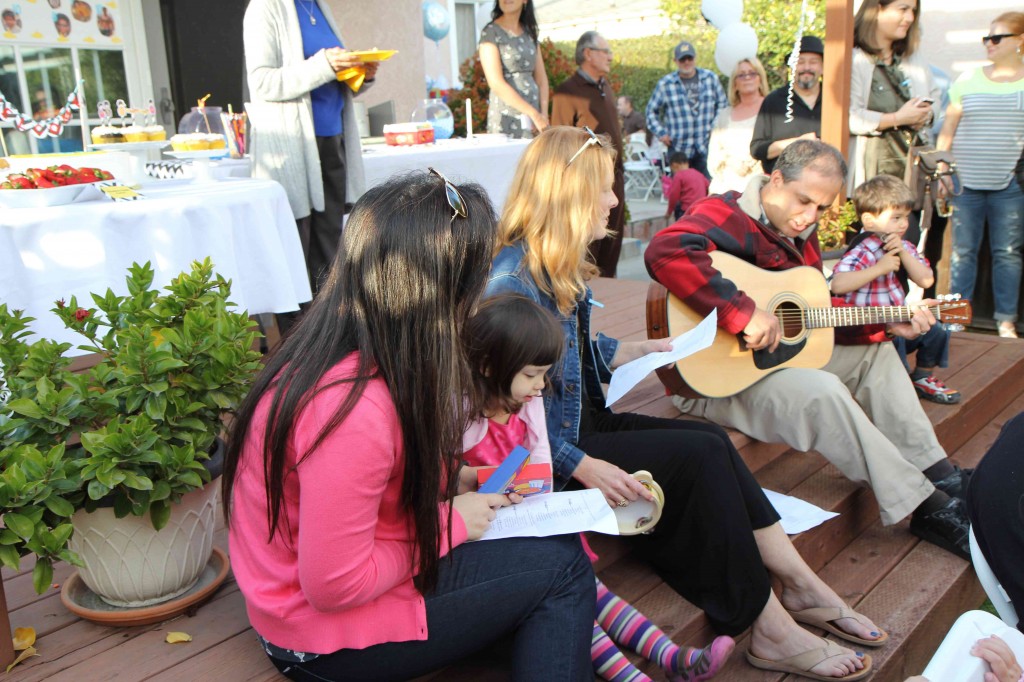 And, of course, lots of hugs and love were shared that day. We have so many things to be thankful for! Our baby is coming home soon!
I love my family.
Mr. ShuGar is my heart.
I love how silly our friends are!
Oh, ShuGar Boy…we can't wait to meet you!
Thank you all for reading!
Don't forget to join in the love revolution for tomorrow's All You Need is Love Project day. It's going to be out of this world!
Photo credit: Angela Kim