Thank you for your kind comments about my pregnancy woes. I appreciate all the tweets, instagrams, facebook, and personal emails I received.  So lucky to have you all in my life! Wow! It's also a nice feeling knowing that I am not the only crazy one with these thoughts. Several of my sweet friends have reached out a helping hand and I am taking them up on their offer. Never underestimate the power of sisterhood.
Receiving your blog love couldn't have happened at a better time, too. I needed this.
The timing is perfect because I just received my blog business cards in the mail and it brightened my day! Ever since I started this little blog, I dreamt of growing my blog by investing in it.  First came, my blog redesign by the amazing Blair from Leap Designs. Then came my facebook, twitter and logo makeover done by the sweet and uber-talented Erin from Art Social. Next on the list was ordering my business cards. Done! I am head over heels in love with them! What do you all think? Want a closer look?
Here's the front side: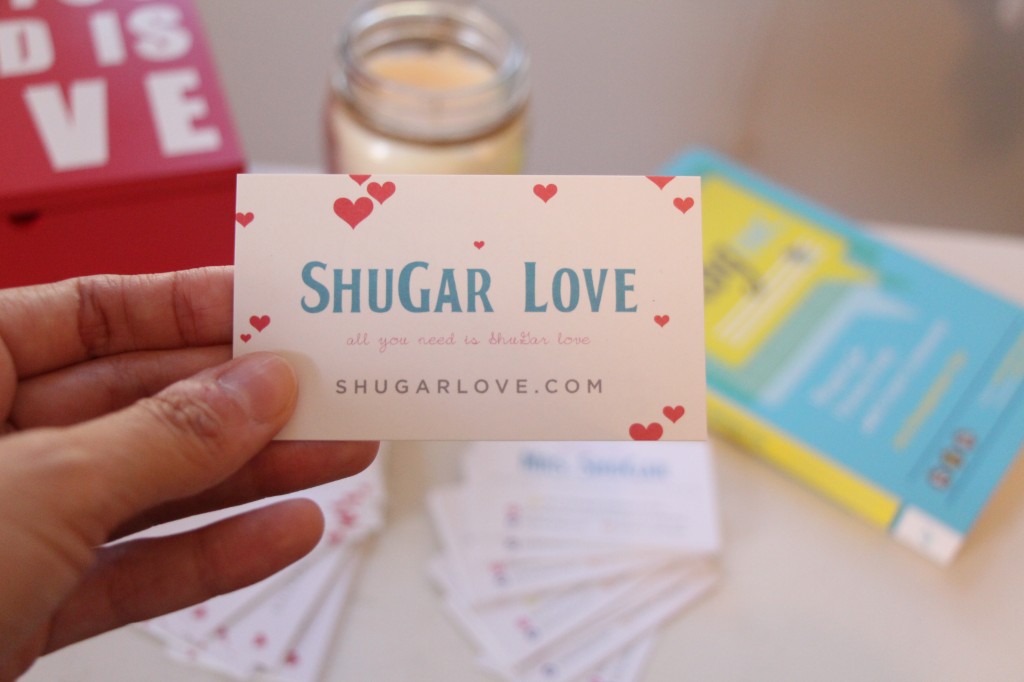 And the back side: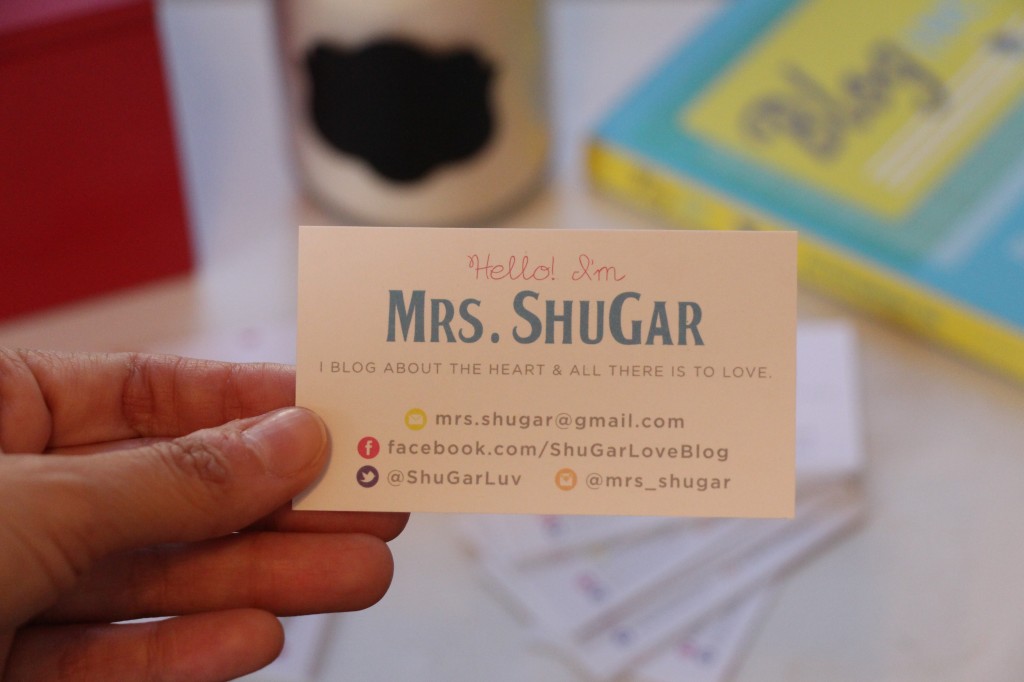 So happy to receive these now because this blog o'mine is one of my fave hobbies.  When I meet someone, I can now promote my blog with something tangible.
Imaginary conversation:
Me: Yes, I blog about Love at shugarlove.com. Would you like my card?
Interested Person: Yeah, I'd love one! 
At least that's how I picture it happening in my head. You see I have loved writing since I was a tiny tot and I am finally doing it. I squeeze it in when I can because it fulfills me like nothing else. I am grateful to have the time to do this, but I am even more appreciative that you read my blog. You, each and every one of you, are amazeballs!!!! It's because of you that I have loved this whole blogging experience. Your support about my pregnancy woes is just one example demonstrating I have the sweetest followers in blogland.
My next goal for ShuGar Love is to begin more collaborations with other bloggers through a Love Project I have been brainstorming for months. Connecting with other bloggers has been one of the biggest bonuses of having a blog. The inspiration of my blog is to spread love and I can't wait to develop my blog further! I'm working on creating the marketing for it now, but I hope to unveil my Love Project by the beginning of next year, hopefully to coincide with my blogiversary.
I'd like to end this post with a HUGE thank you to all of you. Whether you are a regular commenter on the blog or through other social media avenues, I want you to know that I treasure all your contributions. Even if you just read my posts, I am grateful that you do! A heartfelt thanks goes to Mr. ShuGar because he serves as my editor, photographer, and my biggest fan. I adore you.
I would like to conclude by giving a special shout out to the consistent commenters on my blog. Your thoughts warm my heart each and every time. I suggest you check out these ladies because they rock my world! In no particular order:
What is one surprising thing you have discovered about blogging? Why do you enjoy reading blogs?
Sending everyone a loving, virtual hug!
Photo credit: Peter Shushtari
A Cup of ShuGar is a series exploring the sweetness of life. For more Cup of ShuGar, click here!
***************************************************************
Want more happiness? Join the happiness revolution with the Be Happy Link Up Crew!