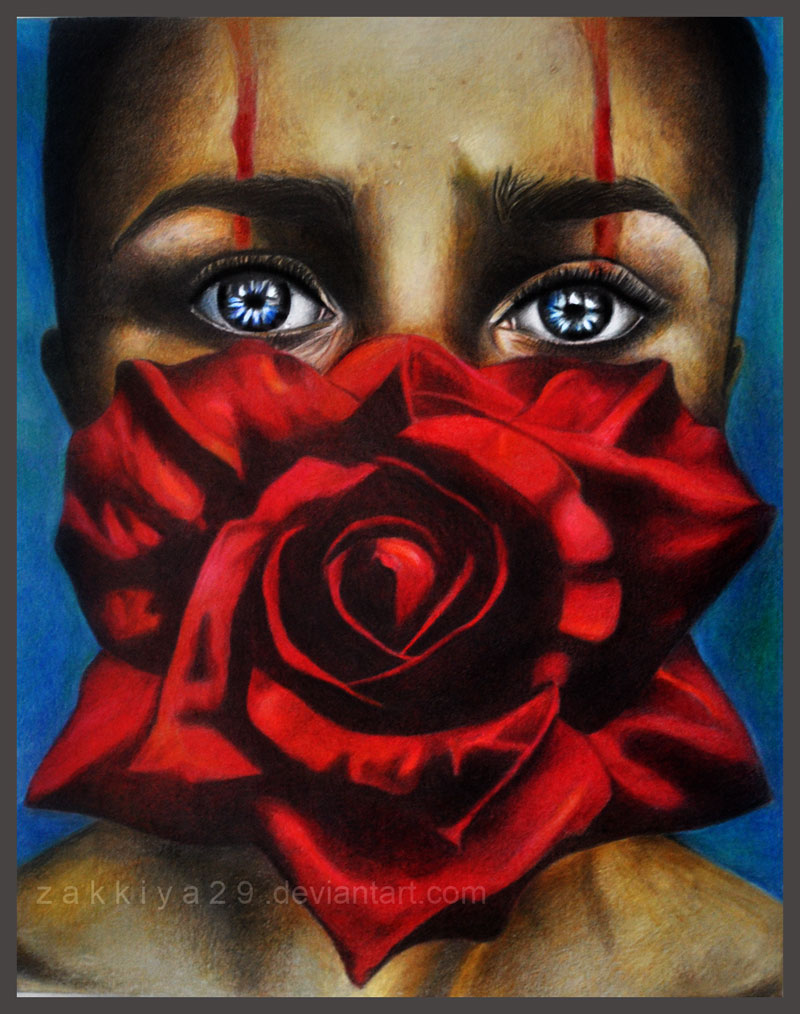 ShuGar Fix Mondays is a weekly inspiration series because Mondays deserve an extra dose of pretty. For more ShuGar Fix Mondays, click here!
Hello there, ShuGar Loves! How's life? Have you been enjoying the World Cup? I'm a big World Cup nerd and I've been fixed to the tv these past few days. How about that last match between the U.S. and Portugal? So close!!!
Are any of you lovelies looking for some inspiration out there? Are you wanting to create a gallery wall in your house, but don't know where to find gorgeous one-of-a-kind pieces that don't cost you an arm and a leg? Well, today I have a special treat for you from one of my sponsors. Zakkiya Hamza is the owner of Inkstruck Studio, a rad design and art studio with lots of pretty things that would make your heart flutter. Zakkiya is a sweetheart; she is a mama to her cutie son and an inspiration to me because this lady is quite talented. Care to see what I am talking about? I'll have Zakkiya explain a bit more about her art and what inspires her.
"Inkstruck Studio is an art/illustration blog run by Zakkiya Hamza. It goes by the tagline "creative musings of a silly artist"and it showcases Zakkiya's adventures with her art. The blog started as a journal of sorts for recording the artworks and processes behind it. Although Zakkiya is primarily a graphite artist who specializes in drawing portraits, she loves trying out all kinds of new mediums and techniques. Currently she is crushing on watercolors and focusing on creating illustrations on subjects she loves."
The cover photo is stunning, isn't it? The colors just draw you in and her eyes are so piercing. This drawing sort of reminds me of Frida Kahlo's art pieces. Believe it or not, this is actually one of Zakkiya's first attempts at colored pencil art. I love this one so much.
Inkstruck studio also has some beautiful graphite drawings that look so realistic you would think they are actual photographs. Below are two examples and Zakkiya's explanation.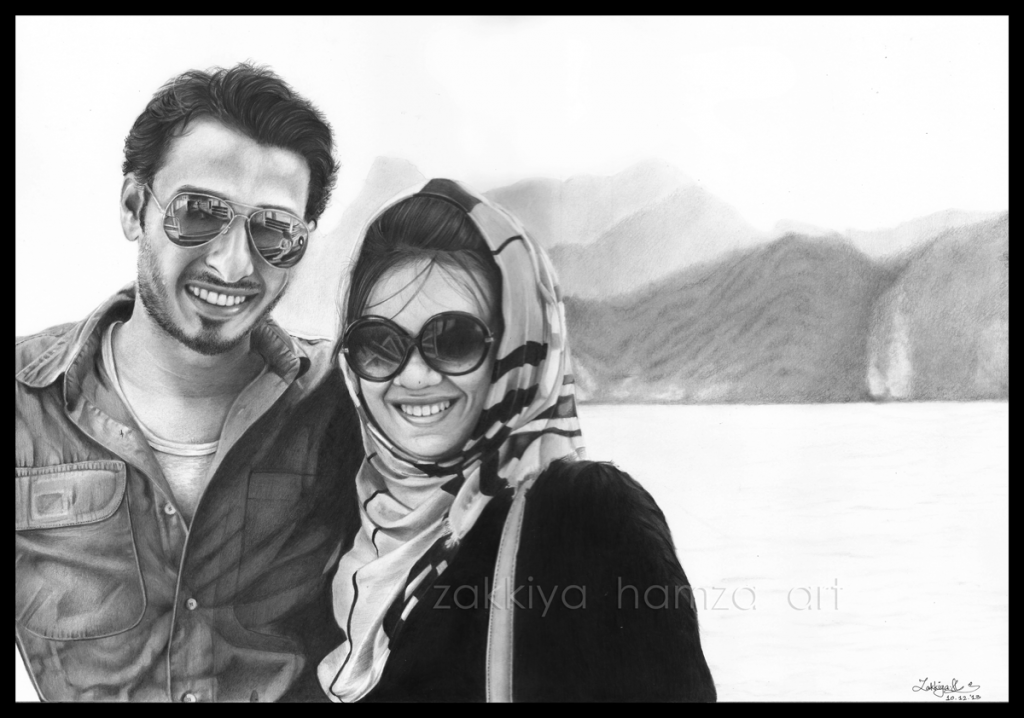 "This is a commissioned graphite drawing using Tombow pencils done for a client who wanted to gift it to her husband on their anniversary. I take a lot of care to get every detail in a commissioned drawing perfect. I feel the client should feel that the money they have spent has been put to good use."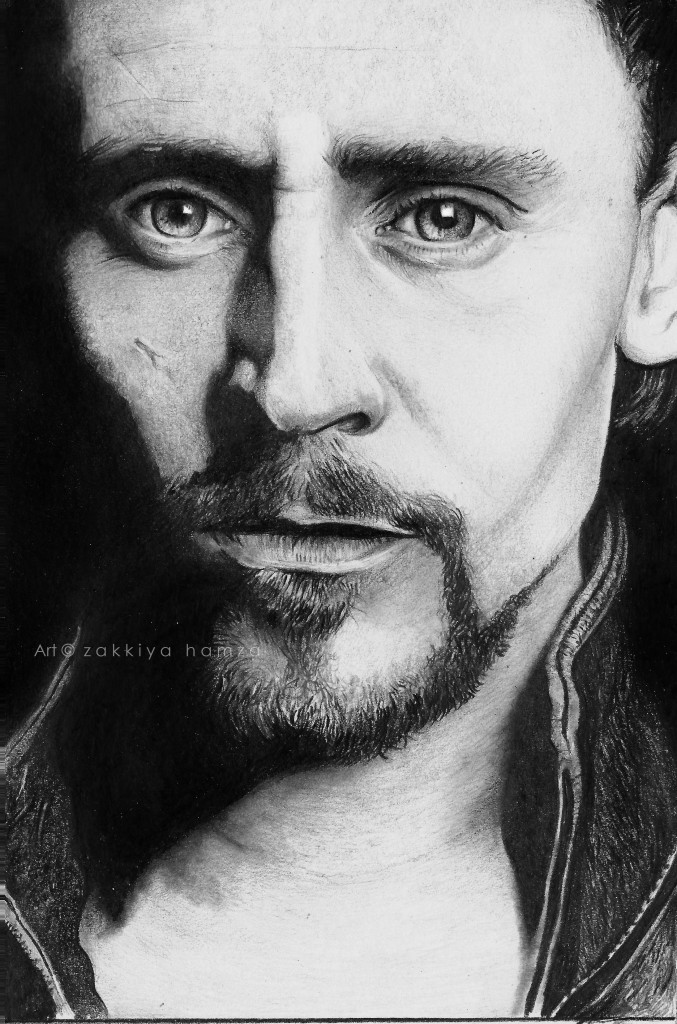 "Another graphite drawing I did a few years back when I was into fan art. Although I have currently outgrown the phase of drawing celebrities, I did learn a lot of doing facial hair and skin texture when doing these kinds of work."
Art isn't just something you create on a piece of paper. Zakkiya uses innovative digital techniques to showcase her creativity, like this mesmerizing portrait below.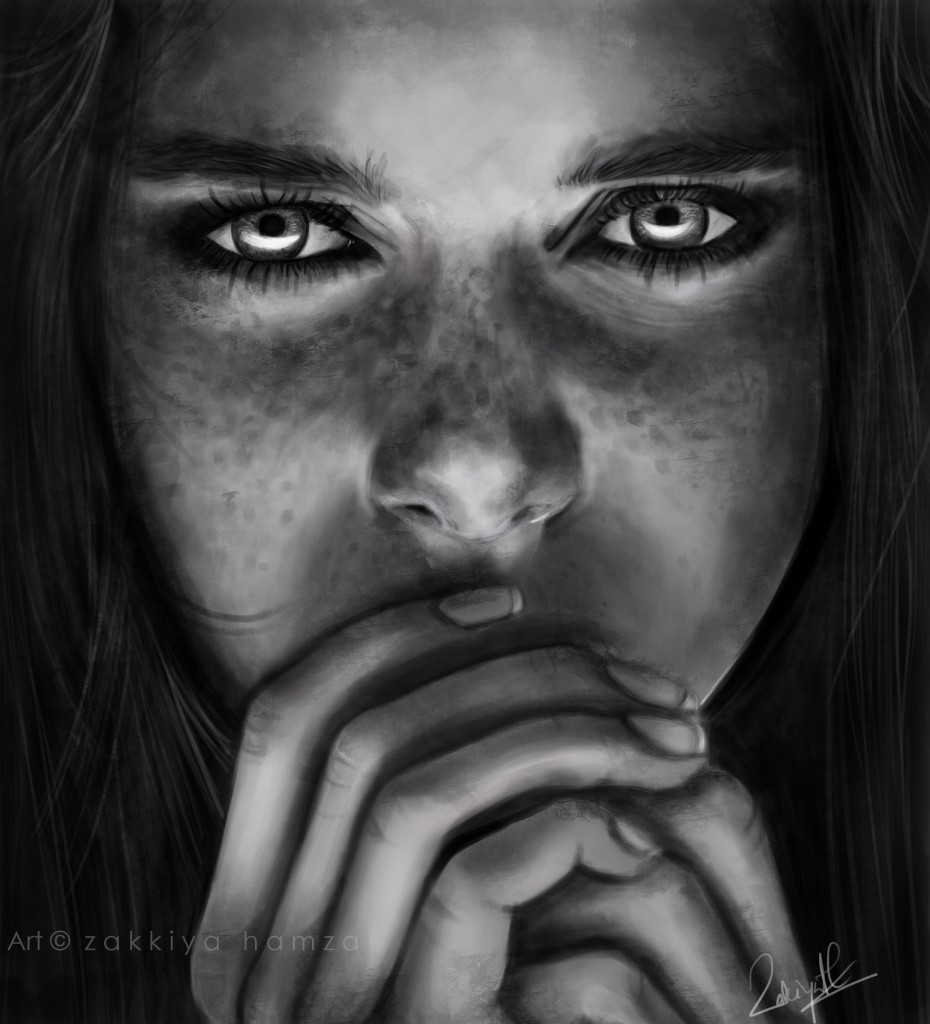 "This is a digital drawing, which was done on a Wacom bamboo tablet on Photoshop. It was one of my first attempts at doing digital art. I do enjoy this kind of medium but nothing gives me as much joy as holding a pencil in my hand and doing traditional artwork."
Finally, Inkstruck Studio has some whimsical drawings done with watercolors. There's something so alluring about paint that "draws" you in as you appreciate all the brush strokes created to tell a story. The three watercolor drawings below are so wonderfully colorful. I can imagine showcasing some of these in Camden's room.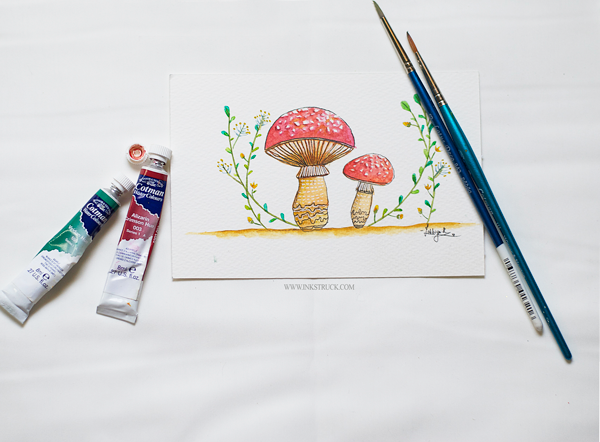 "This is one of my current illustrations done with watercolors. I love mushrooms and painting it was an absolute joy. These were done with Winsor and Newton watercolors."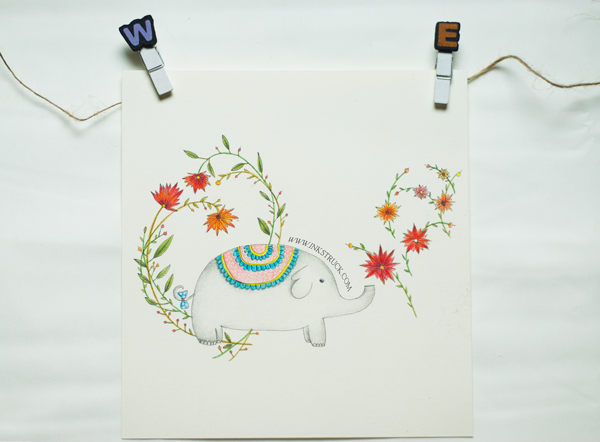 "I love elephants because they are just so cute. This is an original illustration done with colored pencils. I do like a bit of whimsy and hence the vine style flowers that you can see in the drawing."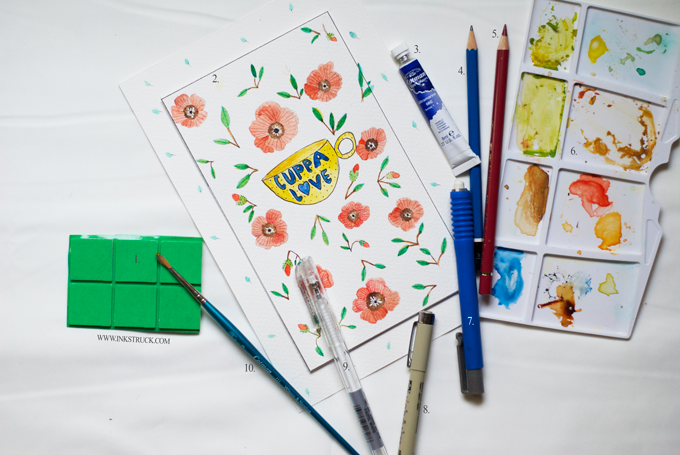 "This is another one of my current illustration honoring my favorite beverage coffee. I am beginning to love styling my photographs and what you see in this image are the materials I have used for this particular illustration."
Aren't all her pieces just lovely? If you want to see more beauty from Inkstruck Studio, just check our her blog here. If you fancy making a purchase from her shop, you can visit here. Finally, for further info about any of her artwork, please contact Zakkiya directly at inkstruck.studio[at]gmail.com.
Which one of these beautiful art pieces do you like? Do you collect illustrations or any artwork? What kind of pieces do you like? Do you have a gallery wall in your place?
Disclosure: This post is sponsored by Inkstruck Studio, but all opinions are my own. Thank you for supporting the sponsors who help me create quality content to continue to spread ShuGar Love.
All Photo credits: Inkstruck Studio