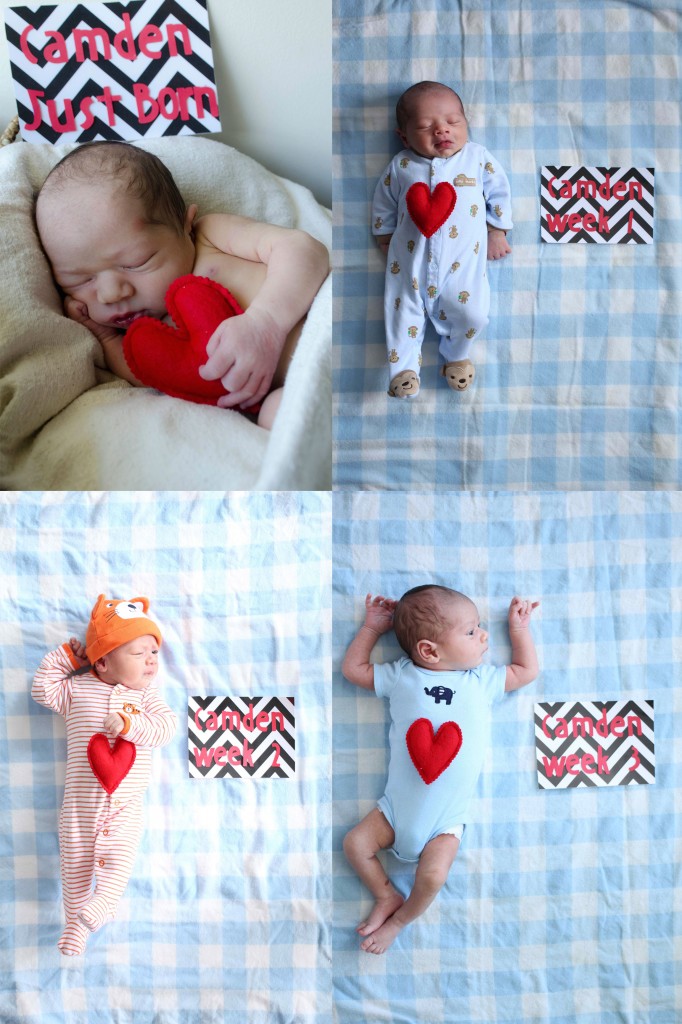 Mommy's Corner is a weekly series exploring our journey in becoming parents, our love for our ShuGar baby, and general topics related to mommyhood.
I'm back and I am officially a mommy! Woohoo! (triple twists and turns and cartwheels and summersaults). I'd like to start off by thanking each and every one of you for showering us with so much love as we welcomed our Camden Boy, aka ShuGar Baby. The outpouring of congratulations was so touching for us and we cherish each and every sweet message. You're the best! Next, I'd like to acknowledge and give HUGE hugs to all my blog contributors these past couple of weeks. Weren't these ladies super fab? Love you, girlies! I hope you continue to visit their blogs and show them some love. I thank you all for sharing of yourselves during my maternity leave.
So, in the spirit of still basking in the glow of being a recent mommy, I'd like to start a new feature on Mommy's Corner to celebrate the birth and development of my Mister Camden. Every month of so, I'll be sharing updates on my baby boy as an online journal so that one day he can hopefully read these posts and learn about himself.  I confess I have an ulterior motive: I'd love our sweet Camdie to reflect back on these posts and learn how much his parents adored him.
Let's get started!
Camden likes to…
be held at all hours of the day. It's incredible to be genuinely wanted in this way. He craves our touch and let's us know by letting out some shrieks when he wants us. He simply desires to be near us and that's it. It's so touching and I can't get enough of him. Once in our arms, he usually quiets down and stays in the zen state.
Camden has started to…
become more alert. In the first week, he simply would sleep most of the day or just stare into space when he would be awake. Now, he has his pretty grey eyes wide open and seems to be mesmerized by whatever is in front of him. Oh, melt my heart!
Camden has learned to…
do this propeller movement when he sleeps in his co-sleeper at night. It's actually pretty amazing the strength of this little boy who doesn't even weigh ten pounds. At night, we have him swaddled up like a burrito to provide him warmth and comfort (as in my womb, according to Harvey Karp). Somehow, he manages to lift his legs and propel himself to move his entire body to a 180 degree angle! What? Yup, you read right. He'll basically change his position from vertically to horizontally with no real hand and/or leg coordination. Our baby is super boy!
Camden doesn't enjoy…
diaper changes. I actually think "hate" is a more optimal word. He really detests the mere sound of the velcro being detached from his diaper. Our Camden Boy has some major lungs and wails throughout the entire diaper changing experience. I'm sure he doesn't enjoy being so exposed and having his cute bum wiped down. I feel bad for him, but I like to cover him whenever we do change him and sing him some songs to calm him down. His voice (even if they are cries) never upsets me. Ever.
Camden's snack of choice is…
mama's milk! He hearts my milk! There are times where I think he actually overdoses on it because he begins to spit it up. It is true what they say that breastfeeding brings you a closeness to your baby. There will be long stretches of time when I just stare at him while he sucks away. His face tells me he is in milk heaven. Other times, I welcome the little break and get some reading done. I've already gone through three books and it's only been a few weeks!
Camden makes us laugh when he…
does these leg thrusts in his co-sleeper in the wee hours of the night. Truth be told, little Camdie also scares us when he does that because he does this propeller move where he almost flips on his stomach, which is a major no-no as it increases the chance of SIDS. However, we just can't help but be amazed at the strength of our little man. Apparently, these movements are more common when he is a few months old. I guess my little star is continuing his dance moves he used to do while in my belly.
We also chuckle when he makes these funny faces like he's snooty, over it, or just can't be bothered. Oh, and lately he's been doing these dramatic grunts. Cracks us up every time!
Camden has cried when…
we change his diaper, 99.9% of the time. Poor little guy – he must hate feeling so exposed and rubbed with baby wipes. His yells are pretty powerful and he lets us know we need to finish up ASAP or else!
Camden's personality has been…
developing day by day. He seems pretty easy going most of the time, although I think he takes after his mama when I say he is a bit of a drama king. He definitely wants to be held more often than not. He has this way of making us smile every time and I can picture him being this funny little guy in the years to come. Mainly, I would say he is the sweetest angel on the planet.
Camden looks like…
parts of both myself and Mr. ShuGar. I think he has my nose and eyes, and Mr. ShuGar's lips and body.
Camden has grown…
and superseded his birth weight. It's perfectly normal for newborns to lose weight in their first few weeks. I'm relieved to see that he is being fully nourished with my milk. He has grown half an inch and has long, skinny and fit limbs like his daddy.
Camden makes Mr. ShuGar and I feel…
a profound love like no other. It feels as if we were given the greatest gift of life and we are eternally grateful. Just in this short time, Mr. ShuGar and I have felt a closeness that we didn't have before.  Camden has created this bond between Mr. ShuGar and I as we dedicate our lives to giving little Camdie love. Baby Camden has shown us what life is truly about: giving and receiving love. We feel like we won the biggest lottery.
Thank you for following along our ShuGar Baby journey! It has been a wild ride and I can't wait to see what else parenting will teach us. I will continue to provide insight into mommyhood via my blog and hopefully you can share your experiences of being a parent or having a parent.
What was your experience like with your newborn in those first few weeks? If you are not a parent, do you have any stories your own parents tell you when you were just born?
Photo credit: Peter Shushtari