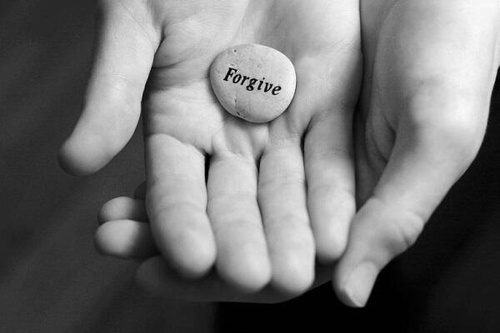 The All You Need is Love Project is a movement to inspire more love on this planet. The more we come together, the more love we can share. Join the revolution here!
My posts are currently pre-scheduled as I am taking time off to be a mommy. I've enlisted the help of my bloggy friends (cue Ringo Starr & The Beatles song) to write some guest posts for you lovelies. They'll be contributing throughout this month of April. Please show them some love by reading their guest posts and also visiting their awesome blogs. Love these ladies! I'll still be reading your comments from time to time, but my responses will be delayed. Not to worry, though. I have planned some quality content for you in my absence. I plan on returning at the end of April with lots of heart updates.
TODAY'S LOVE TOPIC:
Describe the importance of forgiveness as being an important ingredient when it comes to love. How have you learned to forgive and love? 

Forgiveness is never an easy subject, but it's a great way to move forward.
There will be times in your life when forgiveness is the last thing on your mind. And sometimes, the person you should be forgiving is yourself.
I recently mentioned my journey to healing myself and it hasn't been a walk in the park. Holding on to something for too long can dampen your spirit. If you have chosen to forgive someone, forgetting the way you felt will always come to mind. Below are three tips I've been using to help me get through the pain:
1. Appreciate the moment.
Each day is a reminder that life gets better. Appreciate the simple things such as sunshine after a rainy day. There's so much beauty all around, you just need to open your eyes and see it.
2. You deserve happiness.
I have yet to meet someone who doesn't deserve to be happy. Realize how beautiful your smile is, and do whatever keeps you smiling.
3. Get away.
If something is causing you to feel down, get away from it. Humans have a habit of sticking to things out of comfort. I love being home, but sometimes I need to go out and enjoy the day. Make plans with a friend/family. You'll be glad you did.
TODAY'S DISCUSSION TOPIC:
Are there any tips you'd like to give someone experiencing pain? Feel free to share them in a comment. 
NEXT WEEK'S ALL YOU NEED IS LOVE PROJECT SUGGESTED TOPIC:
Share your favorite (or one of your favorite) love stories. In can be from any art form –  a movie, a book, a piece of art, or a story you were told. Describe it and share with us why you heart it.
A huge thank you for to Fatima for writing about such an important topic when it comes to love. I admit I still struggle with forgiveness myself. I even wrote about it here. Please take a moment to visit Fatima's lovely blog Motherhood Through My Eyes. Fatima is a blogger at Motherhood Through My Eyes, sharing inspirational quotes and tips for moms and life. She is the creator of #MomViews and  currently resides in South Florida with her three boys: Jeff, the love of her life; Sebastian, her little man; and Rocky, a Siberian husky. She shares so many wonderful insights on being a mommy and now more than ever, I turn to her blog for great advice.
Photo credit: Forgive