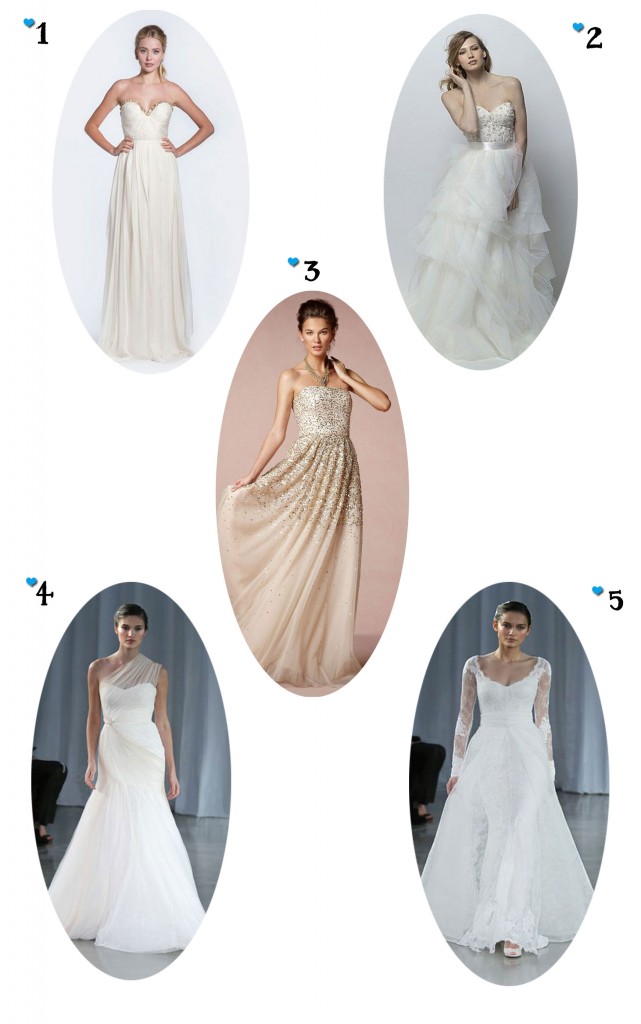 |1|  Sarah Seven's Freya  |2|  WToo's Bevan  |3|  BHLDN's Isadora  |4|  Monique Lhuillier's Wanderlust  |5|  Monique Lhuillier's Memory
Hi ShuGar Loves! How was your weekend? I had a great time connecting with friends and family. I finally got a chance to eat at Cafe Laurent. Yum-Mee! They know how to do French brunch.  I also met up with my sis and mom to begin planning our dual parties: Her bridal shower and my baby shower. So much joy in our family happening these days!
All this party planning has me thinking of the last party I planned: our magical wedding. I wouldn't change one thing about our day. Well, except I would want the day to move in slow motion so I could soak in every sweet moment. It just went by sooooo quickly!
There are so many dreamy wedding dresses out there now! When I was looking for the dress, BHLDN was just barely opening and I swoon over all their dresses. I'm also crazy about Sarah Seven dresses. My wedding dress aesthetic is a combination of whimsy and elegance.
If I would go shopping for the white dress again (to marry Mr. ShuGar again), these are some of the top dresses I'd be dreaming about. Aaahhhh, you can never really take the bride out of the wife 😉
Have a beautiful Monday, all!
ShuGar Fix Mondays is a weekly inspiration series because Mondays deserve an extra dose of pretty. For more ShuGar Fix Mondays, click here!