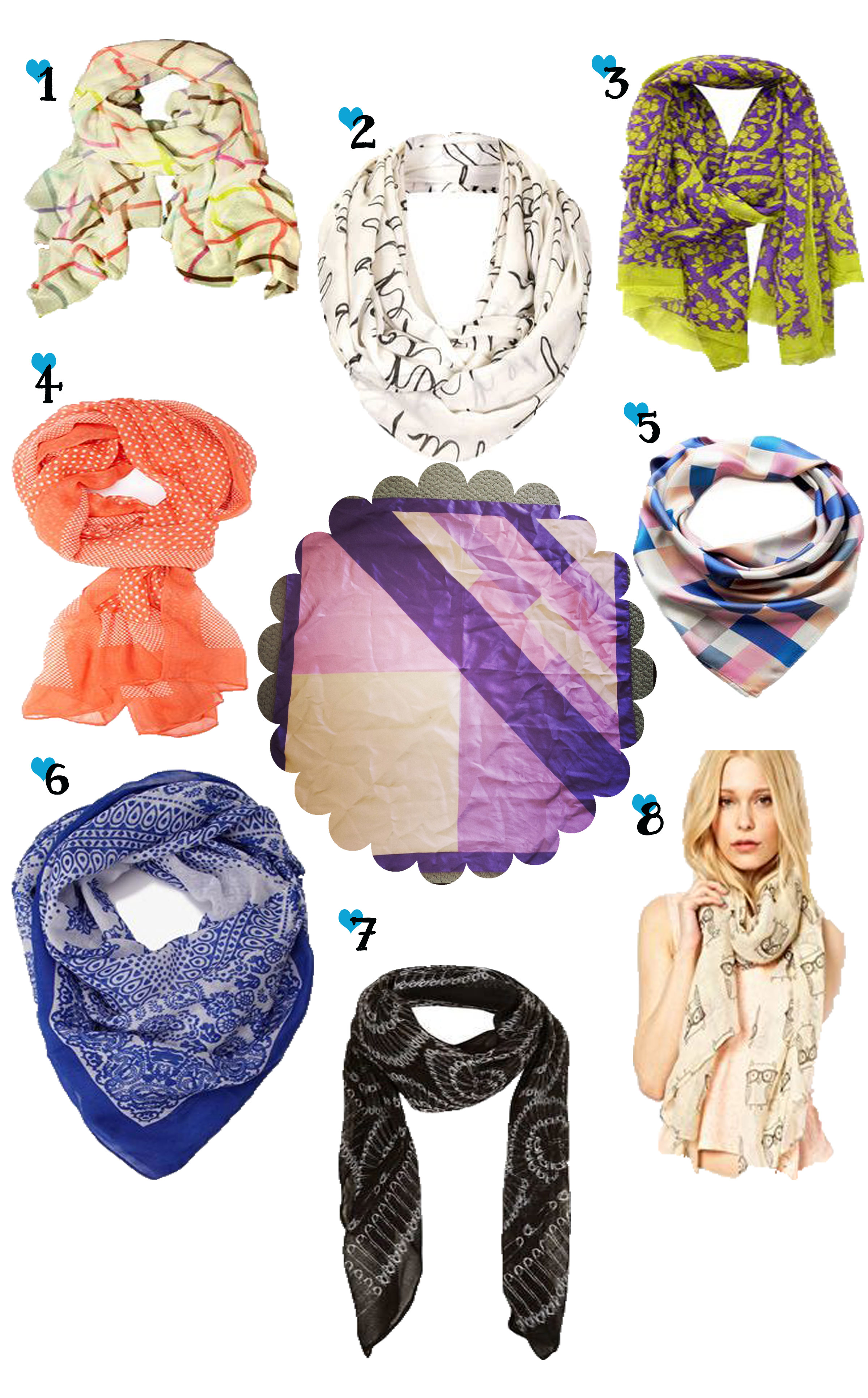 |1| Plaid Scarf  |2| Hello Scarf  |3|  Green & Purple Scarf  |4|  Coral Scarf  |5|  Square Scarf  |6|  Blue & White Scarf  |7|  Safety Pins Scarf  |8| Owl Scarf
Hi ShuGar Love readers! I hope you had a nice weekend.  I enjoyed a weekend with lots of "me" time since Mr. ShuGar was away for a bachelor party.  It's great to have these weekends once in a while.
Now, let's talk fashion.  One accessory that I wear year round is a scarf.  No matter what the weather is, I can always find a scarf to suit any occasion. Scarves give you that extra pop with any outfit and provide some warmth in chilly-ish weather.  I just love the variety of scarves we are seeing in fashion right now.  For my personal style, I gravitate towards some funky prints.
All scarves above were inspired by me finding my old purple scarf (pictured in the middle of the inspiration board) this past week. It was buried in my drawer and I forgot I even had it! I love when that happens; It feels like you went shopping in your closet!  I don't remember where I bought it.  I have a feeling it was in Paris, but I'm not too sure.
These scarves have a quirky vibe; I dig 'em! The "hello" scarf contains a print of the famous Jerry Macguire quote, "You had me at hello."  How freakin' awesome is that?! Although I also enjoy solid colored scarves, there's something really special about scarves that have geometric shapes like #1, #4 and #5. Who doesn't like safety pins on a scarf? If you do, #7 is the scarf for you. It doesn't get any crazier than an owl print in #8. It's perfect for us die hard Harry Potter fans!
I encourage you to consider wrapping your beautiful neck with a scarf!
ShuGar Fix Mondays is a weekly inspiration series because Mondays deserve an extra dose of pretty. For more ShuGar Fix Mondays, click here!