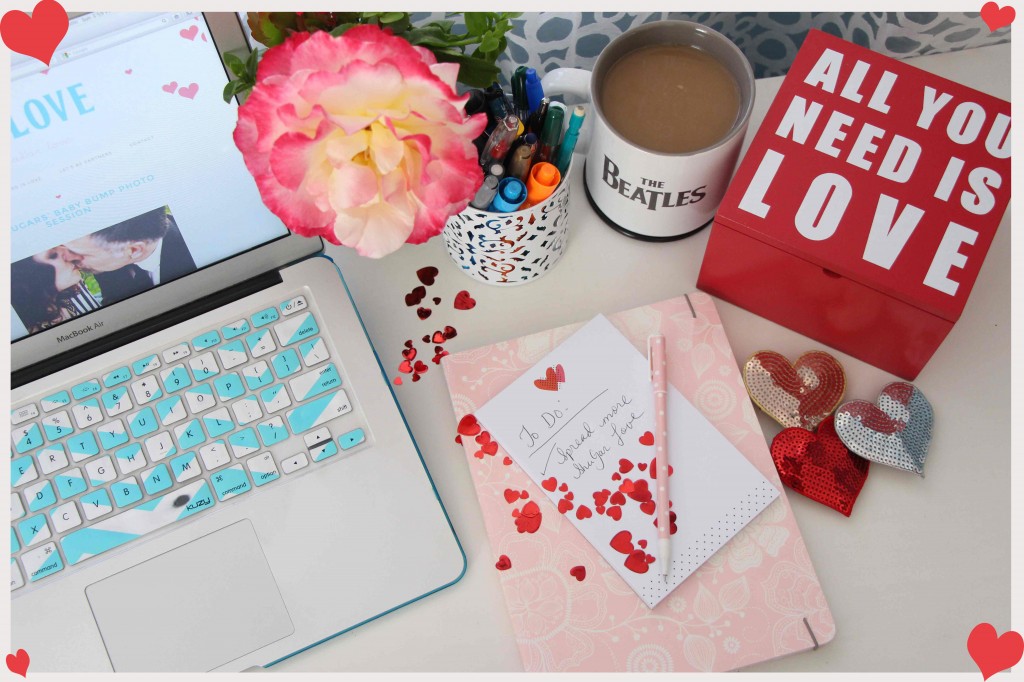 About
ShuGar Love is a blog about the Heart & all there is to Love.  Since its initial launch in early 2013, this lifestyle blog has gained a loyal following among individuals who are lovers of love, have an eclectic style, and embrace a whimsical outlook on life. Additionally, many followers are passionate Beatles fans, much like Mrs. ShuGar. ShuGar Love's readership is comprised primarily of women, ranging from ages 20-45 years old.  These women are generally in some type of relationship and may have children, while others do not.
ShuGar Love is a snapshot into Mrs. ShuGar's heart, inspired by the love in her life.  This blog explores a love for art, photography, fashion, beauty, The Beatles, indie films, traveling, dance, L.A., books, food, family, marriage, baby, relationships, and, most importantly, love. Everyone is invited to share in the love.
Stats
Monthly Page Views: 3,410+                                       Instagram: 448
Monthly Unique Visits: 2,070+                                     Twitter: 945
Blog Followers: 310+                                                Pinterest: 298
Facebook: 702                                                          Google+: 63
A grand total of…2766 and growing!
(last updated 4/2014)

Partnerships
Thank you for your interest in advertising with ShuGar Love!  ShuGar Love is interested in partnering with blogs, businesses, shops, and brands whose patrons are passionate about love and enjoy adding pizzazz to their life. ShuGar Love has a variety of collaborative options for you, such as sidebar ads, sponsored posts, and product reviews. If you want something tailored to your specific needs, just holla and we can create a lovely package just for you! Our goal is to give you all our love so that you can receive the best publicity out there!
All promotional options can be purchased securely through Passion Fruit Ads. Jpegs are the preferred format for blog features. For ads, you have the option of buying for one month or several months. At the end of the month(s), you have the opportunity to renew or cancel your advertisement. Please review our disclosure policy below for further details about the ads options listed. For any additional questions, send an email to mrs.shugar@gmail.com. Now, let's make a love partnership together!

 Serious Stuff: Disclosure
All Sponsors:
This policy is valid from 01 April 2014.
This blog is a personal blog written and edited by Carmen Garcia-Shushtari. For questions about this blog, please contact Carmen at mrs.shugar@gmail.com
ShuGar Love only accepts sponsorships with brands in line with ShuGar Love's content and mission. ShuGar Love reserves the right to terminate any partnership at any time without giving a full refund if it does not abide by ShuGar Love's standards of business and etiquette.
This blog accepts forms of cash advertising, sponsorship, paid insertions or other forms of compensation. Additionally, ShuGar Love is involved in affiliate programs, which may generate specific posts to promote a certain brand. Within these posts, links will be included which may generate income for ShuGar Love when clicked. If purchases are made with these affiliate programs, compensation may be provided to ShuGar Love.
ShuGar Love only works with affiliates and sponsors who align with the ShuGar Love aesthetic and brand.
This blog abides by word of mouth marketing standards. We believe in honesty of relationship, opinion and identity. The compensation received may influence the advertising content, topics or posts made in this blog. That content, advertising space, or post will be clearly identified as paid or sponsored content. Any gifted itms will be clearly noted in the post.
The owner(s) of this blog is compensated to provide opinion on products, services, websites and various other topics. Even though the owner(s) of this blog receives compensation for our posts or advertisements, we always give our honest opinions, findings, beliefs, or experiences on those topics or products. The views and opinions expressed on this blog are purely the bloggers' own. Any product claim, statistic, quote or other representation about a product or service should be verified with the manufacturer, provider or party in question.
This blog does contain content which might present a conflict of interest. This content will always be identified. To get your own policy, go to disclosurepolicy.org
Reviews:
Product to review must be fully compensated by the company. Any gifted items will be clearly stated in the blog post. Once reviewed, the product will be not be returned. Importantly, ShuGar Love will give an honest opinion of the product to its readers.  Positive reviews are not a guarantee. As a courtesy, ShuGar Love will notify the company beforehand of the content of the review.
If the product is not representative of the ShuGar Love brand, ShuGar Love has every right to deny the product for review. Please allow a maximum of 30 days for the review to post. When requesting a product review, please provide a brief summary of your company, the product, contact info, and website, and any social media links. ShuGar Love also asks that you provide any jpeg images to highlight the product in the blog post, if the product is not provided.
 Giveaways:
All giveaways on ShuGar Love on conducted using Rafflecopter. The exact rules  for a specific giveaway will be indicated in the Rafflecopter widget contained in the blog post. Giveaways will last 7-10 business days. ShuGar Love will promote the giveaway using several social media platforms throughout that time period. Once the giveaway time is completed, Rafflecopter will choose a winner at random. ShuGar Love will then notify that winner and will give the winner 48 hours to respond. If the winner does not respond, another winner will be chosen at random using Rafflecopter. We ask our readers to allow up to six weeks for the prize to be received. If the prize has yet to be received after this period, please contact ShuGar Love immediately and we will inquire with the sponsor. ShuGar Love cannot be held responsible if the sponsor does not send the prize as previously agreed upon. Therefore, ShuGar Love is relieved of any liability.
Courtesy:
All design, layouts, illustrations, photos, and content are created solely for and by ShuGar Love. ShuGar Love is honored when anyone wants to share its blog content! If you do, please make sure you credit ShuGar Love appropriately and link back to the ShuGar Love original source. Don't be mean because stealing isn't nice.
Any comments deemed inappropriate, rude, offensive, spam, or unrelated to ShuGar Love will be deleted at the blogger's discretion.
A warm hug to those sponsors who support ShuGar Love! We appreciate your contributions and love. Thank you for supporting sponsors who help me spread more ShuGar Love!
Photo credit: Peter Shushtari