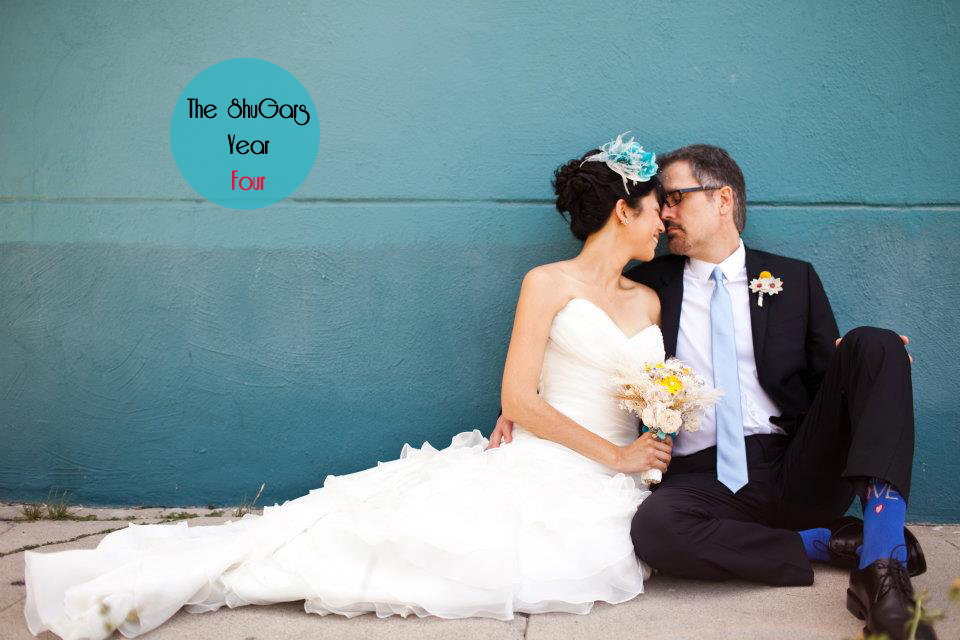 Hi Loves! I am SO late on updating on Year 4 of our marriage, but it's just hard to find time to sit down and reflect these days.
I thought about sharing how much I adore my husband and that would be so sweet, but instead I'd like to be more transparent in sharing our marriage as first-time parents.
It's been a hard year for us – the roughest one yet. Why? Because having a tiny human who depends on you 100% of the time leaves little crumbs of time for you to invest with your partner. It's our reality now.
I write this post as a dedication to my dearest husband – the man I chose to spend the rest of my life with and also the person I miss the most these days.  It also goes out to all the dear husbands out there who are surviving the first few years of being a parent. Cheers to you!
Marriage is made up of tiny moments of mundaneness sprinkled with magical ones like having a baby. Thank you, Mr. ShuGar, for holding my hand as I fumbled through my first year as a mommy trying to find my way.
Marriage will contain difficult times – it comes with the territory. Without these times, we would not learn to appreciate each other. (Ignore anyone that says their marriage is easy! They're big fat liars!) Now that we have very little time to ourselves, I miss just being with him. I miss us lounging on the couch watching an indie film; I miss waking up and staying in bed for however long we wanted to and having breakfast in bed. Breakfast in bed????  I do love waking up, though, with the cutest little boy all smiles waiting for us to love him.
Marriage is about compassion – being compassionate means demonstrating empathy for your spouse even when you have no idea how to relate. It's giving your whole heart blindly. We've mastered this one and as new parents we've put it into practice lots.
Marriage is power. I have found we are weaker when we don't work together as a team or if we feel like we are coming from two separate planets. Being on the same page is the biggest challenge, but it also produces the greatest results.
Marriage is endless "I am sorry's" because you will forever make mistakes. Especially when you become a parent, you have no clue what to do. Unfortunately, your spouse becomes an easy target for frustrations and anxieties so you have to be prepared to ask for forgiveness. Words are words though; you have to have meaning behind them.
Marriage is hope. Right now, we are not in the place we want to be. Does that mean we give up? Hell no! It means we try harder in any way we can. Love is hope. We believe in "us" and understand that over time we will have more time to be together. Right now, it's all about survival.
I hope this inspires other first-time parents or any others in a marriage to believe in love. I have always said marriage is the greatest gift so you have to cherish it even more when life throws you curve balls.
I am grateful every day for having this incredible husband of mine. I am blessed in a million ways. Our sweet boy reminds me of him so much; I see Mr. ShuGar in ShuGar Boy's eyes. Thank you, Mr. ShuGar, for being my light, my heart, and my everything. I love you. Today. Tomorrow. Always.
What advice would you give to couples who are about to tie the knot? What is the most challenging part of a marriage and what is the most fun?
Photo credit: Ashley Rose