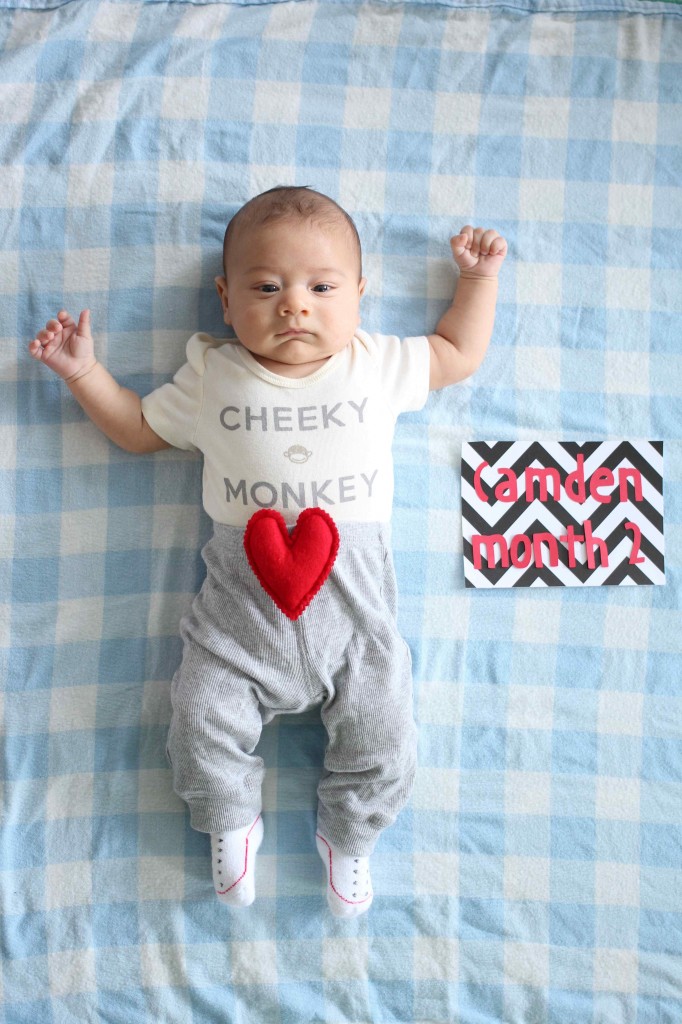 Mommy's Corner is a weekly series exploring our journey in becoming parents, our love for our ShuGar baby, and general topics related to mommyhood.
Hello to all! Yup, it is true. Our little Camden has turned two months. Seriously? How is that even possible. I still remember coming home from the hospital as if it were yesterday. Every day is a blessing with this little fellow. He's changing so rapidly that I am so excited to look back on these updates and capture the development.
Camden likes to…
play with his little stuffed animal friend, Mr. Butterfly. Every chance we get when he is alert and awake, we use this little toy to help him track where it's moving in front of him. I read that his eyes are slowly developing and having him trace moving objects can assist with this. He just loves to stare at the colors and patterns of Mr. Butterfly. It also has this way cool mirror where our little guy can stare at his own reflection.
Camden's absolute fave thing to do is listen to his daddy sing to him. Mr. ShuGar has revised Doris Day's Pillow Talk to create Camden Talk, a little diddy all about Camden's moans, groans, squaks and mumbles. Every single time Mr. ShuGar serenades Camden, little Camdie's face lights up and he lets out a loud coo. Melts my heart every time.
Camden has started to…
finally enjoy tummy time…a little bit more. It's still not his favorite thing on the menu, but he has gone longer periods with being on the floor. Again, in aiding in his development, tummy time is supposed to help him strengthen his muscles and also provide valuable brain food. He can go for about five minutes with lifting his neck and attempting to crawl without crying bloody murder.
Oh, and he coos now! Aaahhh!!! The sound of him trying to say something makes my heart flutter.
Camden has learned to…
follow our voices when we are not within his eye range. It's pretty incredible to witness him turn his head as he tries to look for our voices. He's also learned to grab onto items, whether it's on purpose on not is too soon to tell, but it's cute to witness. The absolutely cutest is when I am breastfeeding him and he clings onto my blouse or boob to provide stability. Cheeky monkey!
Camden doesn't enjoy…
open spaces at all. He's gotten more sensitive these days, especially after his first vaccines. He's getting a bit more used to being placed on any surface and left alone, but it still is just a matter of time before he lets us know we need to pick him up. Fast. Or else. This is probably why he hates the changing table, although these days he actually doesn't cry much on it. I guess he got used to that one. When we leave him on our bed or on the floor for tummy time, this is when we know it's a ticking time bomb before he protests.
Camden's snack of choice is…
still my milk, although this will soon come to an end. I discussed how I am weaning him off my breast in anticipation of me going back to work last week. I don't think the formula is his fave thing just yet, but I'm hoping it eventually will be. He still gets very excited for my milk and actually cries when I try to feed him his formula. I'm hoping we will both adjust sooner rather than later.
Camden makes us laugh when he…
laughs. This is the most adorable thing ever! It sometimes comes at the most random times, but it makes our entire day to see our little one give a little chuckle. Sometimes it's just a half smile, but most times it's this toothless grin that gives us butterflies in our stomachs. I will say that every time he sees his daddy, Camden's face lights up and a smile is inevitable. We have that in common: Mr. ShuGar brings us both happiness.
Camden has cried when…
he got his first vaccines. Initially, he only gave a loud shout, but later that night and the following day he had frequent outburst from his discomfort. Poor little guy. Over the weekend, he began to feel like his old self again. He's our little trooper and we are so proud of him for taking these vaccines like a champ.
Camden Boy also detests being left in his co-sleeper without being swaddled. I have no idea how we are going to get him to sleep there once he can no longer be swaddled. Help!
Camden's personality has been…
developing more and more these days. He has a certain way of letting us know he is not happy by letting out these very distinct grunts. It's actually pretty funny. I picture him complaining to us that he is too cold, too hot, hungry, tired, etc. His grunts are loud and emphatic. I can say I have birthed a little Drama King. He takes after his mama.
Camden looks like…
me, a lot. Wow! I can really see it now. He has my eyes and my head shape. His cheeks are super duper chubby, but I don't know where he gets that from. I do see bits and pieces of Mr. ShuGar, like in his lips, especially when he curls then to coo and "talk."
Camden has grown…
even more! My milk has super nutrients because this little guy is changing minute by minute, at least it seems that way. He's just about two feet long and has gotten chunkier. I finally can squeeze his baby rolls on his thighs. Confession: I am obsessed with baby legs, especially when they have those rolls. I have to control myself and not over-squish Camden's legs, but they are just so delicious.
Camden makes Mr. ShuGar and I feel…
lots of emotions these days. Some days are better than others since Camdie is still very much getting acclimated to this world. To be honest, Mr. ShuGar and I have felt so tired these days, probably due to the fact that sleep is at a premium and we don't get much respite during the day. Yet, we are overjoyed each and every single day. We tell ourselves all the time, "Can you believe he is our son? He is so beautiful." In the end, this is what keeps us going and inspires us.
Do you remember your baby's first attempts at smiling or talking? How did you feel? A baby's firsts anything are incredible, wouldn't you agree?
Photo credit: Peter Shushtari