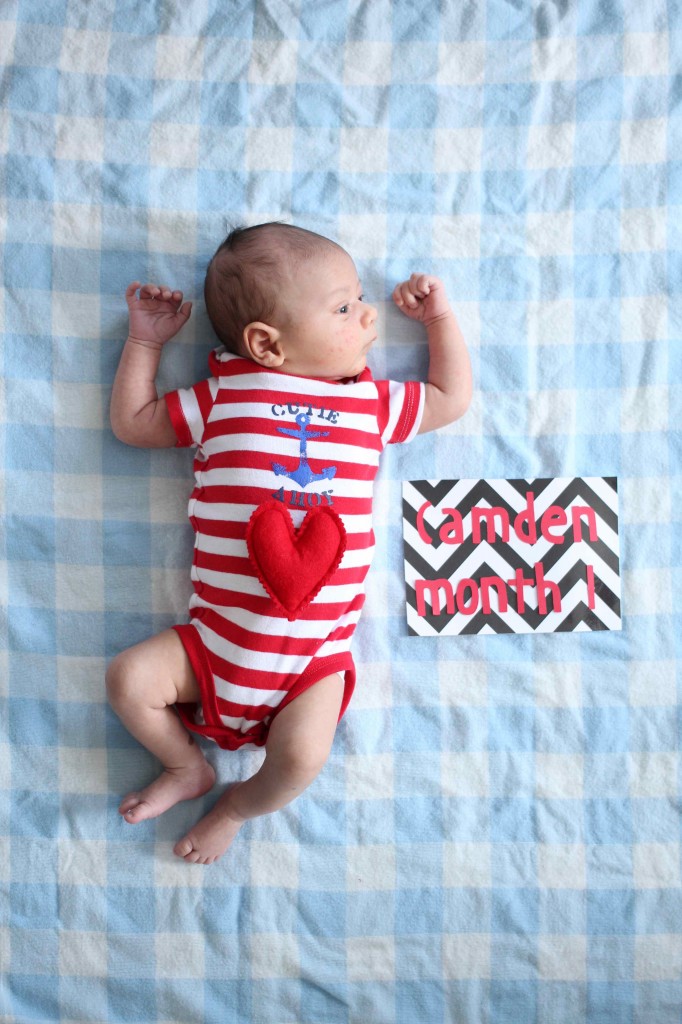 Mommy's Corner is a weekly series exploring our journey in becoming parents, our love for our ShuGar baby, and general topics related to mommyhood.
Hi all! Our little Camdie has turned one month. How and when did this happen? Although technically he is already five weeks old, I wanted to share his one month update to enjoy his development during this very special time for our ShuGar family.
Camden likes to…
be held with his tummy directly touching our bodies. This is a recent trend since he dreaded tummy time before. In fact, he now likes to be lulled to sleep this way. Also, At least with me, when I cradle him he gets a little more agitated because he immediately wants mama's milk, despite having already fed him not too long ago.
Camden has started to…
open his eyes more and stare. He gazes at us or any other object nearby.  It's really exciting to see him make eye contact! He appears more and more like a human being when he looks at us in the eye. I could stare at his grey eyes for hours!
Camden has learned to…
grab onto our hands or any other item within his reach. Oh, to watch his little hands grasp something makes me so very happy! I like to put my hand in his when I am breastfeeding him. We hold hands while I give him his meal.
Camden doesn't enjoy…
still having his diaper changed on the changing table. At first, I thought it was the mere fact that he detests the changing of his diaper, but, in fact, it's the actual changing table he's not too fond of. He protests every single time and by protests I mean yells off the top of his lungs. When we change him elsewhere, he doesn't freak out nearly as much. He also has developed an aversion for his Moses basket. He liked it at first, but now he can only last for about five minutes before balling his eyes out.
Camden's snack of choice is…
my milk and then some. In fact, he has begun to overindulge in mama's milk so much so that he has spit it up several times. It's also really funny to observe him get into a milk coma after each feeding. His face says it all…pure bliss.
Camden makes us laugh when he…
does the funniest faces, especially after being satiated with mama's milk or woken up after a long slumber. He is definitely a very expressive boy, just like his mama. We like to think his exaggerated expressions are his way of communicating with us. My fave face is the one he makes when he is "just over it."
Camden has cried when…
yup, still being placed on that dreaded changing table. He's generally a serene baby since he only seems to cry when he is hungry, tired, or needs a change of diaper. So far, no colic in sight. Crossing my fingers that it doesn't show up in these next few months. He just loves being held and sometimes will cry to get a hug from one of us. So sweet!
Camden's personality has been…
just like a drama king. Again, just like his mama. Mr. ShuGar is more of the easy going type, but it appears that Mr. Camden likes to get our attention for the slightest discomfort by crying his little heart out. Although it can be very exhausting when this happens, I'm trying really hard to take a different perspective and cherish his form of communicating with us. He already has a distinct way of being. For example, he gets annoyed when we kiss his feet, but I just can't help it. He quickly pulls them away as if to say, "Don't touch this precious cargo!" Love!
Camden looks like…
a whole lot chubbier. Not sure where he gets his chubby cheeks from, but they're so squeezable! I am constantly kissing them. Still not sure who he will turn out to look like, but I do think his eyes and personality are mine and his lips and legs are Mr. ShuGar's.
Camden has grown…
a heck of a lot! He weights nine pounds now. Whoa Nellie! His weight gain proves he definitely is enjoying mama's milk. Oh, and finally his thighs are becoming squishable. I die for baby legs!
Camden makes Mr. ShuGar and I feel…
so much love for our little man. This past Saturday, all three of us lay in bed and enjoyed some family bonding time. It felt like heaven for us three to have some down time to just be together. We still can't believe this little boy is all ours. We are so blessed and grateful. We remember how difficult it was to get to this point, so Camden is our little miracle. We feel an immense, unconditional love.
Thank you for showing such an outpouring of love for our Camden Baby! He is very thankful, too.
What amazed (amazes) you about your newborn in the first month? Was there one particular milestone that s/he reached that fascinated you at that point? 
P.S. Isn't the newborn smell the absolute best?