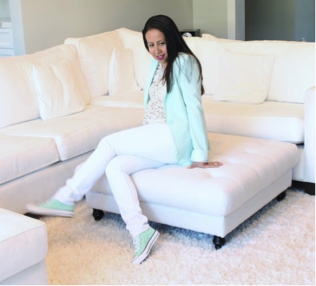 ShuGar Fix Mondays is a weekly inspiration series because Mondays deserve an extra dose of pretty. For more ShuGar Fix Mondays, click here!  
My posts are currently pre-scheduled as I am taking time off to be a mommy. I've enlisted the help of my bloggy friends (cue Ringo Starr & The Beatles song) to write some guest posts for you lovelies. They'll be contributing throughout this month of April. Please show them some love by reading their guest posts and also visiting their awesome blogs. Love these ladies! I'll still be reading your comments from time to time, but my responses will be delayed. Not to worry, though. I have planned some quality content for you in my absence. I plan on returning at the end of April with lots of heart updates.

I'm Tania Franco of the blog Inspire My Fancy! I blog about what inspires me, fashion, art, photography, and beauty. My blog is very special to me because it allows me to share, and express myself creatively. I have a full time job in the mental health field, which also allows me to be creative in a totally different way. Secretly I have always wanted to be a writer, have a job in fashion,  be surrounded by art, and live next to the ocean. So, Inspire My Fancy is my own little space where I get to do all of that.
Intro
I'm happy to be guest posting for Shugar Love today. As a mom myself, I've enjoyed sharing my mommy experiences with Carmen. I love this blog because Carmen always speaks from her heart, and makes me believe that my Mr. Right is out there somewhere for me. On that note, I am sharing two date looks with you all. First dates are exciting, and a little nerve racking sometimes, because you have no idea what to expect. Well, I have found feeling your best will make the date all that much enjoyable for you and your date. If you're married, these looks will definitely impress your hubby on a date night!
Look #1
For my first look I chose a fun flirty skater skirt that shows off what I think is my best physical feature – my legs. It is a part of my body that I have always loved. Hey, why not show it off? I paired the look with a floral white, black, and red camisole. This color palette is one of my favorites. Red is the color of love. A splash of red is so eye catching, don't you think?
Look #2
My second look consists of skinny snake print shimmery pants, and the same pretty camisole. Pants accentuate curves, black pants are a great option. Again I chose black on the bottom because it is the most flattering color on anyone. Black has a special effect on me. When I wear it, I get a kind of confident feeling inside. Does it do that for you, or is that just weird? Seriously, I can always count on black to give me strength and courage.
Shoes
This outfit also looks great with ankle boots, or platform heels. I adore open-toed heels.  They make legs look leaner and longer.  Depending on your kind of date, you may want to wear platforms or shoes with a little more support. Heels, like the ones I'm wearing can hurt if you are on your feet for hours.
Accessories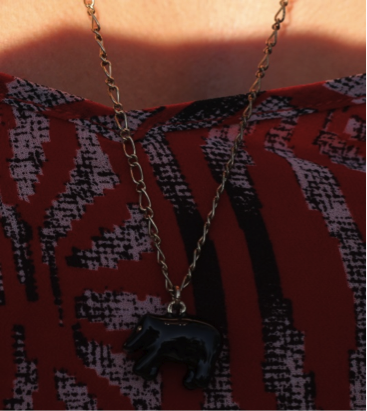 As far as accessories go, I am a minimalist. I love simple, delicate pieces of jewelry. Sometimes I will wear long ornamented earrings, but tend to stick with gold or studs most of the time.  I do love bracelets though, and have been layering them recently. For this look I went with a cute black and gold elephant necklace for good luck. You can style your jewelry to your taste, but I think your personality is what should shine!
P.S. A Moto Jacket would totally fit this look perfectly on a cool day!
I hope you have enjoyed my date looks, and come visit me at Inspire My Fancy! Thanks Carmen for letting me be a part of Shugar Love today.
Much Love,
Tania
Tags: Camisole Top- Sans Souci, Pants-Seven7, Skirt-Banana Lemon, Shoes-My Delicious Shoes
Necklace- JCrew,  Sunglasses-Banana Republic (#1 look), Ray Ban (look #2)
Much love and thanks to Tania for writing about today's fashion candy! Isn't she fab? I enjoy visiting her blog and getting inspired with so much luscious fashion. Make sure to check out her blog Inspire My Fancy.