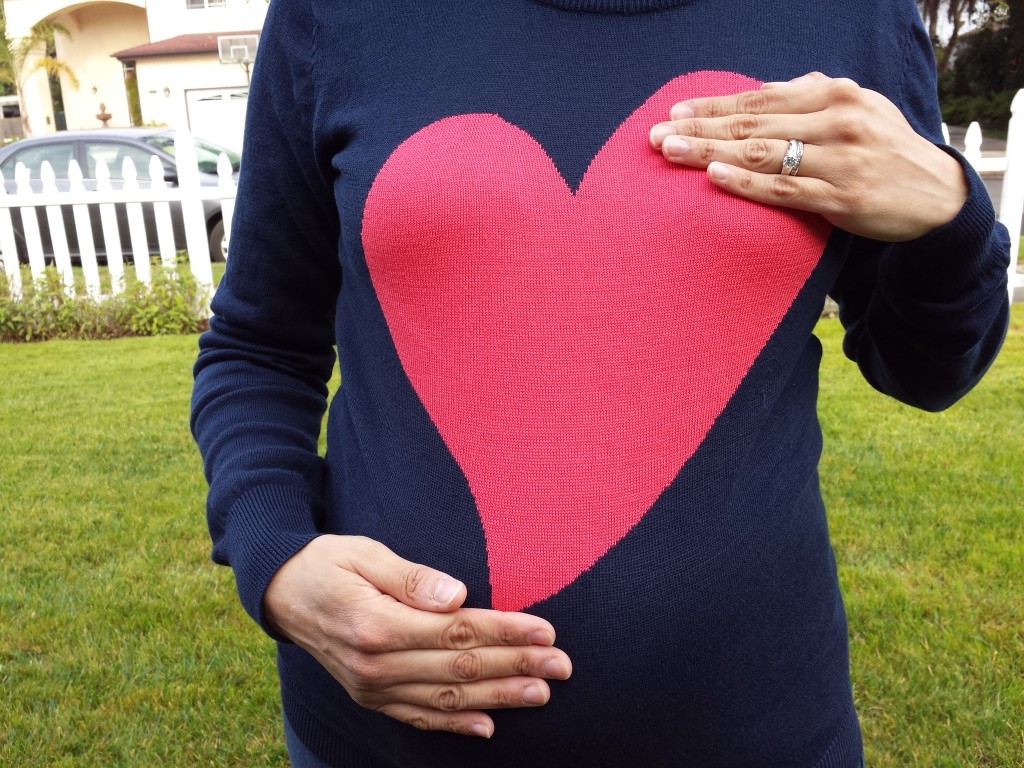 Mommy's Corner is a weekly series exploring our journey in becoming parents, our love for our ShuGar baby, and general topics related to mommyhood.
Hi lovelies! My posts are currently pre-scheduled as I am taking time off to be a mommy. I've enlisted the help of my bloggy friends (cue Ringo Starr & The Beatles song) to write some guest posts for you lovelies. They'll be contributing throughout this month of April. Please show them some love by reading their guest posts and also visiting their awesome blogs. Love these ladies! I'll still be reading your comments from time to time, but my responses will be delayed. Not to worry, though. I have planned some quality content for you in my absence. I plan on returning at the end of April with lots of heart updates.

As I prepare to be an "official mom", I am consumed with a sense of joy and utter bliss. However, I also feel a sense of mourning that I will no longer have a cute baby bump. I know some of you may be asking yourselves, "Is she crazy?" Maybe I am, but allow me to explain further.
I do want to add a caveat to my discussion saying I am sensitive to those mamas who didn't have an easy pregnancy. I am fortunate that I really didn't have any complications. This is not always the case for others and I want to acknowledge that reality. I have mad respect for those warrior mamas. I also realize I could go the negative route and bitch about the inconveniences of being pregnant, but that's not really my style. You can find that elsewhere I am sure.
Lucky for me, ShuGar Boy really didn't cause me much trouble in the womb. The only "bump" along the way was being diagnosed with borderline gestational diabetes. That really sucked because it restricted my diet tremendously and I LOVE to eat! So, what's to miss? Well…
Things I Will Miss About Being Pregnant:
His Heart Inside: I uploaded the pic above months ago on instagram because I wanted to capture how much I love feeling that I am carrying someone else's heart. It's such a spectacular gift! Every doctor visit, I get to hear his baby heart thump. The sweetest of sounds it is! I'll miss that inside of me.
Spoil Me: Yup, it's what you think. I'm going to miss being pampered by everyone around me. I am fully aware that this will soon end and I will be working my butt off now to care for another human being. Therefore, I will miss the attention I get from Mr. ShuGar worried about my every move. I will also long for the care my family showed me throughout because they are always concerned about mine and baby's health. I admit it. I like being the center of their attention.
Kick Me: There is absolutely nothing that compares with feeling your baby do jumps in your belly. It does not feel like gas or cramps. It's the sweetest feeling when you see him rearrange himself. I can't help but smile every time.
Partner with Me: I've really liked being with my little boy at all times. No matter where I go, whether it be in meetings, driving, or watching tv, my sweet boy has been with me for nine months and I've loved it. It's like having your own partner to share your daily life with. It makes the day more fun and you also feel less alone when you feel down. I talk to him all the time and I love to feel him "answer me" with his kicks. I'm going to miss having him by my side.
Stranger Love: Living in LA, I am used to walking by strangers and not acknowledging their presence. You look down or around, but not straight in the eyes because we self-protect in the big city. Yet, with my baby bump, strangers go out of their way to smile and/or talk to me. It's not a "fake" greeting either. People I don't even know are overjoyed when they see me. It's as if they convert to another person when they see my bump. I have met some really sweet strangers along the way. I'll miss them talking to me with such love.
Bagel Date: I love going to my OB appointments with Mr. ShuGar. We even created a tradition to have food afterwards to nourish ourselves. It was our time to process our doctor appointment and gush over the creation of our son. Life stood still for those precious moments for us to be a couple and share this amazing parenting journey together.
Preggo Fashion: It's pretty obvious I am a lover of fashion and I've embraced the maternity fashion. You can see how much I heart the baby bump fashion here or here or even here. It's actually kind of sexy and there was so much to choose from. I really tried to control my shopping desires. It felt nice to justify a shopping splurge by saying ShuGar Boy made me do it!
My Lady Lumps: I'm crazy about my lady lumps. Finally, I have an excuse to enjoy my curves. Boy, did I embrace them! I love having a bigger booty and boobies. I didn't hide my bump ever. I flaunted it. Definitely going to miss that.
For you mamas, did you miss anything about your pregnancy? For you non-mamas, what do you think when you see a pregnant lady? Do you express happiness when you see them?
Don't forget to visit tomorrow's All You Need is Love Project host Julie at Home is Where the Heart is!
Photo credit: Peter Shushtari