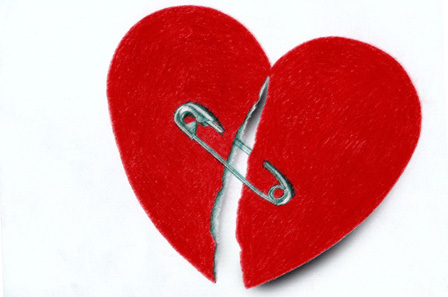 The All You Need is Love Project is a movement to inspire more love on this planet. The more we come together, the more love we can share. Join the revolution here!
Today's Love Topic:
Whenever you love, you run the risk of having your heart broken. How have you healed from a broken heart? How did you master the art of forgiveness and letting go of the pain? How did you learn to love again? 
I know this week's All You Need is Love Project topic may seem like a departure from the previous ones, but I actually don't see it that way.  No matter who and how you love, there is never a guarantee that your heart won't be broken at some point. That's why love is all about trust. You are literally giving someone your heart in his/her hands and trusting they will cherish it forever.
Sometimes life brings us moments of heartache and sadness. A break up can be a very painful experience. I equate it to somewhat of a death – either of a relationship, the trust, the way you look at that person, or your ability to love freely.
How does one survive a break up and find sunshine and love again?
My short answer to this question is to love yourself.
I know that may sound obvious, but many times after a break up, we can spend so much of our time wallowing and feeling sorry for ourselves crying in bed and, in the process, being self-masochists. Don't get me wrong. The first step I advise is to immerse yourself in the sadness because suppressing the pain is the worst thing you could do. Oh, and any other flings or shots of alcohol will only temporarily numb you. In the end, you still wake up with a broken heart.
After every break up, I learned something new about myself and my strength. I also realized what was unhealthy behavior and also the importance of letting go at some point.
My break up survival guide is:
Tip One: Cry it Out
Take time to be in the hurt. Immerse yourself in it. Grant yourself the ability to cry when you feel like it and isolate yourself from others, if this is the best way for you to cope with your heartache. There really is not a set time allotted for this first stage, but if you skip this step you never really will begin to move on. The book When Things Fall Apart really helped me a lot at this stage.
Tip Two: Indulge a Little
It's ok to feel the need to find a distraction from the pain. It's only natural for our hearts to what to protect themselves. Maybe it's taking a trip, having your favorite dessert, or going out for a girls' night. Something to be aware of is although having that one-night stand might temporarily boost your confidence, it will not take away your pain. The key to this is to indulge in moderation and not go overboard with any coping mechanism.
I remember during the aftermath of one of my break ups, I lost almost seven pounds in one week! What? That was so unhealthy and I have since learned to take care of yourself first. Another time, I decided to do a total makeover and I went to my hair stylist and told her to cut my hair off because I wanted a short bob. I don't know what it was about shedding the "old" me, but it was so liberating. Added bonus: I bonded so much with my hair stylist and we are still good friends to this date.
Now whenever my heart hurts, I Zumba and it feels so good. I've also indulged in pilates before and I enjoyed the results of a healthier and fitter me. Why not look really hot in the process!
Tip Three: Seek Therapy if Needed
I am firm believer in seeing a therapist at all stages in your life. I have found it can be the most therapeutic thing you can do for yourself and your relationships. Let's face it; Sometimes our friends/family don't give the best advice. At other times, they may get tired of us complaining about how much it hurts for the millionth time. A therapist can act as a mirror to help you gain clarity about your own actions.
Tip Four: Seek out Support from Your Loves
Once you feel the strength to get up out of bed, connect with those people who are still in your life. I'm talking about those who have never left you, who will not judge you, and love you unconditionally. For me, this is a very select group of people, but I credit them with helping me conquer the pain. They really just need to listen to you; advice is optional. Through the support of my loved ones, I was able to see through the fog of my heart ache.
Tip Five: Indulge in your Healthy Passion
I mentioned this above, but find something fun and healthy to do in your spare time! During one of my breakups, I returned to one of my first loves: ballet. During another period, I took a trip to get away from the scene of the crime. I needed breathing space. Maybe you want to buy a new outfit or finally try the latest fitness craze. This is the best time to do it because you deserve to give yourself this gift.
I'm not a chocolate or ice cream lover, but I know a lot of my girlfriends are. I find shopping therapy helps me. There's nothing like buying a new pair of shoes to bring some happiness to your life!
Tip Six: Seek Closure as Needed
This will vary depending on the circumstances, but if you feel there is unfinished business then do something about it. Don't just sit there and wonder for the rest of your life. Confront the situation when the time feels right for you. I know it may be difficult to open up old wounds so you'll have to play this one by ear. I have done this and have felt so much better after I did it. Sometimes emotions are too raw to do it during the initial break up. After taking some time apart, I found that we both had clarity and were able to have a mature conversation about the break up. Don't be afraid to speak up if you have something to say.
Tip Seven: Let it Go
Whether or not you get closure, there comes a time when you need to just let it go. Life and you must move on. Don't live in the past. Only you can make this choice. This is why I have a firm "no exes as facebook friends" because when I let go, I don't need any reminders that this person was in my life. That's just me. I have had exes (friends or partners) contact me after some time and, frankly, I don't really have much to say once I move on. If you feel otherwise, of course, keep the friendship alive. For me, I like to live in the present and hope for the future without anything from my past pulling me down.
One thing which is important to remember: Don't let this experience ruin your chances at trusting and loving again. You never know when love and friendship will once again come into your life. If I had let my past relationships stymie my growth, I would have never met Mr. ShuGar.
What do others have to say about surviving a break up? I enlisted the help of a few friends to share their experiences. 
My Girlfriends:
"Based on my experience I would say that a breakup sometimes feels like you are mourning the death of your best friend. In many ways you are because you are mourning countless hours, days, years you spent with that person. All the celebrations, arguments, laughs, hugs/kisses now belong to a time that no longer exists. I would say that it is healthy to give yourself time to mourn. It's ok to take time to mourn the death of a close family member or friend, so why not take time to mourn the end of a significant relationship? Spend time with friends, enjoy the outdoors, journal… find other activities that bring you peace in hopes of healing your broken heart. Time heals all wounds."
"I used [a] distraction and kept very busy. I really focused on myself and accomplished goals to make myself feel better about me. I focused on kids, education, and fitness."
"It depends on the breakup. It can be liberating, or it can be wrenching. Mine have been on both ends. But, each one taught me something different about myself and who I want to be and not be. I guess during my worst breakup I needed time to feel– sadness, rage, loneliness. No amount of ice cream, tequila, or sex with strangers made it go away. It just did when I was ready to love myself again."
"I watch comedies to cheer me up. Bridget Jones diary. And chocolate. Lots of chocolate x"
"I would say the hardest break up[s] are the back and forth ones that always end up setting you back. I feel like we trick ourselves into thinking that we owe them something. But we don't – we don't owe the time, or compassion, or caring. We need to take care of us. I remember when I was finally done I had a no contact rule. I wrote myself a note and put in in my wallet so that I would see it constantly – even if I didn't open it and read it, I knew what was in it. It said don't call him, don't e-mail, don't text. Don't respond to his emails (even if he makes you mad – he's doing it on purpose to start a dialogue). It was the best thing that I could have done for myself be proactive, foreseeing his played ass actions. lol That man called me for YEARS… He isn't even a thought anymore. When it's happening it feels like it will never end, like it can't hurt anymore, like that love was "thee" love. But it's not true. Life gets good again. We love ourselves again. Also, something I remind myself and friends of ever since that experience is to love ourselves as much as we love others. If I had a sister or a friend or a daughter going through that what advice would I give them? What would I want them to do for themselves in that situation? And then I took my own advice.
"Always have a back up just in case one doesn't work out! You have to be prepared just in case."
"The best advice i would give to get over a break up that has proven to work for me is: to forgive the other person and to wish them well in their journey of love. No amount of anger, resentment or hate towards the other person will heal you but forgiveness and taking responsibility for your own actions will."
My Bloggy Pals:
If I'm being honest, I'd have to say you just give it time and trust the process. Here is my process:

1.) Really take the time to see where things went wrong and why. If these are valid reasons that inflicted harm and destress then I honor that. I allow myself to feel that feeling because we forgive and make up for all the wrong reasons. (Cuz we're lonely and we all want a bestie.) We force ourselves to ignore and/or forget the bad and go running back. When you know it was wrong and honor that you deserved to be treated better you're less likely to repeat the pains. And you WILL repeat if the relationship was inflicting the harm and destress I mentioned above. Some people are just not meant to be friends.

2.) Erase! Erase! Erase! I get rid of their phone numbers and delete them from email contact lists and such. Out of sight, out of mind.

3.) Acknowledge and embrace the good in your life. Be grateful for the good you do have and really focus on that. Focus on the friendships and relationships that do bring you joy and happiness.

4.) Where I am currently: Be patient with yourself and know that you may not "get over it" quickly. Sometimes it will take awhile to fully let go of the pain. Don't beat yourself over that!

5.) My favorite: Whenever someone's really peeved me or a loved one off I think about farting in their face. lol…I don't know why but it totally works. Laughing is great. Laughing at someone else's pain and suffering is not great. You really have to distance yourself from bad energy and pain body (my hippity dippity moment). Farting on someone is therefore genius. It's defintely not a fun thing to experience if you're on the receiving end, but boy is it a hoot for the person pushing out the poof. 🙂 (plus no one ever died or had their life ruined by sniffing someone else's toot.)"
Want to know more about Tish at Luv and Kiwi? From Tish: Luv and Kiwi has nothing at all to do with the bird, New Zealand or the color green although I love all of those things oodles. I write about my odd little personal adventures. Between being an aspiring actor in Los Angeles, writing for a fitness blog, being a newly wed, living as a self-proclaimed tomboy and dancing in my overall nuttiness; I always have a story up my sleeve.
"I've never understood the obsession with eating ice cream or chocolate and getting sad after a breakup, I always believe that putting together a cute outfit and going out for a coffee with some friends is a better way to get rid of that awful feeling. My little sister is the opposite, she kind of looks for those dramatic breakups as an excuse to stay in pajamas and eat tons of brownies with vanilla ice cream, she actually admitted to that. But all of us are different and we have different ways to deal with life. A new haircut and/or trying a new nail color also has helped me in the past 🙂 It's all about not focusing on the negative things and thinking about the new opportunities and adventures, plus enjoying that extra personal time."
Want to know more about Elba at Live Colorful? From Elba:  Live Colorful is a happy space on the internet created to  inspire others to live colorfully and be happy.
Thank you to all for contributing to today's All You Need is Love Project! I find it so amazing that although we may have different experiences, surviving a broken heart is universal.
TODAY'S DISCUSSION TOPIC:
How have you survived a break up, whether it be a friendship or a romantic relationship? Do you have any coping mechanisms you suggest? How did you learn to open your heart again?
NEXT WEEK'S ALL YOU NEED IS LOVE PROJECT SUGGESTED TOPIC:
Complete the following sentence: I love me because…This may be hard for some of us, but we have to love ourselves before we give love, dontcha think? Share something physical you heart about yourself and another non-physical characteristic which you admire about yourself.
Interested in spreading more lovin' today? You can linkup your love post below. Post a pic on facebook/instagram/twitter/google + about today's love topic or anything that inspires your heart. Don't forget to use the hashtag #allyouneedisloveproject so we can follow you! You can also post any lovely pins to the pinterest board All You Need is Love Project.
Join the love revolution below. Ready, set, love!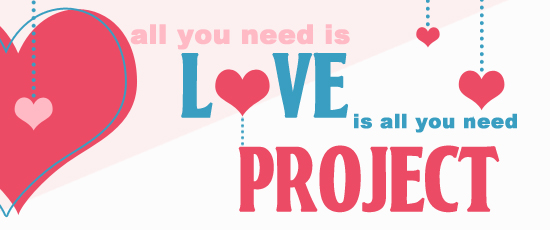 Photo credit: Heart Broken