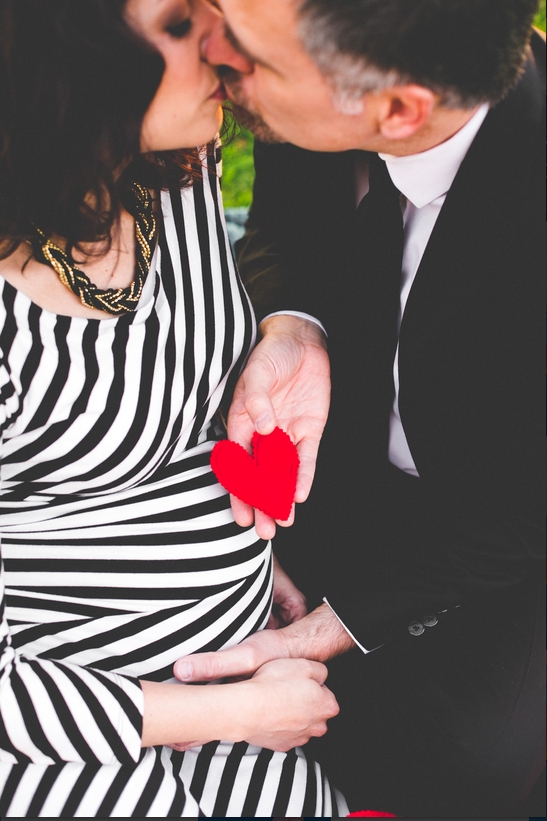 Mommy's Corner is a weekly series exploring our journey in becoming parents, our love for our ShuGar baby, and general topics related to mommyhood.
Do I have a treat for all you lovelies today or what?!? I've been dying to share with you photos from our maternity photo session and today is that day! I'll let the pics do most of the talking, but before I do that I want to give a love shout out to our amazingly talented photographer, Erin, from Hello Pinecone Photography.
I am blown away at all the gorgeous photos she took and, more importantly, how kind and sweet she was. Two things I have learned about photography as I have begun to dabble in it a bit. (1) It takes a lot of skill, patience, and talent to take ONE good photo. It is not as easy as it looks. (2) In order for anyone to capture a great photo, the photographer has to have the ability to inspire her subjects. This is certainly a challenging endeavor since many people may not feel so comfortable in front of the camera. That said, Erin embodies both of these requirements masterfully. She is such a doll to work with and has some rad camera talent. Thank you, dearest Erin, for giving us the greatest gift of capturing such a special moment in our lives. We heart you!
Ready to see some luscious photos?
When deciding where to take our photos, we knew we had to choose somewhere we enjoy hanging out. As you know, Mr. ShuGar and I are both L.A. lovers, so we wanted to shoot in a place that reflected our love for our city. We chose Abbot Kinney, a favorite hangout of ours in Venice. Our first stop was the Intelligentsia Cafe because we are coffee addicts.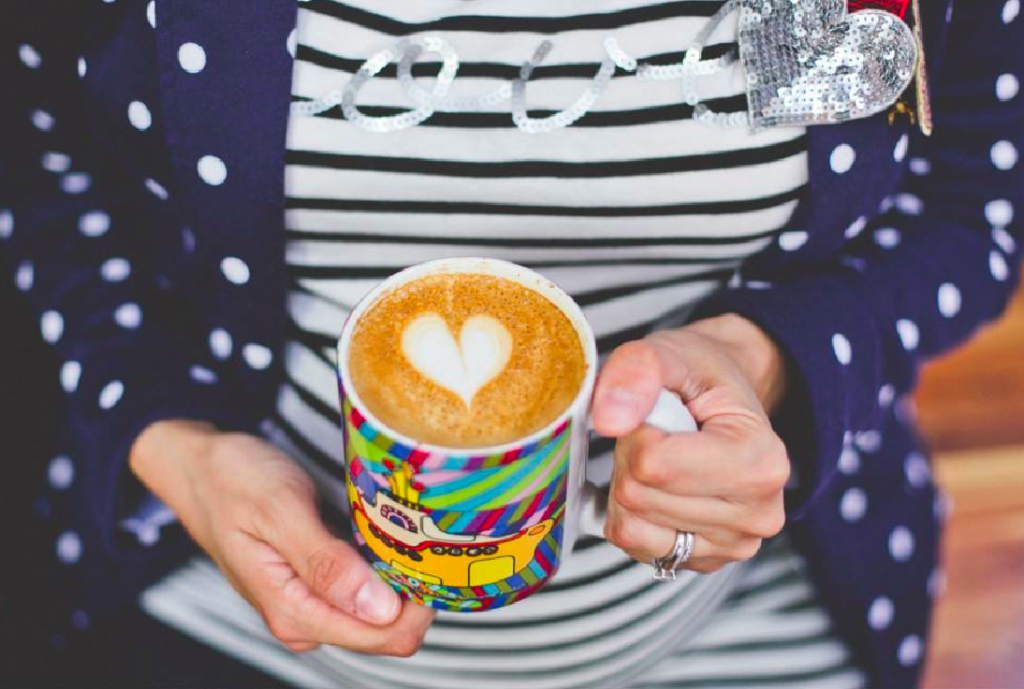 Can I just give another big thanks to my hair and makeup stylist, Evelyn, from Theresa Huang for making me feel so beautiful that day? They really know how to make a gal look her best. Many thanks!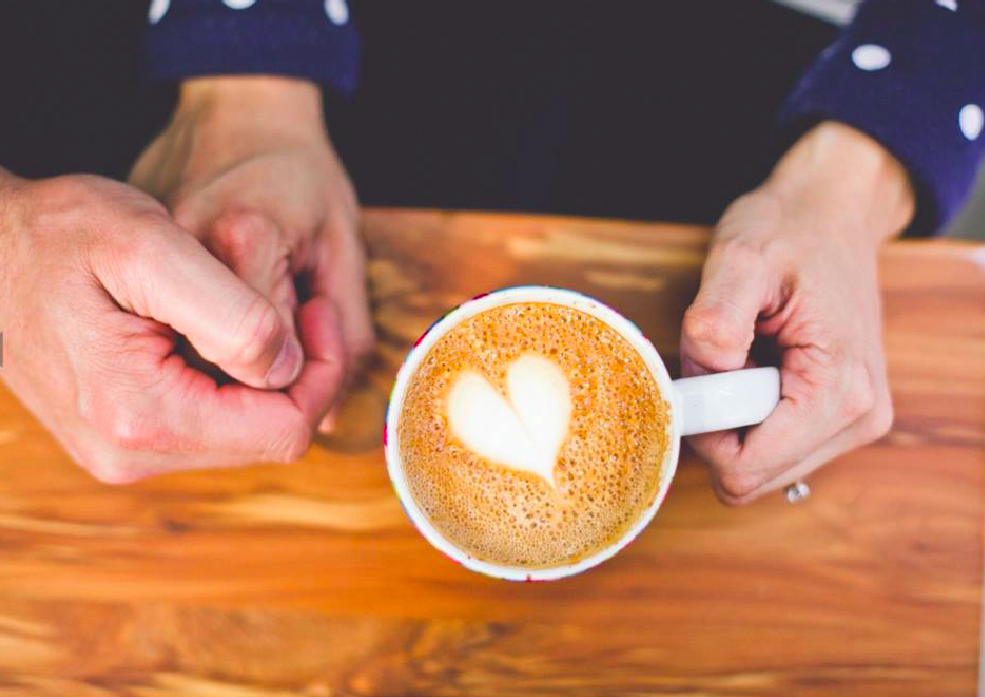 The barrista made us a "heart " coffee!! Oh, and did you notice we had a yellow submarine cup? You know the Beatles had to be in there somewhere, right?
Now for a little walk around Abbot Kinney…
If you have been following my blog, you know I am obsessed with hats. This is my current fave floppy hat from Forever 21. Did you notice the three hearts on my jacket? They're from one of cutest accessory stores, Ban.Do, and I chose three to represent the three loves of my life: Mr. ShuGar, our ShuGar Baby, and me (you gotta love yourself before you give love).
I adore my belly bump so much. In fact, I'm going to miss it, even though it can be uncomfortable. I wanted to make sure I captured my lady lumps because I am proud of carrying my little boy inside of me.
Every time Mr. ShuGar comes into the picture, I just can't help but beam with love for him. I love you, sweet Mr. ShuGar, forever and eternity.
I love our friends! I had several contact me to let me know Vans has a new Beatles line of shoes. I jumped at that chance to buy ShuGar Boy his own yellow submarine Vans.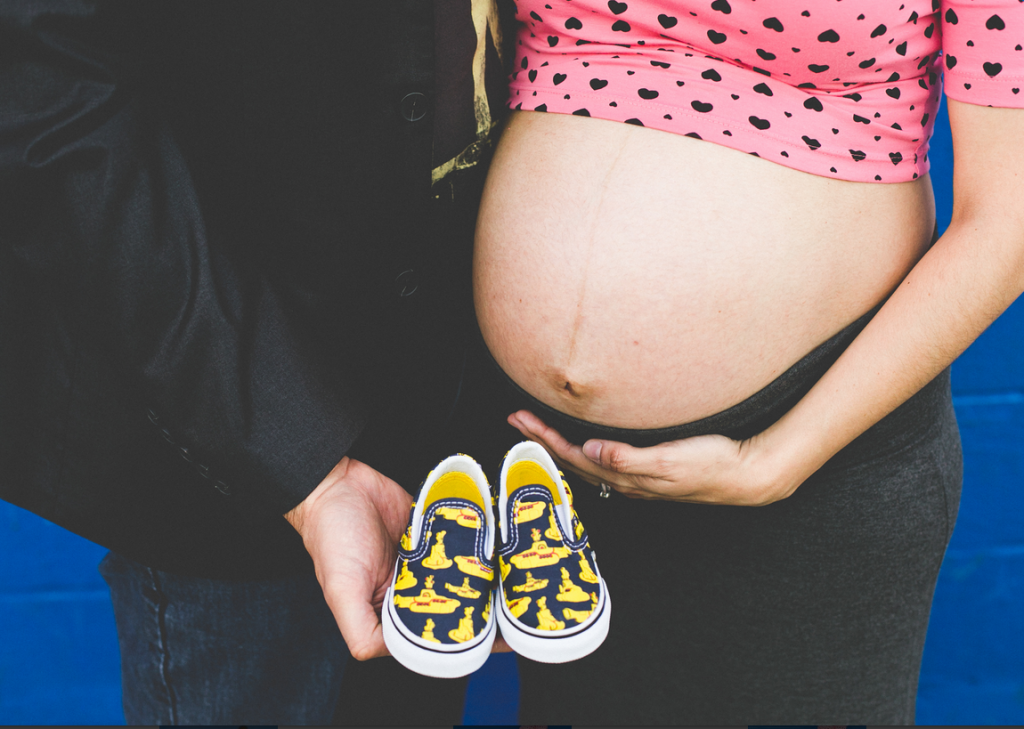 Mr. ShuGar and I like to have fun together and aren't afraid of being a little silly. Here's a series of whimsical, Yellow Submarine-esque photos with our heart umbrella!
Our next location means a lot to us as a couple. We had our very first kiss at this park almost six years ago. It's the place that started it all. Erin had a great suggestion to have the more formal shots there and use the beautiful magic hour light to capture our intimate picnic.
We are reading to ShuGar Boy John Lennon's children's book, Real Love: The Drawings for Sean.
The evening ended magically near the marina with love all around us.
Thank you for following along our preggo journey.
See ya tomorrow for the All You Need is Love Project!
Details:
Hair and Makeup – Theresa Huang Salon
Outfit #1: Forever 21 Floppy Hat, Old Navy Striped Love Blouse, Burlington Coat Factory Maternity Jeans, DSW Floral Flats, Ban.Do Heart Pins
Outfit #2: Forever 21 Heart Crop Top, Ross Grey Maxi Skirt, DSW Oxford Shoes, Vans Yellow Submarine Sneakers
Outfit #3: Ross Black and White Striped Maxi Dress, Forever 21 Black and Gold Necklace, Gold Flats (Buenos Aires, Argentina)
Photo credit: Erin @ Hello Pinecone Photography