The All You Need is Love Project is a movement to inspire more love on this planet. The more we come together, the more love we can share. Join the revolution here!
TODAY'S LOVE TOPIC:
Beauty is all around us. Share a photo of something/someone that captures your heart. It may be an item which represents a special moment/someone in your life. Describe why this photo represents love for you. You can also share throughout social media using hashtag#allyouneedisloveproject.

Hello to all! Thank you for all your kind words regarding my labor fears. You really are so sweet and it makes me smile knowing I have your support.
For today's All You Need is Love Project, I asked you lovers to share a picture of something/someone that captures your heart. I knew exactly which picture I would share. I'd like to present to you one of my most treasured items I own: An apron my mom hand-made just fo me made with pieces from our wedding runners we had on all the tables.
Why does this capture my heart?
This apron is a physical representation of the love a mother has for her child. In this case, my mama worked for quite some time stitching together the many cloth pieces to make the cutest apron I have ever seen. She could have easily just bought me an apron, but the fact that it is made from pieces from our wedding runners makes me treasure this apron so very much.
I love the series of photos above because it shows my genuine surprise at receiving this on my birthday last year. I was overcome with emotions and started crying almost immediately. I had no idea my mom was making this all those months! You can see my eyes are all puffy and red as I discover what is in the bag.
I actually don't use the apron; I have it put away in a special place. I don't want anything to happen to it…ever. I cherish this gift because it reminds me how lucky I am to have my mom. I still get overcome with emotions when I think of my mama slaving away with her skinny, feeble hands to make this for me. I shutter at the thought of my mom getting older. We may not always get along, but I would be lost without her.
The relationship between a mother and her children has taken on a new meaning for me as I am about to become a mom. For many years, I have wondered about this type of love. Sometimes (or more than sometimes) my mama and I have argued because she becomes overly protective or worried about anything and everything. I have asked her many times to let go, but maybe it's not that easy for her. Maybe I will always be that little baby she held in her arms after going through hours of labor to finally meet me. Maybe I will always be that fussy baby who loved to sing and dance for hours every day. Maybe, in her eyes, I will always need her protection from this world.
Once I think of her love in this way, it helps me keep our arguments in perspective. Our relationship isn't always easy because she does drive me crazy at times. Yet, I am blessed to know that my mom will be here for me no matter what the circumstances may be. For this very reason, she and Mr. ShuGar will be my duo birthing team as I prepare to welcome ShuGar Boy. I couldn't imagine going through this whole scary experience without them by my side.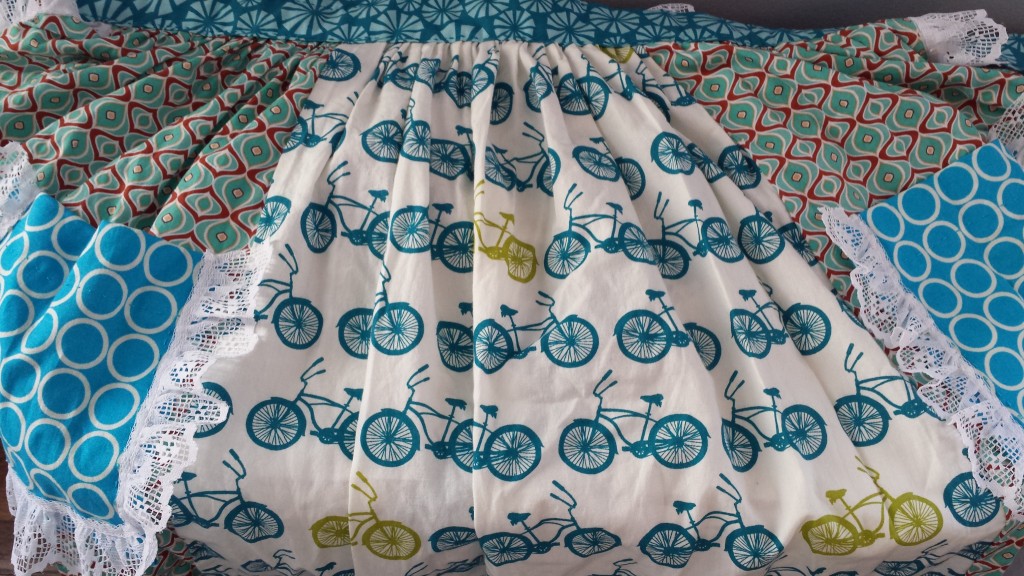 This apron captures my heart every time I see it. I can feel my mom's love in every stitch and thread. I will cherish it forever. Te quiero mucho siempre, mama. (I love you a lot always, mom).
TODAY'S DISCUSSION TOPIC:
What is a physical object you treasure? What do yo do with it? Why is it significant to you?
NEXT WEEK'S ALL YOU NEED IS LOVE PROJECT SUGGESTED TOPIC:
Whenever you love, you run the risk of having your heart broken. How have you healed from a broken heart? How did you master the art of forgiveness and letting go of the pain? How did you learn to love again? 
Interested in spreading more lovin' today? You can linkup your love post below. Post a pic on facebook/instagram/twitter/google + about today's love topic or anything that inspires your heart. Don't forget to use the hashtag #allyouneedisloveproject so we can follow you! You can also post any lovely pins to the pinterest board All You Need is Love Project.
Join the love revolution below. Ready, set, love!