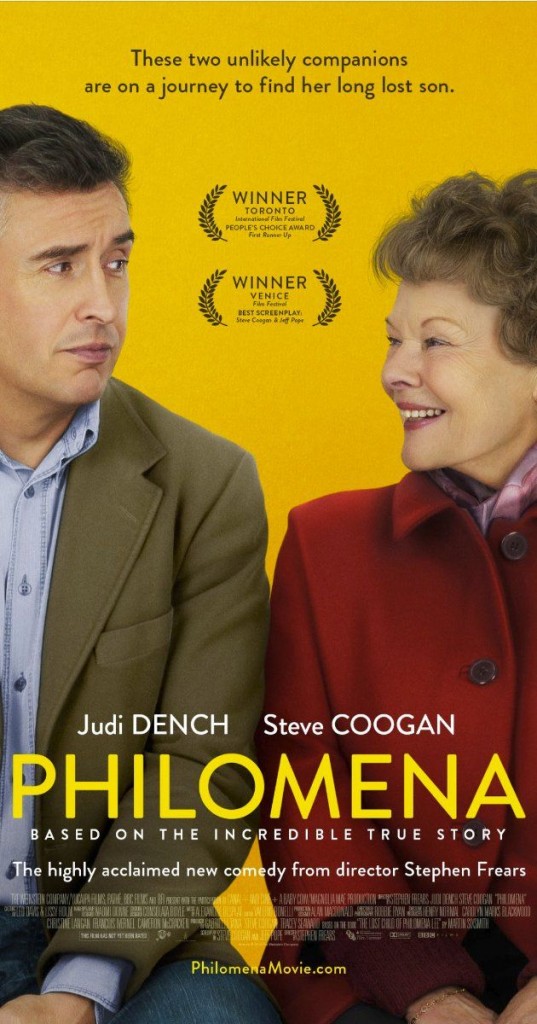 Hello, hello! I realize I am way late on posting this movie review, but I figure I am still ok if I do this before Sunday's Academy Awards. I saw this film during our baby moon back in December, so, at this point, it feels like centuries ago. However, since this movie is nominated in several categories, I think the discussion is still relevant.
Let's get started.
I'd like to preface this review by saying I have a big girl crush on Dame Judi Dench. I know Helen Mirren gets a lot of press for being sexy, but I think Dench has so much star power and she just transforms herself in her roles. Every time I see she is in a movie, I know it will have superior acting because of her.
Philomena is one of those sweet indie films where you come out thinking, "I'm so glad I saw that." Based on true events, Philomena is the true story of a woman named Philomena Lee (played by Judi Dench) who spends more than 50 years searching for her long-lost son. The story begins with the present Philomena older in age, lost in thought as she stares at an old black and white picture of a little boy. She has a forlorn look and you know there is a story behind her eyes. The movie proceeds into a series of flashbacks and flashforwards between the younger and older Philomena.
We are transported to a Philomena in her teenage years where she meets a young man at a fair. They have a romantic encounter, which leaves Philomena pregnant. In those days, young women did not have babies outside of marriage publicly. Therefore, her disapproving father sends her to an abbey to have her baby and, essentially, disowns her. Although the nuns accept Philomena, they run a strict operation where they make all mothers work off their stays by forcing them to commit to years of labor, without any monetary compensation. Essentially, they control the women completely by keeping their children in a separate part of the building, while giving the young mothers viewing privileges every so often to manipulate them to continue working for the abbey for free. It reminded me of slave labor, but in a religious institution under the name of god.
Philomena gives birth to a healthy young boy, Anthony, despite the nuns not giving her much in the way of medical treatment during her labor. The scene was actually difficult to watch in my preggo condition. One day, Philomena discovers that her son has been sold to a wealthy American family without her prior knowledge or consent. Philomena is distraught and desperate to find out what has become of her son. Hence, begins the 50-year long search to find her Anthony.
Flashforward to the present day to when Philomena has a daughter and a family of her own. As luck would have it, her daughter meets a journalist, by the name of Martin Sixsmith (played by Steve Coogan), who has recently lost his job as a Labour government worker and is looking for something to preoccupy his time. His only prospect is writing a book about Russian history, which is not gettng much positive response from his circle of friends and family. When Philomena's daughter propositions him to help them find Philomena's son, he is, at first, hesitant, but ultimately obliges because he is intrigued by the uniqueness of Philomena's story.
We are taken on this complicated journey in the search for Anthony and the mysteries Martin and Philomena begin to uncover about his disappearance. Do they ever find her son? You'll just gave to watch the film to find out. I will say that the movie keeps you engaged as you learn more about what the Catholic Church was capable of doing during this time. It's sort of shocking, but a truth in our history which needs to be told.
This movie is proof that you don't need much in special effects or huge star power to have a good movie. All you need is a worthy story and actors who can deliver. Dench does that and more. The relationship between her and Martin provides nice comic relief between the drama of the search. Dench never ceases to amaze me as she embodies the desperation any mother would feel not knowing what happened to her son. Yet, the film never panders to our emotions and, therefore, I feel does justice to the real life events that Philomena lived through. Ultimately, this is a love story between a mother and her son and proof that nothing and no one can ever break that sacred bond.
Mrs. ShuGar Gives Philomena 4 out of 5 Hearts.

In case you didn't already know, the Oscars are this Sunday! Yay! My favorite award show. Mr. ShuGar and I try to see as many of best picture nominees as possible and this year, between the two of us, I believe we've succeeded in seeing all of them. This helps us become more invested in the actual ceremony. I do confess that for me it's just as fun to watch the red carpet and see the Oscar fashion. I love it so! On Monday, I'll share my faves with you.
My pick for best picture hands down is Her. I know it won't win, but it should. Interested in knowing why I love this film, check out my review here. For best actor, I think Christina Bale's performance in American Hustle kicked ass and I give you my reasons here. And for best actress, I choose the formidable Cate Blanchett for her role as Jasmine in Blue Jasmine. She rocked it on so many levels and I explain why here.
Have you seen Philomena? What did you think? What are your top picks for this year's Oscars? I'd love to hear your recommendations!
Stay warm & dry this weekend! Hugs!
Image credit: Philomena Movie Poster