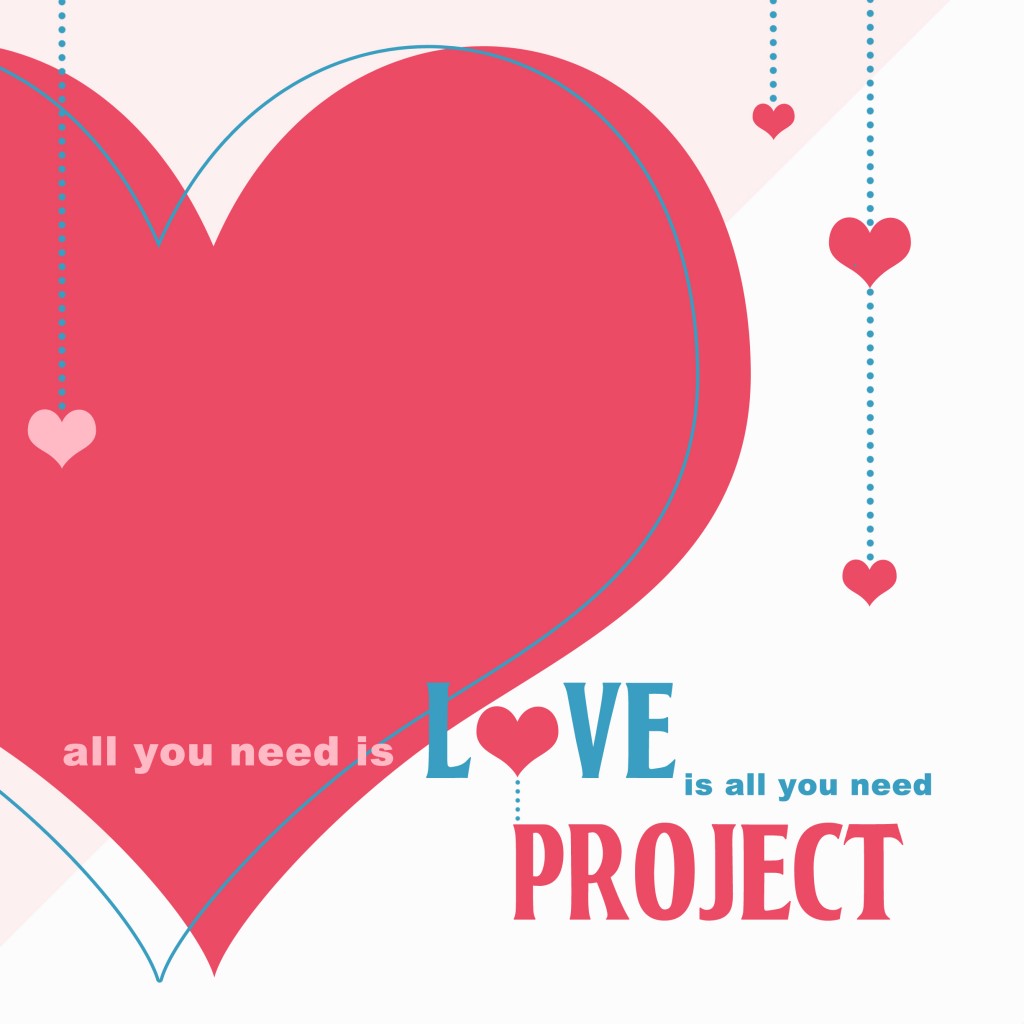 Hello, sweet friends! Thank you to all who shared the love for my Kleenex Style post. If you haven't stopped by to see how I styled my home with the cutest Kleenex boxes, take a look! It was loads of fun creating the concept. Also, I appreciate your insight into the Mommies vs. Non-Mommies debate. It's so interesting to hear how both sides feel about each other.
I am so proud to finally unveil a project I have been working on since last year. The launching date is finally here! Inspired by love to write this blog, I am taking it a step further by introducing you to my All You Need is Love Project. And, yes, it will involve lots of hearts and YOU.
What is this project all about?
It's a project to inspire more love on our planet. I like to nickname it my love revolution. I live my life with love and I want to use my blog to promote more lovin'. The Beatles' message of love brought Mr. ShuGar and I together and it was the catalyst for the concept of my blog. Now, I want to take a more active role in creating a love movement that will hopefully spread across the interwebs. Will you join me?
I have more details on the main tab at the top of my blog under All You Need is Love. To give you a synopsis of how you can get involved, please read below:
HOW CAN I BE A PART OF THE ALL YOU NEED IS LOVE PROJECT?
Every Thursday, you can write about love (any form of it) on your blog. I will also suggest a topic at the end of Thursday's All You Need is Love Project post if you are looking for any ideas. As I begin to develop a "love" following, I will be creating a blog hop using Linky Tools so that all us lovers can connect. Details on how to become part of the link party will be featured at the end of my Thursday Love post. Please make sure to use the All You Need is Love Project banner (found here) anywhere in your post if you participate in Thursday's Love Day.
Email me if you have a love topic you'd like me to write about. I am always open to suggestions and I really like the idea of creating an open space for dialogue.
Share the love on social media! On Thursdays, I will post love questions on my twitter and facebook pages. I welcome all to join the convo and contribute to the discussion. It's so much fun hearing about our own experiences with this crazy thing called love. Make sure to use the hashtag: #allyouneedisloveproject so that we can all be connected.
Contribute to a future blog post. At times, I will seek YOU out to share your thoughts on a Thursday Love topic. Your insight is so valuable to adding meaning to this love revolution. If you are interested, I will email or do a social media shout out for any one who wants to share in an upcoming blog post. Simply private message me a response and we can go from there. I'll make sure to direct quote you and give you credit, along with a direct link to your blog & a short blog summary if you are a blogger.
Are words not your thing? Don't fret! Instead of telling us, post pictures on instagram or twitter to show us your love. The pictures can be of anything or anyone that fills your heart on that day. Make sure to use the hashtag: #allyouneedisloveproject so we can enjoy your lovely photos.
Pin some love by adding your pins to the All You Need is Love Project board on Pinterest. Email me if you want to pin so that I can add you as a contributing pinner.
Be a permanent "love" supporter by using one of the All You Need is Love Project buttons on your sidebar. I have provided two sizes for your convenience (get buttons here). Feel free to use whichever one you fancy. This is a great way for others to discover this love revolution and also for your followers to know your dedication to love.
Now that you know what the All You Need is Love Project is all about, are you excited to join the love movement? Want to get started right away? Post a pic of something/someone you love today on instagram/twitter and use the hashtag #allyouneedisloveproject so we can all connect. I'll be posting mine later today. Do you want to help me write my next All You Need is Love Project post for the following Thursday? Answer this question in the comments below or private message me a response. Let's spread the love starting today till forever!
How do you know when you are in love? What does it feel like to you?
Finally, I need to acknowledge the designer who created the lovely All You Need is Love Project images. Her name is Santo Chen and I highly recommend her if you are looking for a designer to create anything for you. She is a doll to work with and her rates as so economical. I am so happy with what she created. She made the whole design process fun and I have her to thank for helping me launch this love project. Feel free to contact her directly at santo.1024@gmail.com for info/rates.
Remember, all you need is love, love is all you need!
Images created by: Santo Chen (santo.1024@gmail.com)