Hi there! Finally, TGIF! This week has been extremely busy and I have neglected blogging a bit. Work is picking up and our home improvement projects are well underway. Since the painters completed the project, we've had our house in total disaster. We haven't made an effort to clean it up as we are installing wooden floors for ShuGar baby's room. In short, the ShuGar house is in disaray as we continue to prep for baby. It's daunting and exciting all at the same time!
Mr. ShuGar and I have managed to see some of the Oscar-worthy films in the past weeks. This is our annual tradition and our favorite time to go to the movies! I've been anxiously wanting to share my reviews, so I'll be sprinkling them throughout the next few weeks leading up to the Oscars.  Let's start today with American Hustle.
I am a fan of a well-written con story. I enjoy seeing these films mainly because of all the intrigue and twists and turns within the two + hours of these movies. It's as if you go on this wild ride where your expectations are always tested. American Hustle does not disappoint in any of these aspects.  American Hustle stars Christian Bale as a successful con man named Irving Rosenfeld who hires a partner-in-crime, Sydney Prosser, played by Amy Adams, and together they rule the streets of Jersey. Of course, working together causes the two of them to end up romantically involved, which is the main story line of the film. They are each other's worst enemies and, in that sense, they can be considered star-crossed lovers.
Despite Irving and Sydney's successful con business, they manage to be caught by an over-zealous FBI agent named Richie DiMaso, played by Bradley Cooper. In order to avoid any jail time, Richie convinces Irving and Sydney to collaborate with him to help trap some of the notorious mafia members and corrupt politicians in Jersey. They both reluctantly accept and this sparks a series of dangerous encounters where the three of them, Richie, Irving, and Sydney, go undercover, sometimes clumsily, to catch the "real" crooks. Although this causes significant stress for both Irving and Sydney, the thorn in both of their spines has to be Irving's volatile wife, Rosalyn Rosenfeld, starring Jennifer Lawrence. She adds a lot of the drama in the film as an unstable character who inserts herself in situations, which are dangerous to the rest of the characters in the film.
Loosely based on the true story of sting operations in the 1970s and 1980s, the crux of the film is the undercover operation to catch the mayor of Camden, New Jersey, Carmine Polito, played by Jeremy Renner, who, surprisingly, is not your typical "bad" guy. The movie keeps you on the edge of your seat, while laughing in between the dramatic scenes, a fine balance for any filmmaker/screenwriter to make. This genius can be attributed to both the screenwriters Eric Singer and David O. Russell, who is also the director of the film.
The film kept me engaged the entire time, which is no easy feat since we saw a showing at 11:00 p.m. For this preggo lady these days, I would have easily fallen asleep if the movie lacked any substance! The characters are what make this film Oscar-worthy because they are all complicated in a hilarious way; they are not completely bad guys, but they are all a far-cry from heroes either. My favorite part about this movie is the chemistry between Irving and Sydney. It's hot! Just look at this clip when they first meet; you just can't deny there is something sizzling between the two of them.
I also feel the film is successful because of Christian Bale who, once again, transforms himself in his role as Irving. I mean, look at him in that hair piece! It's funny and endearing and he certainly captivates Sydney immediately. On a side note, Bradley Cooper also has outrageous curly hair! In one scene, he wears curlers! Lots of big hair in this movie.
Irving knows how to con, but Richie is so clueless when it comes to catching corrupt politicians and mafia members. It's no surprise he needs Irving and Sydney's help. Richie's interactions with both Irving and Sydney bring a lot of the comedic release because he's just all over the place. He's just the right amount of funny, like in this scene where they are prepping for a sting operation with a fake wealthy Arab Sheikh to begin the operation to capture the mayor of Camden.
The writing and directing are excellent in this film. It's nice to see movies that challenge your intelligence and don't force the entire plot down your throat.  The entire film moves fairly quickly and keeps you guessing what will happen next. Although I am sure there were many aspects different from the real story, the film keeps a sense of reality in this underground world where no rules apply, except when it comes to performing the perfect con.
I would be remiss if I didn't acknowledge that I also love the film for its 70's fashion. It's to die for! Since I was born in the 70's, I feel I have some of that in me. Amy Adams and Jennifer Lawrence look stunning in the disco-ish apparel. I need to raid their costume closets! I am currently wanting a cute felt floppy hat.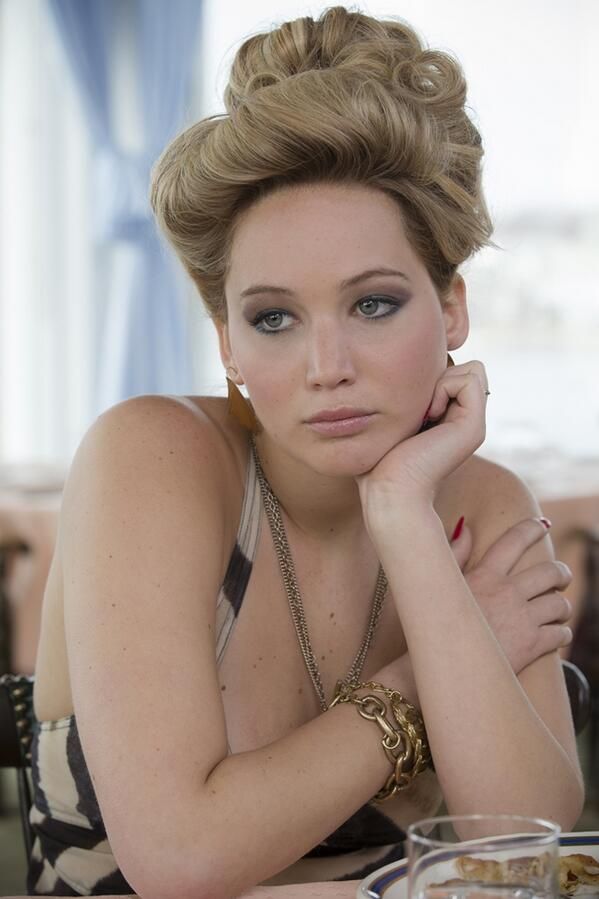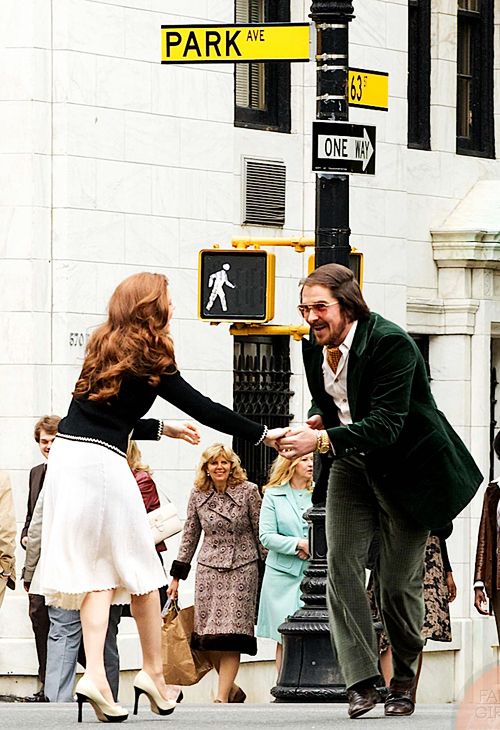 Mrs. ShuGar gives American Hustle 4.5 hearts.

As a teaser, below is the trailer for the film.  This is my favorite time of year when all the smart films come out so I hope you enjoy my film love I will be sharing throughout this time. Wishing everyone has a fab weekend! Stay warm out there and I send you even warmer hugs!
Have you seen American Hustle? What did you think of the film? Do you plan on watching it? Are you a fan of con movies?
Photo credit: American Hustle Movie Poster, Jennifer Lawrence (unknown), Amy Adams & Christian Bale