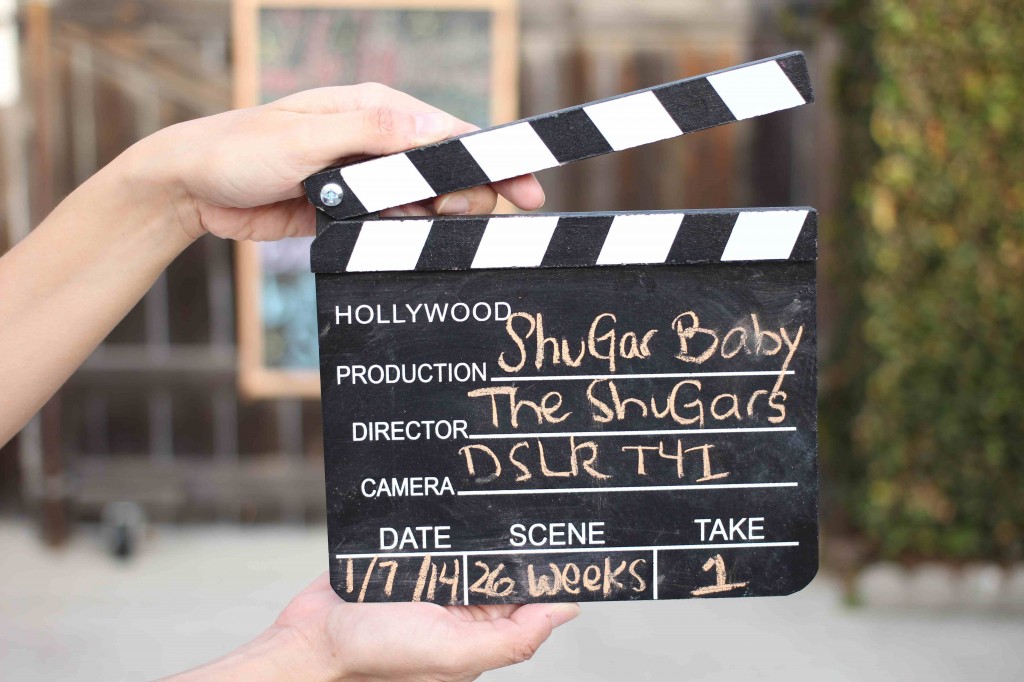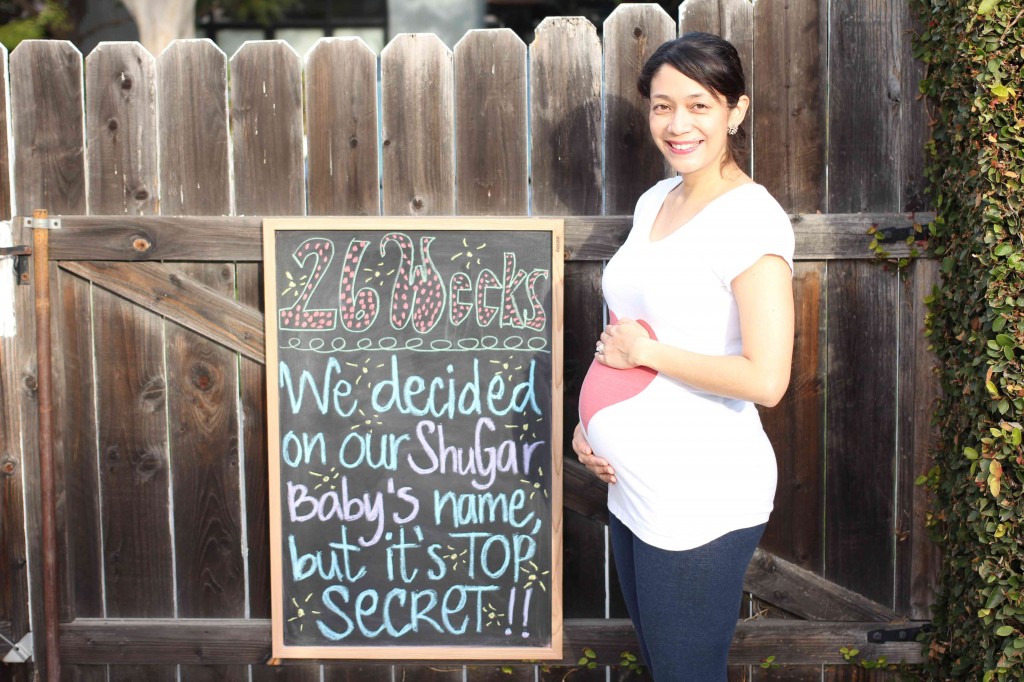 Mommy's Corner is a weekly series exploring our journey in becoming parents, our love for our ShuGar baby, and general topics related to mommyhood.
Hiya! It's Wednesday….days away from Friday. Can I get a high-five for that? I can't wait to sleep in. This mama is soooooooooooooo tired. I cannot believe Week 26 of my pregnancy is here and almost gone. Where has the time gone? That means I have 14 more weeks before I meet the other love of my life.  If you can't see me through this blog post, I am beaming with a huge smile on my face. Now, onto the good stuff….my Week 26 preggo updates.
 My Doctor's Visits…
have been overall great. ShuGar babe is healthy and growing. However, I got my results from my sugar test and I scored high. Specifically, I am on the borderline for gestational diabetes 🙁 What this means is that my doctor wants me to reduce my sugar levels with diet and exercise. Therefore, goodbye pasta (except whole wheat pasta), ciao white rice (brown rice is ok), adios desserts, see ya later juices and most breakfast cereals. Although this news may be fine for some, I am a foodie and I am also a pasta addict. It hit me kind of hard because I just love to eat. However, I will make these sacrifices for my little man so that I can have a healthy pregnancy. I'll discuss more about this for next week's Mommy's Corner.
ShuGar Boy Looks…
like the size of a head of lettuce at a little over 2 pounds to 2.5 pounds! He's growing really fast now. He now has eyelashes and soon his eyes will open. I can't wait for him to bat his eyes at me.
My Body Feels…
a little tighter in the abdomen area.  I feel constant pressure there, which makes any position pretty much uncomfortable. The only release is when I lie on my side with a pillow under my tummy. I feel healthy overall, although I now have back aches when I lie down. Thing is I love sleeping on my back and when I do, I get a sharp pain on my right side that makes it hard to get up. In fact, Mr. ShuGar now lifts me out of bed when this pain comes. I love you, Mr. ShuGar! I'm trying to stay on my side to avoid this, but sometimes my body has a mind of its own! My sweet mama is buying me a back brace to ease the pain.
Oh, my navel looks unrecognizable! Any day now I think it will pop out!
My Clothes…
are so comfy now that I have transitioned to the full panel belly pants. Now, I can have full coverage of my belly because before I had pants with an elastic band under my belly and it was killing me when I sat down. They're not the sexiest pants out there, but they sure do feel sweet! I am trying so hard to resist shopping for more maternity clothes, but you all know how much of a fashionista I am! For example, I would love this Spot Top from Asos.
ShuGar Baby has…
a love for not only music, but movies too! Every time we are watching a  movie (which is often), he gives me the cutest little kicks. I grab Mr. ShuGar's hands and put them on my belly so he can feel them too, which he does! It has to be one of the most surreal moments of my life to feel him dance around and have Mr. ShuGar finally feel them too. I think our ShuGar boy might end up being a filmmaker like his daddy! I also finally saw his kicks protrude from my belly. Absolutely freaking spectacular!
The ShuGars have…
taken their baby moon to Carmel and Big Sur. It was a relaxing vacation with my love. We have also found the cutest vintage dresser on craiglist and I have been collecting cool pop art prints for his room on etsy. Etsy can be a dangerous place for this gal who loves home decor. I want our ShuGar boy to have a stylish room that doesn't scream boy, but instead looks modern and classic.  And in case you are wondering, yes, the Beatles will be sneaking in there somewhere! Thanks to the generous donation of my parents, we have also painted the entire house, including the baby room! And, Mr. ShuGar's parents bought us a crib and a glider. So lucky to have so much family love!
ShuGar Baby Likes…
to make me smile with his dancing. We have a private conversation where I tell him I love him and he gives me a little kick. These moments send me to heaven right away! He also enjoys hearing Mr. ShuGar's voice. He sings to our babe every morning!
I crave…
pretty much everything now since my diet is so limiting. I crave pasta, pizza, chocolate (I don't even like chocolate), hot chocolate, coffee, wine, sushi, scallops, clam chowder. I really could go on and on…
I can't stand…
my iron pills I take every day. Total yuck. Fish is kind of gross, too, although I do force myself to eat it. Oh, and Taco Bell is pretty nasty. The thought of it just makes me gag. I also not a fan of cooked onions any more. So strange because every day we would cook veggies with cooked onions, but I have put an end to that.
I feel…
So connected to the human being inside of me. It's sort of a spiritual connection and hard to put into words. It's as if I am holding a physical representation of love everywhere I go. I smile every morning knowing he is here, there, and everywhere with me (Beatles reference!). I ain't going to lie, though. I've been stressed these days. I'm sure this doesn't help with the gestational diabetes diagnosis. With the prepping the house to paint, selling our old furniture to consolidate both our offices into one, looking into pediatricians, struggling with our baby registry, planning my baby shower and my sister's bridal shower, doing more home improvement for baby prep, squeezing in blogging, and working full time, I am very tired and stress has gotten the better of me. I am also very hormonal, which doesn't help much. My poor Mr. ShuGar has had to deal with a few (maybe more than that) freak outs. It's hard to control; we have a lot going on.
I'm amazing at…
how despite all these hiccups, everything is coming together. With the support of Mr. ShuGar, our families, my dearest friends on and off of blog land, we are getting things in order for our ShuGar baby arrival. You never realize the people who truly love you until you are in need of a helping hand.  To all of you out there who have donated baby items, given our ShuGar baby gifts, shared baby advice, contributed to our registry, or just listened, I am beyond touched. It means a lot to receive kindness from everyone. It makes our life so bright to know we are loved.  I'm also amazed at how strangers react to my pregnancy. Someone I do not know will come up to me and ask when I am due and express genuine happiness. It's incredible to see what a belly bump will do to people's demeanor. My step aerobics partners all jump for joy when they see me attend class.  The happiness around me is what makes life sweet.
What is something you are/were amazed at when you were pregnant? Did you notice anything different about yourself, your loved ones, or complete strangers? If you have never been pregnant, how do you imagine the experience to be like?
Photo credit: Peter Shushtari