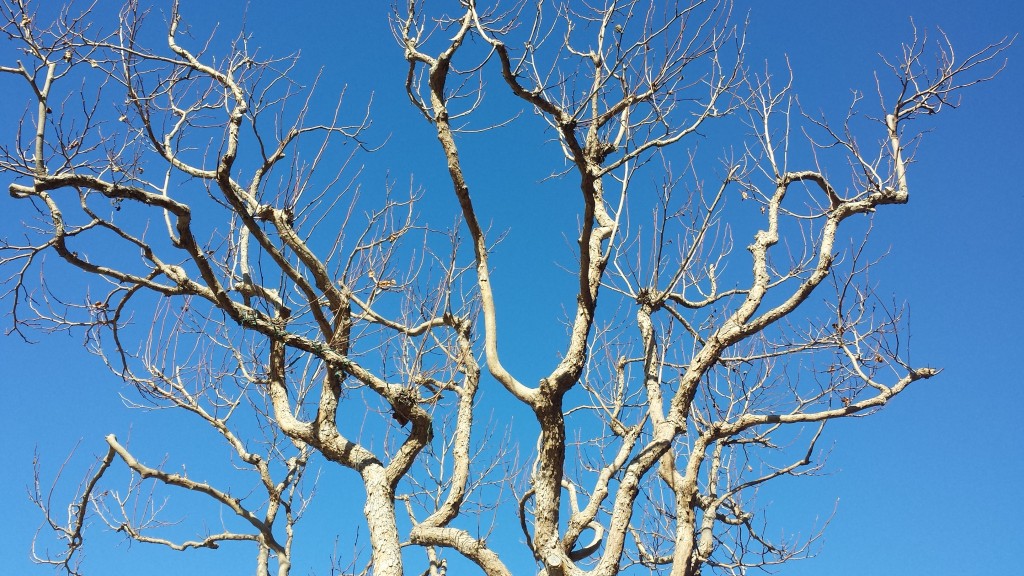 Happy New Year, ShuGar Lovelies! How has 2014 been for you so far? I wish you all the very best in 2014. We spent a glorious week in Carmel for our baby moon. I want to go back! It was just nice to get away with Mr. ShuGar and just "be" – no distractions, no errands to run, no meals to cook or dishes to clean.  Just five days of "us."
The New Year is synonymous with resolutions, whether you adhere to them or not. I am not a huge fan of lofty resolutions, which only cause you to feel disappointed and overwhelmed. Let's keep in real in 2014 and look at what growth we can support that lies beneath the surface.
I took the picture above on the streets of Monterey. At first, it appears this tree is completely dead and should be forgotten. Its branches are bare and it resembles one of those trees which would tumble over in the middle of a forest. However, we all know that during winter, many living organisms "hibernate" in order to prepare for a rebirth in Spring. There is still life and growth, although it may not be discernible to the naked eye. At a second glance, this tree is beautiful and can represent many of our journeys.
Let's make 2014 resolutions which are attainable and inspire us to be better human beings. The growth we may experience may be minimal for the entire year, but it represents a step forward, however minuscule it may appear to be.  A mountain is no easy feat; when you are climbing it, you can feel disillusioned at the steep journey because gravity is not pushing you.  Sometimes, you may even have to take a break to rest and reevaluate your path.  Stay true to your heart and goals. You can reach the top.
In 2014…
I want to love more, worry less. I would like to spread love via my life on and offline. I plan on doing this by showing kindness in every day interactions and demonstrating my appreciation to my sweet followers in any way I can.
I will value, love, and honor Mr. ShuGar and our ShuGar boy above all else. This means I will not let distractions blind me from what really matters in my life; These two loves of my life are why my heart beats.
I will be kind to myself, especially when it comes to my duties as a first-time mommy, full-time employee, and blogger. We can really be our worst critiques. I would like to practice patience as I learn how to juggle all these hats.
I will make mistakes and learn from them. I am not infallible. I am only human. As much as I am a perfectionist, I fail at times. Instead of wallowing, I'd like to get up and try again – with a smile on my face.
I will launch a new love project on my blog to inspire love all around us. At first, I know it will take some time to develop as I seek collaborations from other bloggers. I will continue to be motivated to pursue this new endeavor with all my passion.
I will seek out sponsorships for my blog. I will do this by first educating myself on this process, revamping my website to reflect my partnership parameters, then actively market my blog.
I will continue to practice photography, even though it is a daunting hobby. I will make an effort to put the camera in manual mode and share my photos on the blog. I have always wanted to pursue photography and I'd like to capture our little boy through my camera lens.
I will understand that I am growing this year, even though it may appear that my progress is stagnant. I must remember where I started and how far I have come.
Thank you to all of you for following along my journey! It really touches my heart to have you read my blog. It's one of the greatest gifts I have been given.
What are your 2014 resolutions? How do you plan on sticking to them? Do you have a plan of attack?
So happy to be back to blog land!
Photo credit: Mrs. ShuGar