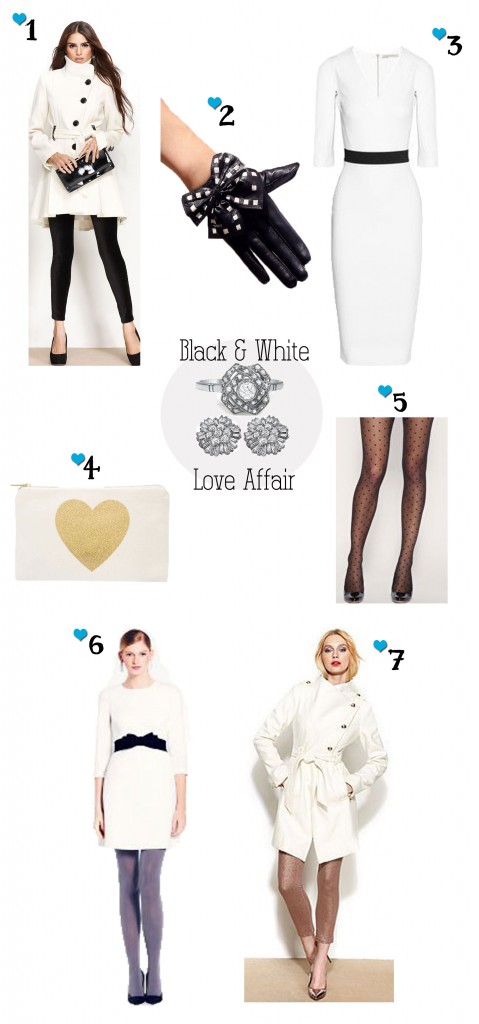 |1| Belted Asymmetrical Coat |2| Black Leather Gloves  |3| Victoria Beckham Dress |4| Heart Pouch  |5| Heart Tights  |6| Keegan Dress |7| Asymmetrical Wool Coat |Inspiration| Lucina Ring &  Danuta Earrings
Hi ShuGar friends! How was your weekend? Was it cold in your part of the world? It sure was in L.A., but I do preface this with saying we are chickens when it comes to any temperature below 50. For us, it was "freezing."  We went on a hospital tour of the labor and delivery section of our hospital. So exciting! It was great we did this because it takes the mystery out of the unknown. I loved the hospital staff.  We also tried the trendy restaurant, Fig & Olive. The food was good and the ambience was really nice. Oh, I have come up with another great feature to add to the blog! Stay tuned this Friday for the grand reveal.
Now, onto your weekly dose of ShuGar Fix Mondays. I was approached by the company Brilliant Earth to explore their jewelry collection and I jumped at the chance of swooning over jewelry. After all, diamonds really are our best friends, right? As I searched the website, I was really impressed with the quality of the pieces, but also that of the company. Brilliant Earth believes in providing the highest quality of jewelry using socially responsible practices, which includes avoiding any use of conflict-free diamonds. Plus, what's really rad is they donate a portion of their profits to benefit communities affected by the dirty side of the diamond industry. Now, that is something worth shopping for! Diamonds are on the minds of many this season because of all the gifting and proposals happening. Such an exciting time to receive jewelry!
The more I thought about diamonds, the more I wanted to wear white in some part of my fashion.  I know there is a rule that you can't wear white after Labor Day, but rules are meant to be broken, dontcha think? I love pairing white with black. It's just so classic and clean. I confess, dear readers, I am having a black and white love affair.
Using the beautiful vintage-inspired Danuta Earrings and Lucina Rings as inspiration, I created a black and white inspiration board.  I am obsessed with these two coats! I know in L.A. we don't usually have coat-weather, but I'd suffer through feeling stuffy to wear one of these beauties! Oh, and those white dresses would look divine at a holiday party. I opted to add pops of black either in the tights or the gloves. Finally, who doesn't love a heart pouch to carry your lady items? I heart it all.
Best of luck to all those fellas proposing to their loves! I hope I inspired you to add some black and white to your wardrobe this season.
Do you enjoy wearing white and/or black this time of year? What's one of your favorite fashion items of this color palette?
Wishing everyone a great day! I'm excited to reveal a collaborative post for this week's Mommy's Corner.
Disclosure: This post is a collaboration with Brilliant Earth, but all opinions are my own. 
ShuGar Fix Mondays is a weekly inspiration series because Mondays deserve an extra dose of pretty. For more ShuGar Fix Mondays, click here!