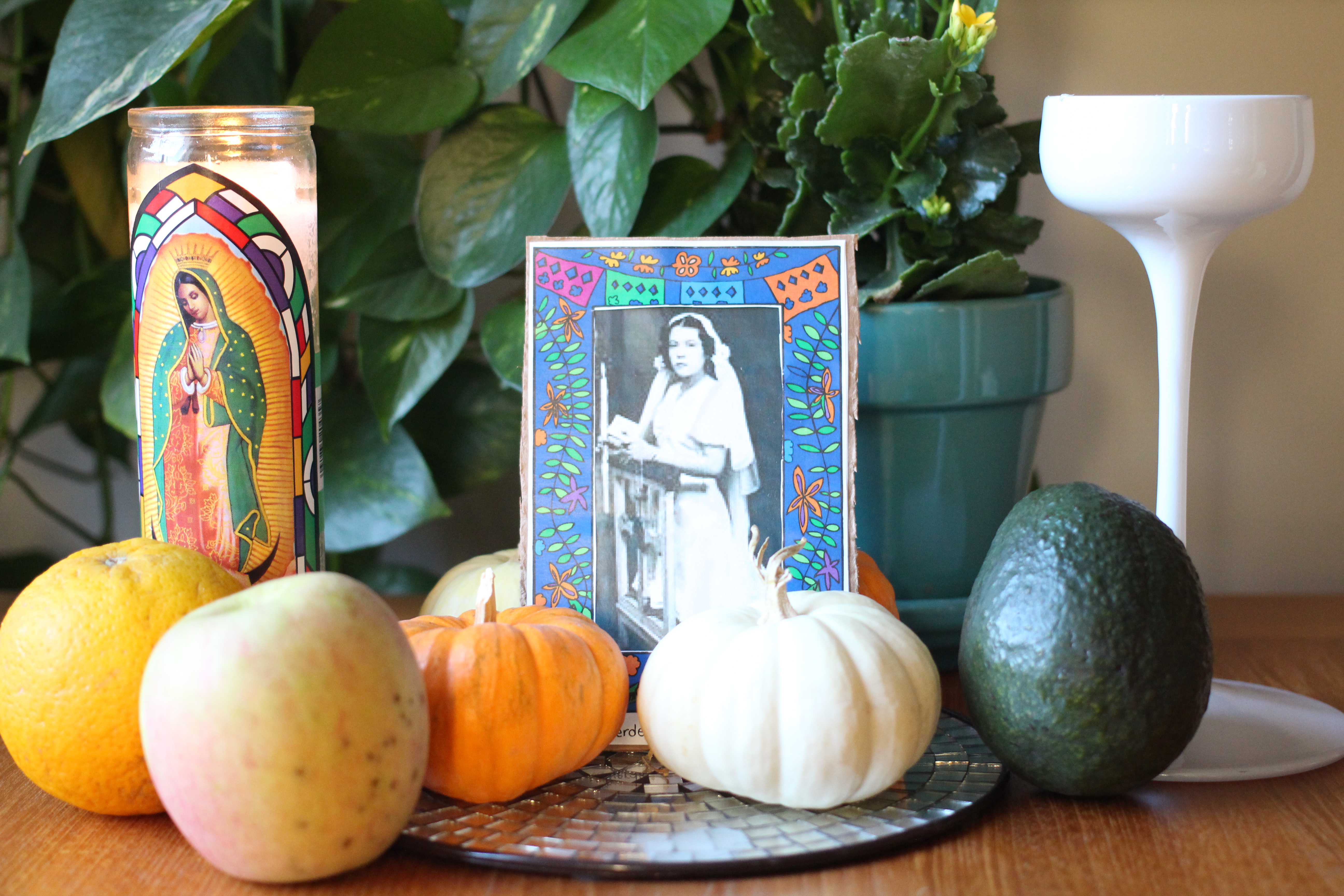 I love the Mexican celebrations for El Dia de los Muertos (The Day of the Dead).  It's such a rich tradition in Mexico celebrated in the end of October/beginning of November. There are other cultures with similar customs, but I am most familiar with Mexico's Day of the Dead. It is a day in which we celebrate our loved ones who have passed away by creating altars to commemorate their lives.  It is not a day of mourning. On the contrary, it is a joyous and colorful celebration where we honor those who have left this Earth, but remain in our hearts.
L.A. is such a rad place to celebrate El Dia de los Muertos – there are festivities all around the city. My favorite thing to do is visit the Hollywood Forever Cemetery to walk through the ocean of altars. They are absolutely stunning and beyond vibrant!
Thanks to my sweet blog friend, Elba, from her Live Colorful blog, I have decided to create my own version of an altar.  I don't have the time to build something marvelous, but I will recreate the beauty in my words. Elba made this beautiful frame we could use in our altars, so I've decided to incorporate it into my altar. Elba is so talented! To read more about what altars contain, visit her blog here.
For this Dia de los Muertos, I dedicate my altar to my favorite aunt who has long left this Earth, tia (aunt) Petra.  My tia passed away decades ago, but I still feel her presence in my life. However, in recent years, life has been busy and I am ashamed to admit, I haven't thought of her. I feel so bad about that. It wasn't until I found out I was pregnant that she popped back into my mind.
My tia Petra lived in Mexico City, but she would spend entire Christmas and/or summer vacations in our house taking care of my sister and I while both my parents worked.  During her long stays, we developed a very close relationship.  She was a devout Catholic and taught me how to love God and my family.  She was a very sweet, gentle woman and I just loved being in her presence. Do you know when you just bond with someone and you can't really explain why? That was my tia Petra and I. I would wait with eager excitement for her return and would cry every time she left.
I was devastated when she passed away. It broke my heart.  Now that the years have gone by, I can honestly say my tia Petra has immensely impacted my life. She was one of a few people who taught me the meaning of love at a young age. It is because of her that I know what love looks and feels like. She embodied love. I now marvel about my relationship with her because she was not my mother or grandmother, but my great aunt. It shows the power that family can have in your upbringing.
This Dia de los Muertos, I am reminded of tia Petra's beauty inside and out. I like to think that she still takes care of me and sends me hugs from heaven.  I hope and pray that my little ShuGar will have his own tia Petra experience to demonstrate the power of love. It stays with you forever.
Happy Halloween, spooky friends! Do you have any Hallo-plans? I'm going to have a reveal of our couple's costume on Instagram after the sun sets!
Photo credit: Peter Shushtari
A Cup of ShuGar is a series exploring the sweetness of life. For more Cup of ShuGar, click here!  
***********************************************
Want more happiness? Join the happiness revolution with the Be Happy Link Up Crew!