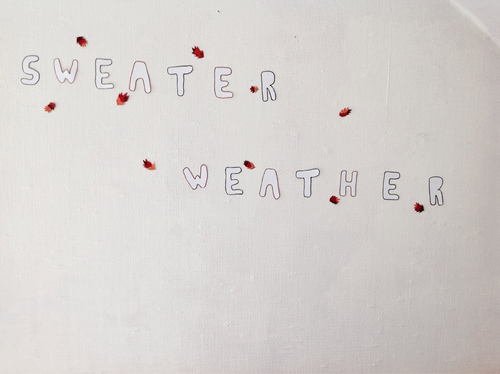 It ain't no secret that Los Angeles isn't really known for its change of seasons. Mr. ShuGar says this is the one thing that he misses from growing up in Michigan. Nonetheless, there are some LA fall things which I cherish, even though they may pale in comparison to the rest of the country's beautiful changes of color.
The Ocean Air Smells Different – I live a few blocks from the Pacific Ocean and it has its distinct smell every season. For Fall, it's crisper and stronger, especially in the morning. The marina fog stays longer these mornings and you can actually "see" the fall ocean air. When you leave for work, it hugs you.
LA Fall Fashion – I know it may not be colder for most, but for me I can certainly feel it. This calls for me to bring out my cute scarves and hats. They don't keep you too warm because, after all, it's not that chilly. Yet, you see LA fashionistas bust out with their version of Fall fashion and it's fun to see. Scarves and hats are the perfect accessories to welcome this LA season.
Night Walks – The average Fall night looks so beautiful and serene. We take occasional walks late night to enjoy the quiet of the city. There's a deeper darkness in the sky. It's mesmerizing.
Movie Nights – It's as if the weather tells all of us to go see movies. This time of year Mr. ShuGar and I make a point of going to the movie theater and seeing the latest flick. It's no coincidence that the Oscar-worthy films are out at this time. It's so much fun to begin to see the contenders. Angelenos take their movies very seriously, at least in the theaters we go to. People clap, laugh, recite lines…it's quite the movie-going experience! I jump at the chance of seeing The Shining in any public venue!
Blue Blanket Time – Mr. ShuGar and I unwind every day by watching some TV in the evenings. I'm sure everyone has a similar routine. Something I love to do in the Fall is cuddle up next to him with my fuzzy blue blanket while enjoying trashy TV. We only unveil this blanket when Fall comes and I love how it feels against my skin, so soft & cozy.
Halloween Neighborhood Fun – I am so impressed with my neighborhood's Halloween spirit. Mr. ShuGar and I drove around last weekend and stumbled upon some rad Halloween decorations. Check out my instagram to see what we saw. It was scary good! I love seeing people really take Halloween seriously. We always get a bunch of cute trick-or-treaters and it's one of my favorite days of the year.
What do you love about Fall in your city? How does it make you feel?
I send everyone a warm, Fall hug!
Photo credit: Sweater Weather