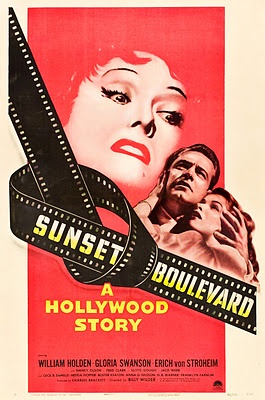 Surely you have heard, "Alright Mr. DeMille, I'm ready for my close-up." I had known of this quote way before I knew it was from the classic film, Sunset Boulevard.  It was not until I began to date Mr. ShuGar that I discovered this classic gem and I have been obsessed ever since. One of the beauties of being with a filmmaker is discovering movies that are outside my normal "comfort zone", only to realize the greatness of this art form beyond my wildest imagination.
I would love to share with you the films I have discovered so that you, too, can enjoy them.  Sunset Boulevard is one of those films that has challenged my preconceived notions of what an "old", black and white movie could be.
Sunset Boulevard is a 1950's film noir movie.  These films are crime dramas, filled with intrigue and loads of sexual passion.  Many film noirs feature a femme fatale who entraps her innocent male victims into her web of deceit, only to meet their own demise. Sunset Boulevard is a great example of a man who falls prey to a conniving woman.
Joe Gillis (played by William Holden) is a down-and-out screenwriter struggling to pay his rent. Due to certain circumstances, he is forced to escape bill collectors and hide until they get tired of looking for him.  During a car pursuit with these bill collectors, he turns into one of the mansions on Sunset Boulevard and temporarily escapes by finding refuge in the driveway.  As it turns out, this driveway is part of the dilapidated estate of the once renowned silent film star, Norma Desmond (played by Gloria Swanson).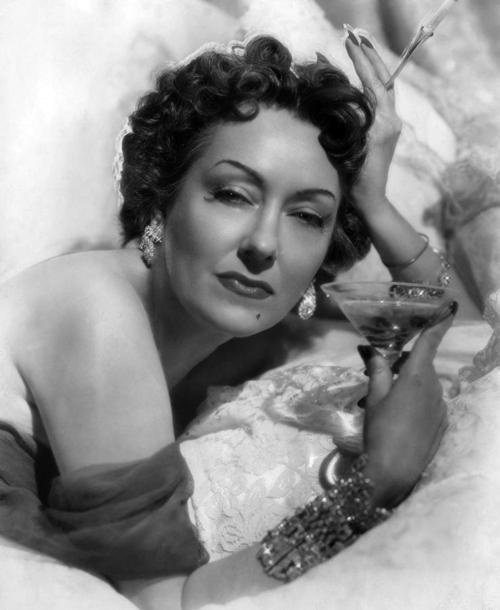 Norma persuades Joe to stay for some time in her mansion to keep her company. He is easily persuaded by the lavish gifts and lifestyle Norma gives him, although he has doubts about Norma's sanity.  Norma Desmond used to be a huge silent movie star. However, when pictures began to use sound, many of these once-famous silent stars lost their popularity because they didn't possess the same star power as "sound" actors.  Norma is an example of one of those actors who faded into Hollywood memory, to be forgotten by most.
The issue is that Norma still thinks she is a Hollywood star who is desired by famous directors, like Cecil DeMille.  She's delusional, eccentric and, unfortunately for Joe Gillis, madly obsessed with Joe.  Want proof of her craziness? Check out this scene where she defends her "stardom."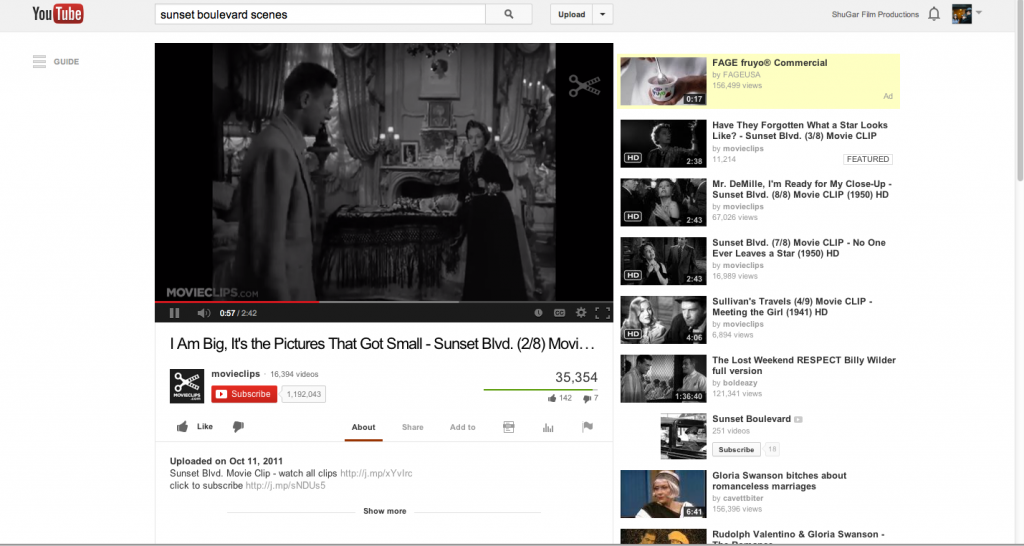 Love when Norma emphatically claims, "I am big. It's the pictures that got small." Clearly, she thinks she's still the famous movie star as years before.
What ensues is a series of events where Joe Gillis becomes more entangled in Norma's life and feels "trapped" once again.  The ever-so-talented Billy Wilder directed and co-wrote this classic film. The writing is genius and the plot draws you in after each scene.
If you are at all like me, you are hesitant to watch anything in black and white. Trust me when I say this film will keep you mesmerized during every scene. It really is creepy in a good way and I highly recommend it. Plus, you get to see cool shots of L.A. back in the day when traffic wasn't always in the background.
Every time they show this film on the big screen, Mr. ShuGar and I rush to see it and we are not the only ones.  This is why I heart LA. It is a city filled with film lovers who appreciate quality movies.
Mrs. ShuGar gives Sunset Boulevard 5 out of 5 hearts.

Wouldn't it be cool if Mr. ShuGar and I dressed up as Norma Desmond and Joe Gillis for Halloween?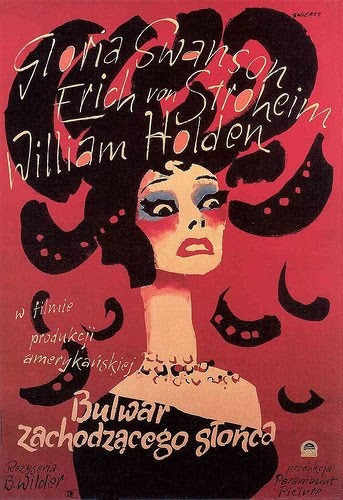 Happy weekend, lovelies!
Photo credit: Sunset Boulevard Movie Poster, Gloria Swanson, Sunset Boulevard Foreign Movie Poster