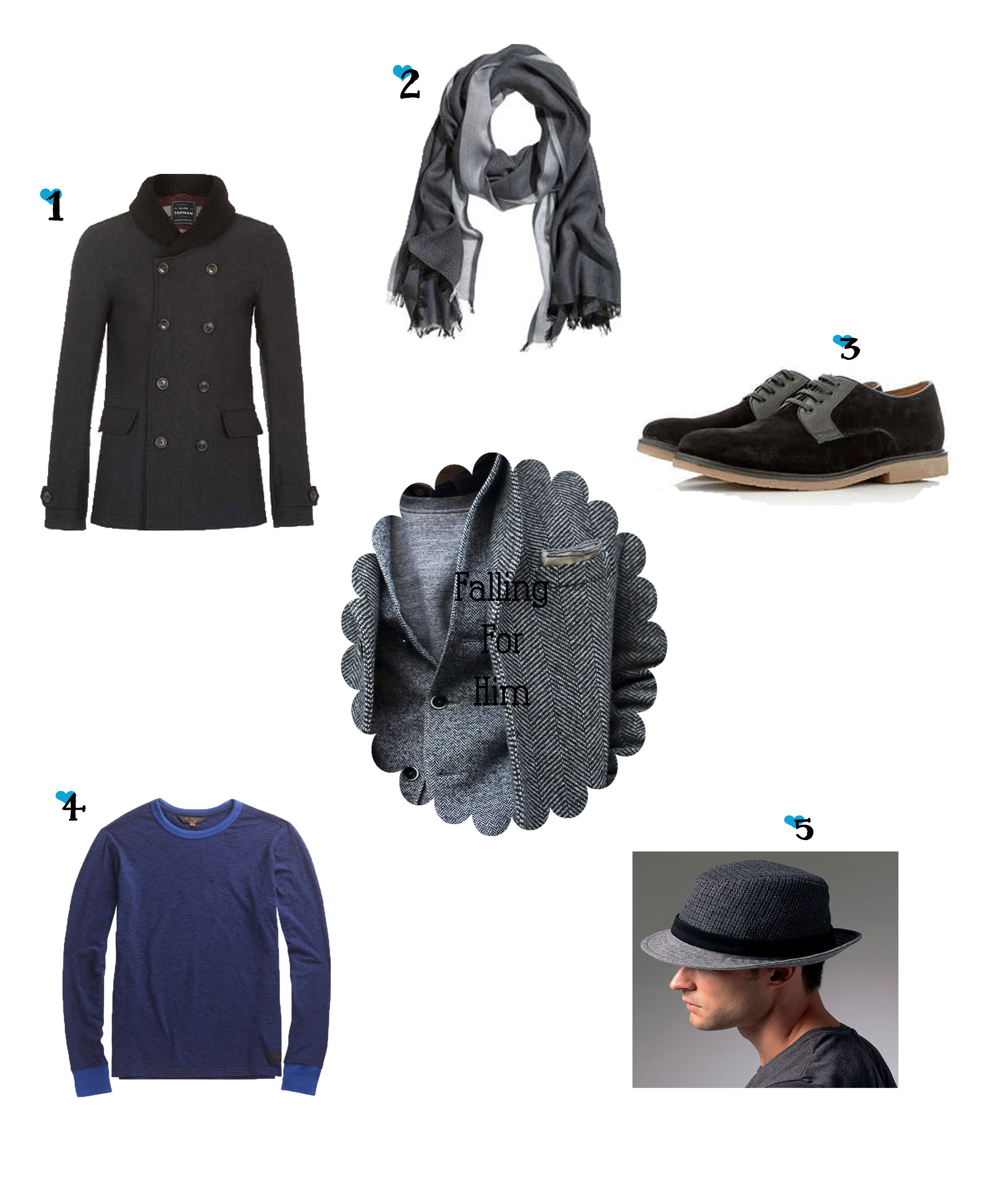 |1| Coat   |2| Scarf   |3| Oxfords   |4| Shirt   |5| Hat   |Inspiration|
Hello all!
Hope you all had a fab weekend. I had lots of fun as I played host to my British friend from years ago. It's always nice to know that neither time, nor an entire country + a pond, can separate good friends. We were flatmates way back when I studied abroad in London and we've been buds ever since.
So, last week's ShuGar Fix was all about my fall wants, right? Well, this week I dedicate it to the fellas for fall. I'm inspired by Mr. ShuGar and the many outfits I'd love to see him in.  Ever since we've started watching Project Runway together, Mr. ShuGar has developed a deeper appreciation of fashion and I kind of want to take credit for that 😉 To me, everything looks good on him so I love to go shopping for him. It's so rad to pick out things for him to wear and see him look hot in new threads.
In general, I think fall has amazing fashion. You can look so much more elegant. Case in point with all the above men's fashion I am currently coveting for Mr. ShuGar. By the way, if you want to follow along my dreams for Mr. ShuGar's fashion, feel free to follow my pinterest board.
I absolutely love to see Mr. ShuGar in hats. Totally sexy! Any man looks good in a coat, too. Swoon! Enjoy my dear readers!
What do you like to see your man in?
P.S. I'm still crushing over my new blog design! I like! Thank you to everyone for all your kind words.
ShuGar Fix Mondays is a weekly inspiration series because Mondays deserve an extra dose of pretty. For more ShuGar Fix Mondays, click here!