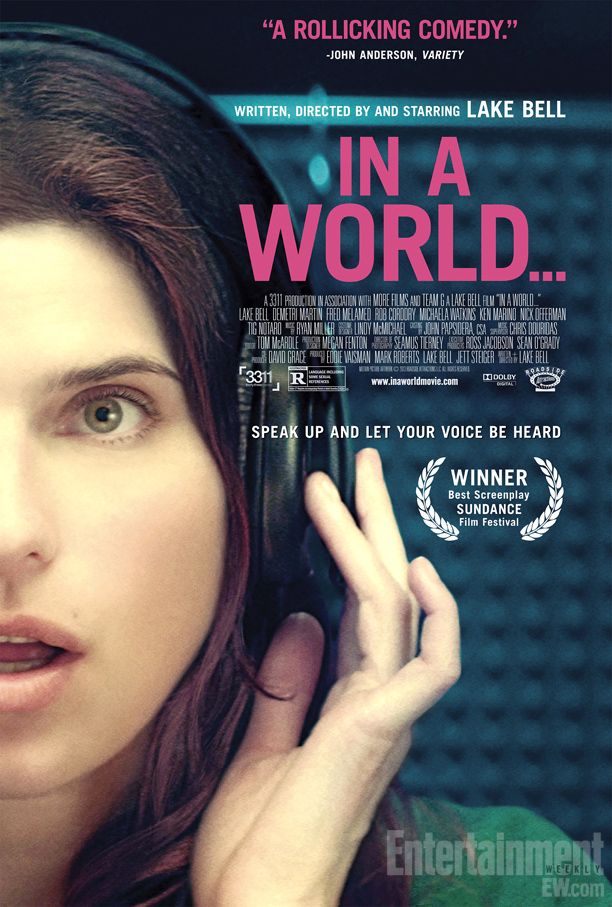 What makes a movie good? This is such a subjective question.  For me as an indie film lover, the film has to have quality writing and artistry.  On top of all of this, it also has to simply be a compelling story.  By compelling I do not mean a movie has to tell a story about the end of the world and how we will all be abducted by aliens.  There is beauty in simplicity and, many times, these make the best movies.
Lake Bell's In a World is one of those movies with a simple story, which is heart-warming, funny, and makes you want more.  Not only is this Lake Bell's directorial debut (impressive), she also wrote it, starred in it and produced it.  Now, that's one talented lady!
The movie is about the secretive and male-dominated world of voice-over artists.  Carol Salomon (Lake Bell) plays a struggling vocal coach who still lives with her self-absorbed father, Sam (Fred Melamed), who happens to be one of the most highly-revered voice-over artists in Hollywood.  Instead of Sam supporting his daughter's desire to be the first-ever female voice-over artist to utter those famous three words, "In a World," he tries to convince her to settle for a career as an expert in imitating accents.
Carol is quite talented and her father knows it.  However, he prefers to continue the long-standing tradition of male voice-over artists and, therefore, decides to pass the torch to his mentee, Gustav Warner (Ken Marino).  If you've ever seen Burning Love, you'll recognize Ken Marino right away as he starred in the web series as the loveable and obnoxious Mark Orlando.  Love that show!  So, back to "In a World." What ensues is a battle between daughter, father and Gustav to see who will be the next big voice-over star to speak those all so powerful words, "In a World."
This movie is so great because of the cast.  They all work so well together and the chemistry is apparent throughout every scene.  Many props have to be given to the amazing Lake Bell.  She really carried the film and is so hilarious.  She reminds me of a modern, sassy Lucille Ball (similar initials!).  She has that "thing" that not many people possess.  You will be laughing throughout the film because the writing is excellent and the actors know how to deliver.
On a more personal note, I am a big supporter of women in Hollywood.  In a world (pun intended) which is clearly dominated by males, I always try to support women who direct and produce films.  I do the same when I see any Latino filmmakers trying to make it in Hollywood. In this case, Lake Bell is a quadruple threat as the actor, producer, director and writer.  The story reflects this female empowerment theme with Carol trying to break the gender barriers in the voice-over industry.  The movie brilliantly tells this larger story with a lighter and funnier tone that makes you realize women should be given a chance.  I love how Lake Bell uses comedy to question the status quo.  Pure genius!
Check Lake Bell out in the cover of New York magazine and also in another photo wearing high-fashion for Vogue.  She's talented and a fox!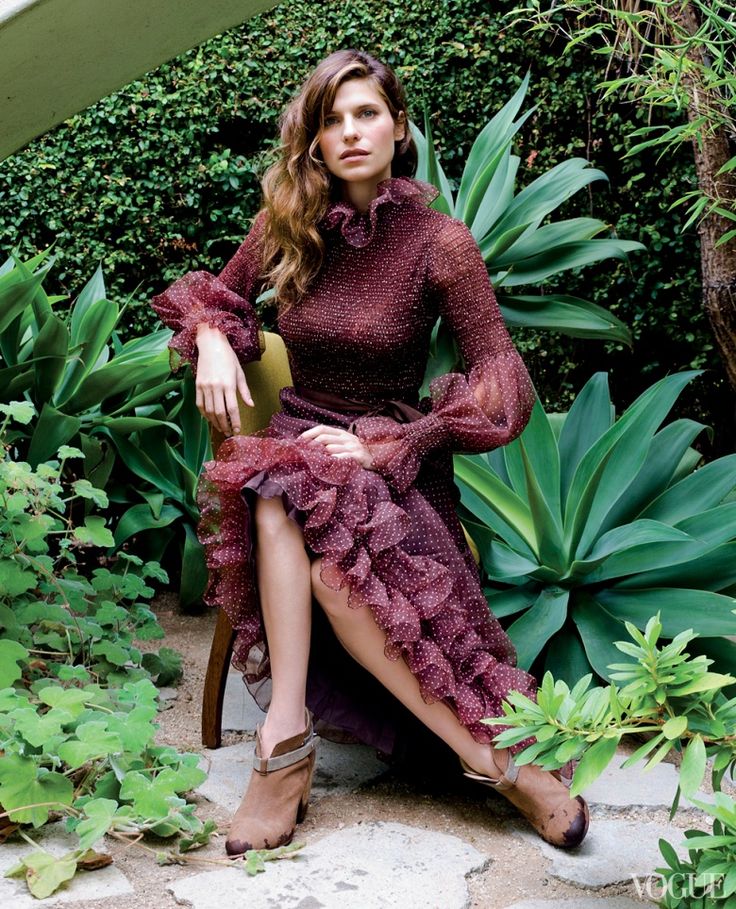 Finally, I'd like to share the story of when Mr. ShuGar and I saw the film.  We went to a Sunday matinee, which we don't do often.  As we were walking out of the film, the theater folks told us to go greet Lake Bell herself as she is in full movie theater uniform serving us popcorn!  Can you believe it? Of course, I got star struck.  I did manage to utter a few sentences and we both told her how much we loved the film. She was kind enough to take a pic with me and you can see it in my instagram here.
This weekend, I say go watch "In a World" and you will walk away smiling all day.  Below is the trailer so you can see what I mean.  It really is that good!
[youtube=http://www.youtube.com/watch?v=bZHBjLFu5is]
Happy weekend all!  For ShuGar Fix Mondays, I'll share fashion inspired by this film.  Until soon!
Photo credit: Movie Poster, Lake Bell New York Mag, Lake Bell Vogue