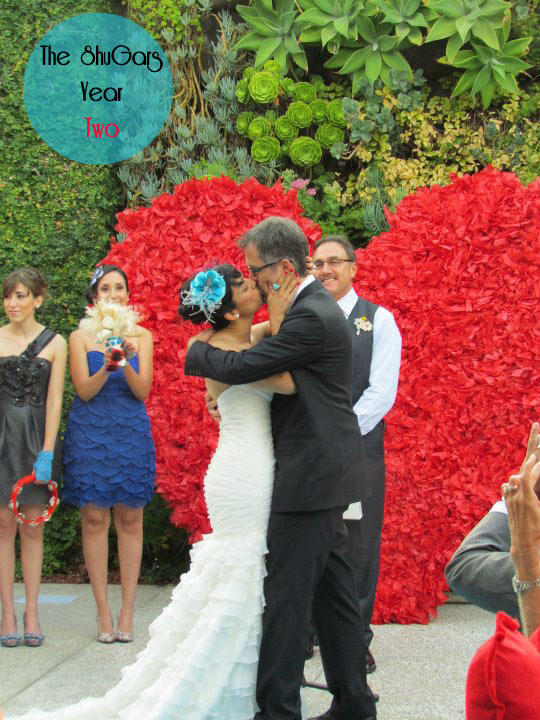 Our two year wedding anniversary is here!  I can still remember Mr. ShuGar serenading a Beatles song to me as he then proceeded to get on one knee.  I can vividly recall all the daily hard work we put into making our Beatles themed wedding a reality.  I still have flashes of our challenging first year of marriage as I was immersed in my graduate program.   Even though two years may not seem like too long, I am so proud of how much our love has grown during these last two years.
I know there are so-called "marriage experts" out there who claim to possess the secrets of a long-lasting marriage.  To be honest, I don't know if there is a special formula to guarantee everlasting love.  I do know what has worked and hasn't worked for us and I'd like to share it with you.  Behold my marriage dos's and don'ts for year two.
Do Take Time To Tell Each Other, "I love you"
This may seem like a no-brainer, but it helps.  My day can be so hectic and consuming at work.  Before I leave to tackle my day, we always say, "I love you." It keeps things real and it connects my heart to Mr. ShuGar, despite us being away from each other.  "I love you" still makes my heart skip a bit. Don't underestimate the power of those three words.
Don't Be Bossy
This is something more directed to the ladies. You know what I am talking about!  Some of us like to have everything done in a certain way. Well, actually, more like we like "our way" as the "right way."   Don't be too bossy with the hubs; it's a turn off.  Bite your tongue and try to listen to his suggestion.  It might actually be a better method!  I know that I am guilty of this "don't," but I have learned that Mr. ShuGar has his own style and I respect it.  It's still hard, though.
Do Have Date Nights
Where does the time go? We all lead such busy lives where weeks and months pass us by and maybe we haven't had time to just go out on the town and spend quality time together.  Do not sacrifice date nights.  They not only nurture the relationship, but they remind me of the myriad of reasons I fell in love with Mr. ShuGar in the first place.  By the way, date night is not sitting in front of the tv at home.  I am referring to time spent looking in each other's eyes and just sharing our stories.
Don't Hold Grudges
I am not going to say don't go to sleep angry because we have done that tons of times. I don't think that's realistic and it is certainly not us.  I will say I am learning to just let things go.  Sometimes they can be "big" things, but, most likely, they are the tiny things that set you off.   Who cares if he didn't clean the countertops after you repeatedly asked him. Let it go. It's not worth a fight and it's definitely not worth holding a grudge.  This would be a sure way to infect our relationship with bitterness.
Do Make Time For Family
Family is extremely important to us.  Even though my family lives in LA, with traffic it's quite the distance.  Mr. ShuGar's family is in Michigan – even further away!  Nevertheless, we visit Michigan at least once a year because it's important to see my in-laws and share myself with them.  I am lucky because my in-laws are lovely.  For others, it may not be the most fun thing to do, but it's your spouse's heart.  I need to value his family and cherish them.  Making time to be with them goes a long way.  With my family, we are committed to seeing them at least once a month, if not more.  I love to see my family laughing with Mr. ShuGar.  It warms my heart.
Don't Be Afraid of a Good Fight
I know, your'e probably thinking, "Say what?"  Yeah, I proclaim that a good fight every once in a while is normal, ok, and healthy.  I think it's completely unrealistic to think you can avoid all disagreements. What kind of a phony relationship is that? When we fight, we learn from each other.  We adapt to avoid the same fight again. We then become closer.  We understand we don't want to hurt the other person.  These are all parts of the marriage experience, especially in the early years since that's what I know.  Now, don't go all cray fighting and saying things you'll regret.  That's a definite no-no!  Always, always maintain respect.
Do See a Marriage and Family Therapist for a Deeper Connection
Before I proceed, please know that seeing a therapist does not make you cuckoo or a sign that you are heading to a divorce.  Those traditional views are long gone.  We see a therapist so that we can have an objective observer help us through any nagging issues we have.  We are both obsessed with her! She calls us both out when we're acting selfish or being unreasonable.   Your friends and family will always be biased.  Plus, they may not have the best intentions all the time or the experience to give you the proper advice. Going to therapy is like having a mirror in front of you that reflects who you are as a couple.  It allows us to work on our problems, but also gives us neutral territory to discuss anything in our heart.  I can say that through therapy I have witnessed how much I am loved by Mr. ShuGar.
That's it! Those are my lessons in our second year of marriage.  I don't claim you should do or not do all of them.  This is what has worked for us and I want to share my heart with you.  The bottom line is this:  Value each other and never take for granted the love you both have.  These things will get you through all the ups and down that life will surely throw at all of us.
Do you have any marriage advice? What has/hasn't worked for you? I'd love to hear it!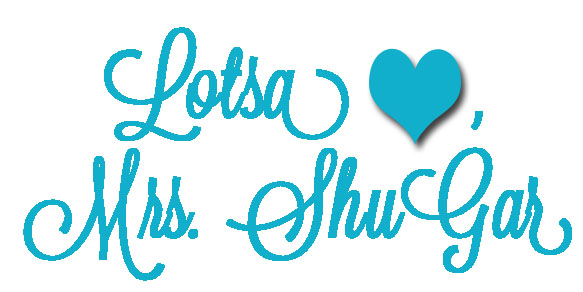 *************************************************
Want more happiness? Join the happiness revolution with the Be Happy Link Up Crew!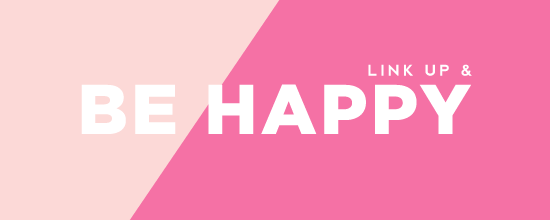 This is a blog hop!
Powered by Linky Tools
Click here to enter your link and view this Linky Tools list…