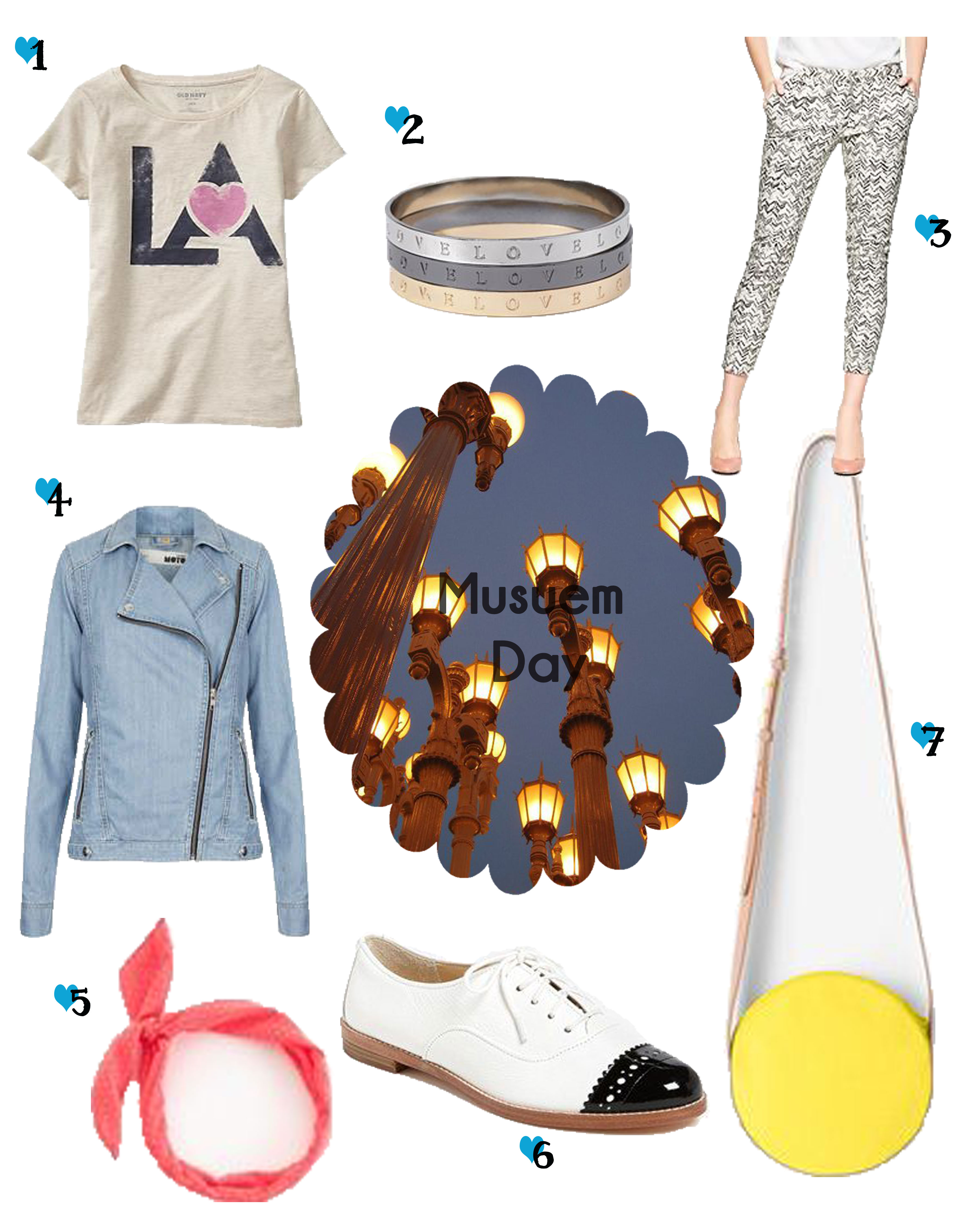 |1| LA graphic tee  |2| Love bangle  |3| Print skinny pants  |4| Denim jacket  |5| Twist scarf  |6| Oxfords  |7| Yellow bag  |8| LACMA Inspiration
Happy Monday, ShuGar sweethearts! I hope you had a fab weekend.  Mine was very productive since I purged one of my closets bursting with clothes. Felt so good! I also saw the new Woody Allen flick,  Blue Jasmine. Stay tuned for movie reviews on the blog.
For this Monday's installment of ShuGar Fix Mondays, I thought I'd share some fun fashion for a day at a museum.  For Mr. ShuGar and I, any time we have some free time, we love visiting a museum to check out the latest exhibition and love just roaming the halls of art.  It's so inspiring to be among great art – it's like food to the soul.  LA is the perfect place to quench our art cravings.  There is a museum for all artistic tastes, so boredom is not an option.
If you have ever been to a museum, you also know how tiring it can be.  After all, you're standing and walking for hours, with little respite.  So, comfort is key, but not at the expense of fashion.  Above is my dream outfit for a day at a museum so that you can look cute and still be comfy.  I was inspired by my last LACMA trip I took, displayed in the middle above.
There are so many adorable graphic tees out there.  Pick one that reflects your personal style.  Since printed pants are trending, I picked these cute black and white pants to add some funkiness to the outfit.  I'm sure we all have a denim jacket in our closet, but many of us probably don't have THIS kind of jacket. It has an edge to the traditional jacket look, a la 1980's.  Now, I will never understand those ladies who wear high heels at a museum. Really?  That ain't me. Ever.  I need some stylish flats like these Oxfords to get me through the day.  I love these because they remind me of my Catholic School shoes…retro!  You know me.  An outfit isn't mine if it doesn't have accessories!  I'm swooning over these Love bangles with different shades of metal.  And, the pink hair twist from Ban.Do is so whimsical!  Finally, complete your outfit with a Kate Spade Saturday bag from Fab.  Lots of bright colors to choose from, but I love happy yellow.
So, you're all set to spend a beautiful day exploring the art in your city!  If you're looking for my pick for LA musuems, below are some of my favs:
ShuGar Fix Mondays is a weekly inspiration series because Mondays deserve an extra dose of pretty. For more ShuGar Fix Mondays, click here!