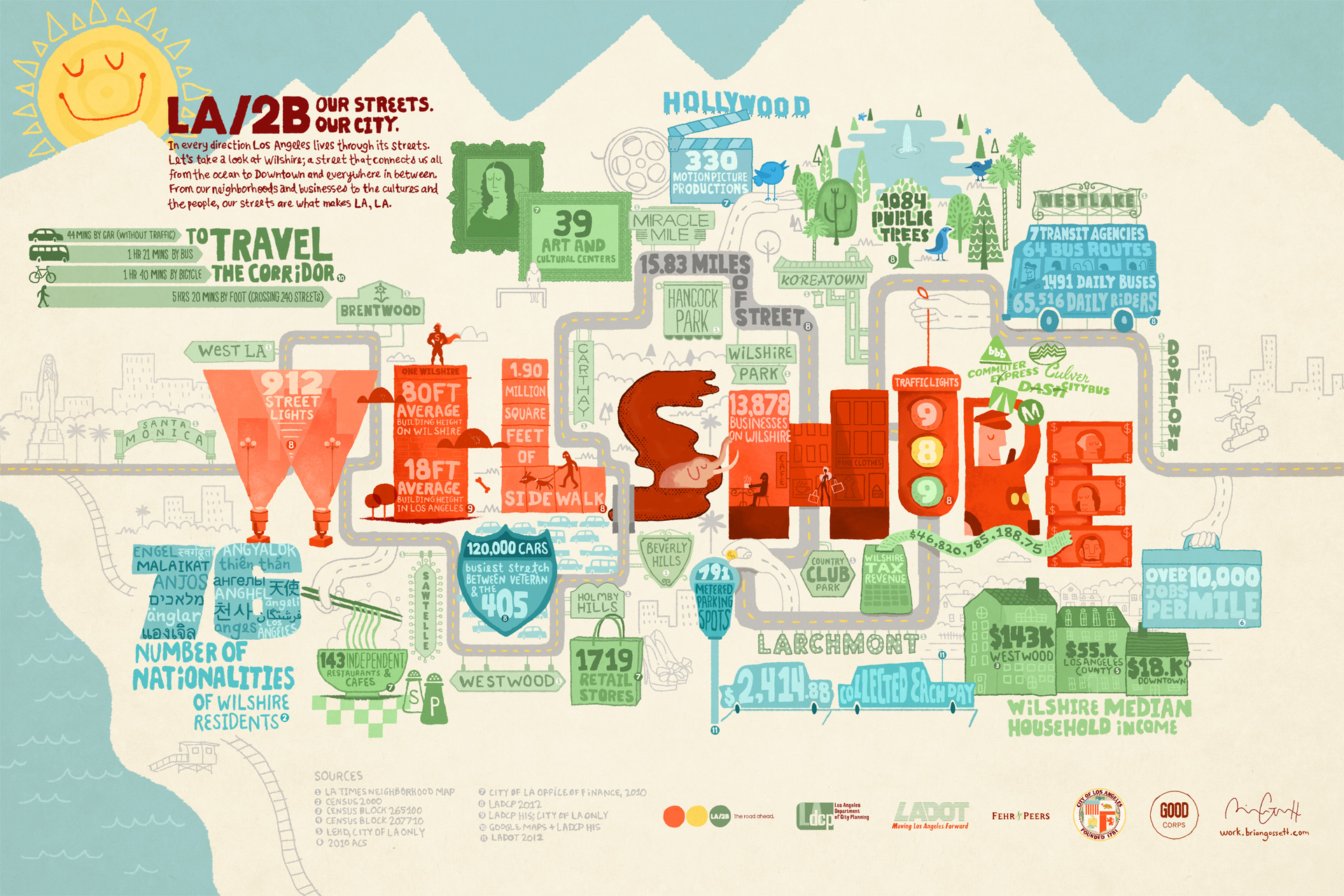 There are not many streets in LA that cut through the city from east to west with so much diversity as that of Wilshire Boulevard. Starting from Grand Avenue in Downtown LA to Ocean Avenue in Santa Monica, Wilshire Boulevard is eclectic, gentrified, bustling, a bit dodgy at times and one of the many reasons why I heart my city. Where else can a street have all of this and end mere blocks from the beach?
I stumbled upon this rad infographic on Pinterest. I am currently obsessing over infographics as they really do a great job of communicating raw data in a digestable format. This Wilshire Blvd. infographic is taken from the website: good.is and is filled with all sorts of other informative goodies.
When people outside of LA think of LA, they certainly don't conjure up images of Wilshire. Instead, tourists believe Hollywood and Sunset Boulevards exemplify LA. I beg to differ with the tourist masses; Wilshire Boulevard is LA. If you take a closer look at the infographic you can see why.
Allow me to share my love for Wilshire Boulevard.
Before I do so, I'd like to provide a disclaimer. I am well aware that Wilshire is heavily congested and is a pain in the neck at times. I experience that every day since I take it as part of my commute. However, there's so much more to this street than traffic jams and bumpers almost kissing other bumpers.
Let's start driving in Downtown LA
My first job out of college was in the heart of downtown right off of Wilshire and Figueroa. Before that job, I thought downtown was dead all the time – a place where the homeless walk around and harass pedestrians. This is so not the case, especially during the day! There is so much great, bustling energy when you work downtown – lunch is a big thing in this area. I loved spending my lunch time break outside the Central Library. So gorgeous!
Next Stop: Koreatown
As fate would hate it, another job that brought me to the streets of this uniquely special part of Wilshire. The only thing I ever knew about Koreatown growing up in LA was the LA riots. Boy, was I wrong! This is by far one of my fav places for food – so much yummy variety of authentic ethnic cuisine.
The Korean food is divine and there are so many cute boutique shops! I actually bought my wedding dress (for really cheap) blocks away from Wilshire. I'd like to highlight one of my ultimate favorite Korean food eateries: BCD Tofu House.  Every time I go, I order the Soon Tofu seafood soup – a (scalding) hot bowl of goodness made with chunks of tofu and fresh seafood, served with rice, lots of Korean spices and other delicious side dishes. On a cold LA day, there is nothing like a bowl of Soon Du Bu!
Park & Explore the Miracle Mile
Love, love, love this area! It's the artist in me that wishes I lived here. Museum Row is where I want to spend all my day– so much art in this one block. As a kid, I used to visit all the time because my parents took us to La Brea Tar Pits. Boy, did I love seeing the fossils of the dinosaurs and trying to pull that metal pole from real tar – so hard! I bet many people don't know that LA has tar beneath it.
But, by far, my favorite thing to do in the Miracle Mile is explore LACMA. Mr. ShuGar and I have spent so many weekends going to film screenings, like seeing Jackie Brown and having Mr. Quentin Tarantino himself and the members of the cast show up at the end for Q & A! Surreal! LACMA always has the coolest exhibits from the most talented artists, such as Tim Burton's Halloween exhibit or the current Stanley Kubrick exhibit (read my Kubrick post here). As I said before, LA is art and The Miracle Mile is proof.
Cafes, Restaurants & Shops…Take a right or a left!
You really don't have to venture too far from Wilshire Boulevard to find things to do – it's the center of many tasty treats & fashion finds. Although it doesn't directly hit Wilshire Boulevard, Sawtelle Boulevard is not too far away and its mini-Japantown is worth the drive. It's a small version of downtown's Little Tokyo but the quality of restaurants is just the same. Some of my favs include: Chabuya (ramen…yummm), Seoul Sausage & Beard Papa's cream puffs.  Pure decadence in a one mile radius! (Thank you to my friend Angela for introducing me to this area!)
Last Stop: West LA & Santa Monica
There is nothing more quintessential LA than this final stop off of Wilshire. As luck would have it, I am now working in West LA off of Wilshire Boulevard because I just seem to gravitate towards Wilshire jobs.
The movies always capture this part of LA and you can see why. It's so trendy and has the beauty of the Southern California beaches within walking distance of great restaurants and shops. One place that I still like to go to even though it can be crowded is Literati Café. It's a great place to just chill, enjoy a cup of coffee and work on your laptop. What I especially like is that the place is filled with both students and artists – a perfect combo to inspire you to hang out there and people watch.
I am proud to live in a city that has a street like Wilshire – it may not always be picturesque, but it is infused with LA character. The eclectic, urban landscape of Wilshire is one of the many reasons why I heart LA.