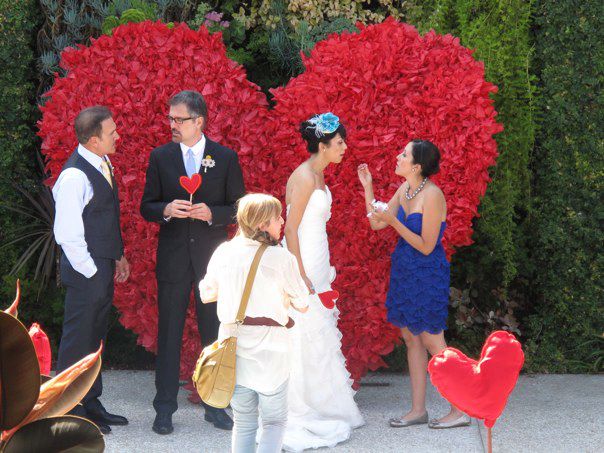 Do not do as I did. I started an intense Master's program a few days before I got married. Yes, that means I was busy planning a wedding AND applying to graduate school. I sometimes look back and wonder how I did it.
Wedding planning is not for the faint of heart; I know everyone says enjoy it and cherish the moments, but when you are in the thick of planning your dream wedding you are utterly consumed. Ultimately, what matters most is saying, "I do" to the person you chose to love forever in front of your closest family and friends. The table settings, the favors, the drama with your bridesmaids, the cold chicken – all of it is forgettable!
I love the picture above because it shows the "behind the scenes" of my wedding day. It is a rushed experience that flies by in a blink of an eye. You and your partner don't have many moments alone because there  is so much to accomplish in less than 24 hours. In the picture, Mr. ShuGar and I are being attended by his groomsman (brother) and my maid of honor (sister), while our photographer (the talented Ashley Rose) gets ready to take her shots. I'm so happy my bridesmaid captured this photo because it reminds me how chaotically beautiful that day was. If I could, I would relive every moment all over again.
I like to consider my second year as my first year of marriage because the first year was a blur of studying, writing papers, going to class and working. I felt like I hardly saw Mr. ShuGar, except during our meal times and bed times. But I think I'd like to reconsider my first year experience.
During my year at graduate school (our first year of marriage), Mr. ShuGar quietly made my lunches (turkey & cheese sandwiches), did the laundry (lots of it), went shopping (to TJ's multiple times a week), stayed home watching movies, tv & sports (while I studied in the other room), listened to me whine and complain (more than once) and never once reproached me. I do remember one time he said he missed me, even though I was always in the other room.
I missed him too; I was consumed with guilt because in order to excel in my studies I had to be second best as a wife. It broke my heart. I would hardly consider our first year our "honeymoon" year, but I do consider it a testament of our love. Even before we got married, we had struggles during the engagement year with the stress of applying to graduate school made even more challenging by health complications I faced during that time. Through it all, he was there by my side, holding my hand and telling me he loved me.
I don't claim to profess I have the perfect marriage; far from it. In fact, I want to write about the realities of marriage and how beautifully complicated and wonderfully challenging it can be. We are still in the "adjustment' phase of our honeymoon years. I know there are things that get on his nerves about me – i.e. my tendency to crash on the couch and not want to wake up to go to bed (He says getting me up to walk to the bed is like pulling teeth) – and vice versa – he insists on doing his crossword puzzles and reading his books late night (I would rather cuddle).
I cringe when people say their partner is their other half – really? I was a whole person, with a whole lot of complexities and problems when I met Mr. ShuGar. He was too. That's one of the things I fell in love with – he was his own individual and wasn't looking for a co-dependent relationship. We want to be better people because of our love – we are works-in-progress.
I do know one thing: What I have with Mr. ShuGar is Real Love. Not because of what he said on our wedding day, but because of what he did every day before that day and every day after it.
(Photo credit: Angela Kim)